Where have I been for this past week? After our dig at Caerwent Training Area (CTA) nothing really interesting has been happening in comparison, but this is somewhere that I can write about troubles and feelings and struggles and achievements and so, remembering that, I am going to write.
I was driven in to TA on Tuesday evening by Paul. Gerry will no longer be going on the Tuesday evenings as he has a new role. It is a bit of a bugger for me to get in now but I am so very pleased for him to have been given this new role and as I said to him, it is what is best for him and his family that is important and not how I will get in on a Tuesday evening. He did ask how I would get in when he we spoke about the chance of the role, that is the kind of true friend he is, asking how I would get in. He will without any doubt be an asset in his new role and I wish him all the best. I left TA on Tuesday with a worrying mind. Sometimes things happen beyond your control which can cause you concern, analysing those things and looking at best case scenarios is then par for the course but every so often you can not see a best case, often the only case is a shit one and there is nothing you are able to do about it. "You can only piss with the cock you've got" is something I have said to lots of people over the years in the TA, in many different situations and indeed had it said to me, I guess this is one of those times. We left without a cola at the bar on Tuesday evening. We had needed to leave before tea time for Paul to get to the TAC in time for some interviews and so I had taken the opportunity to collect Wifey's phone from the shop in the town centre. Hers had gone tits up and so I had to collect the replacement, what perfect timing then that we needed to be in early to TA. Paul dropped me in town and went off to the TAC and after collecting the phone I decided to wheel myself to the TAC instead fo catching the bus or getting a cab. This is something that would prove to be a real pain in the posterior. I had never appreciated just how badly the pavements are cambered all the way to the TAC, I was fighting the left handed camber all the way and can safely say that I was more knackered on that mile or so than the trip to Ilminster. Anyway, back to us leaving the TAC without a drink, the reason for this was so that we could stop for me to get some tea on the way home. I have a favourite if I have not had tea, which is a chicken Donner kebab. Now I know this is bad for circumference but it is not a regular meal and so it is OK (and I am sticking to that theory!). For the last five times I have been in, or rather the person driving me has gone in, they have `run out` of the chicken block. UNBELIEVABLY, this time was the same, I therefore have come to the conclusion that if they do not have sufficient meat at a quarter to ten in the evening to be able to make the said kebab, and it is happening on a regular basis then I can only conclude that the person who orders is incompetent or that the shop managers admin is up his arse, and that is all I have to say about that……for now.
Alison and I went for our `st-roll` on Wednesday and I have an admission to make, I lied about the distance. Alison has downloaded an app on to her phone which works out by GPS the distance and time and inclines and a whole load of clever stuff that I can only imagine would be useful for something at some point in time to see how we did. I do not get straight on to the cycle path as I work harder going down the road and over the bridge, and I really was working hard as the spasms I have are now worse in my stomach muscles. I push hard with my arms to get up the incline to get over the bridge but this kicks the spasms off, which tighten my stomach muscles so hard I then find it difficult to breathe, undeterred though I crack on the best I can and stopping only if absolutely necessary which does happen once in a while. It was not a bad day for the `st-roll` the weather was not too bad at all. We had taken my two older kids with us on their push bikes which they really enjoyed and after finally reaching the Stonemasons there was only enough time for a drink and not our usual meal. Alison checked out the information on the phone's app, we had completed the journey in one and a half hours as we had met some people on the way who we were talking to, but the distance was the lie, it is not five miles as we had thought, it was actually 4.53 miles. Still, not too bad for some exercise though and a nice `st-roll` too. Alison and I did this again yesterday (Friday) and although the weather decided to turn for the worse and was drizzling for around twenty minutes, it was still nice and gave me double the exercise for this week. I got a message from the Gym while I was away and will be going to do some weights to help build my upper body to help me with normal everyday living soon.
It is not just the physical aspect of the paraplegia can be a struggle, normal things that you take for granted when able bodied can cause problems, occasional distress and anger. With things like, people who are perfectly capable of walking up one flight of steps to the next floor of the department store will gladly watch the doors of the lift close as there is no room for you in the wheelchair because of all of the able bodied people in the lift which leaves you waiting what seems like an eternity to wait for the lift to get to you again while all of the able bodied people pack it out again and again as they do not wish to use the stairs, taking it for granted that they will always be able to walk up them. When people park over a dropped curb meaning that you have to find another one as you can not get off of the curb in your chair because you have not mastered that bit yet. When people park in a disabled bay to go and quickly grab some cash from the hole in the wall or a packet of cigarettes from the corner shop meaning that you have to go round the block as many times as it takes for the lazy, ignorant toss pot to shift their car all because they feel it is their right to park closer to the shop to save their legs, that work. Or when your own family shit on you from heights that can only be matched by a space shuttle.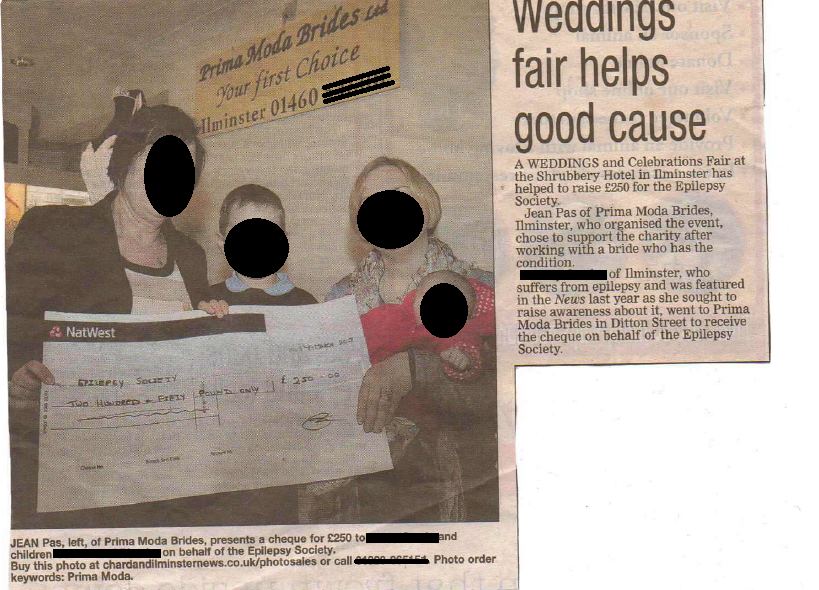 I saw this in my local paper when I returned for Caerwent and simply could not believe how my own Mother could have done such a thing. Before people reading think me selfish or out of order for bitching about someone who has organised a charity event to help people with epilepsy I want to explain why I have been angered and upset by it. Bear with me, if at the end of this you still think I am out of order then please do not follow my Blog, the Blog that I write to be able to express and share my daily life and feelings.
A while ago, (probably 11 years to be fair), my wife was involved in a head on collision outside the old Clarks shoe factory just outside of Ilminster and approximately 500 meters from our house. She was seriously injured and after the emergency services cut her out she was airlifted to Dorchester hospital, then road moved to Poole for specialist micro surgery. She made a full recovery thankfully.
My youngest Son was born three months early, as my Wife had preeclampsia she spent a very large amount of her pregnancy in and out of hospital until with three months left of her term to go, the decision was made by the staff of the hospital that baby had to come out or risk baby or mother due to high blood pressure. My Wife and Son both thankfully survived but my Son had to spend a long spell in the Special Care Baby Unit in an incubator.
With my Sons premature birth came some problem for him. He has special needs as his co-ordination, speech and understanding are all below his age group by around two and a half years. As well as having special needs, he was diagnosed with Epilepsy, had medication for this but still did suffer from fits.
My Father in Law, Ron, whose picture I displayed on here not so long ago as I had dedicated a post to him, lost his fight with COPD. A caring guy who would do anything for his family, this included me and my eldest Son who was born in a previous relationship. He, as did the rest of the family, accepted my eldest as if he had be born to myself and my Wife. It was a sad day when he died but also a day where we all knew he would no longer be in panic or pain.
I had my accident and was in the intensive care unit at Frenchay hospital where they obviously worked tirelessly to keep me alive and fix me up for a total of eight weeks. Having had to induce a coma to give me the best chance of survival, the constant checks that they must have done and the updates and support that they had to give to my Wife trying to help her accept that I may not survive is without doubt a hard task, but they did it to me like they have for many others, but from a family point of view, they did it for me.
SSAFFA as you may have read from previous Blog entries, financially supported my family for the duration of my being in hospital and have helped since my discharge.
The Royal British Legion helped by putting the wheelchair friendly flooring in to the bungalow which we live in.
Haig Homes Trust (HHT) bought the bungalow we live in as our own house was not adaptable for us to stay there.
Help for Heroes (H4H) donated a large sum of money to HHT to assist in the purchase of the bungalow.
This is by no means an exhaustive list but gives an idea of areas that could benefit from fundraising. So, why am I pissed off? Because my Mother, owner of Prima Moda Brides, who so publicly organised a wedding fair to raise money for a customer who suffered from Epilepsy has organised a sum total of bollocks all for any of the above places or charities who have directly been involved in my family, her own Son. Well, take it as read on the Blog, you have made it very clear that you wish to live in your own little world,  a world which revolves around you. This is accepted, I am happy to live in a world where the world revolves around the sun.
If I have in your opinion been a little out of order or do not understand why I would be upset that my own Mother would rather raise money for the Epilepsy charity because a customer suffers from it rather than her own Grandson or rather than raise money for the Air Ambulance, Special Care Baby Unit, SSAFFA, RBL, H4H or Spinal Injuries Association then please feel free to drop me a message in the box at the bottom of the page and explain it to me as my head colliding with a car door to the extent of damaging nerves has clearly clouded my judgement.
On the plus side though, (assuming anyone is still reading), I had a message from another blast form the past yesterday who got in touch via a social website. Someone who I had not heard from since our Air Cadet days. His message was lovely, he is doing well and I hope to meet up with him and his family when he visits his parents if it is at all possible. It was a flattering read, and I hope it was true, but more than that, I hope that I passed some good things on. Great to be back in touch Will! Yesterday I got back in to the Sea Vixen building. I am really taking my time on this one. 1:48 scale means bigger parts and I really want this to be a good one. I have decided to mark it with the transfers of my Dad's old squadron when he was in the navy. I know he has built one also in the same dress but his has been done static with wings folded. Now I have to make the decision of wings folded and canopy up, wings down wheels up or wheels down etc. I am going to put it on a stand so I can do whatever but I want it to be right. Last night I finished building it at around nine having painted some parts and assembled most of the cockpit, then I went on to the games console as Darren and I had promised my Daughter and her friend who stayed over, that we wouild have a match against them. Clealy with age on our side we lost but I think that they were cheating.
Today it is pissing down with rain and the wind is blowing quite strong so I am staying in, I'll do a bit more to my model and try to sort a lift for tomorrow. I would like to go and watch the final shooting match at the Battalion shooting competion and watch the awards being given for the shoots and most importantly the Champion Company cup, we have won it for the last three years under WO2 Pinnell, and so the gauntlet has been laid down for the new CSM, WO2 Dwyer to retain it, no pressure Sir, but you are gonna be verbally smashed for the rest of your days by the old CSM if you don't bring the silver home!
I hope the weather is better where you are and that you enjoy your weekend. For now though, `Pickle is at a Birthday party, Wifey is with `Pickle` and I am here with the laptopamabob, NCIS and `Duke` my Gloden Retriever although we just refer to him as a Gloden as he is either too clever or lazy to retrieve anything.
Enjoy your weekend.
Laters