Wednesday was an early start for everyone considering the school holidays, no lay in and up at seven for our family and no messing around. Up, wash and dress and then breakfast, the kids were briefed and they sleepily made it happen ready for loading up in to the "Chucklebus" to move out at 08.30. At the time stated we pulled off of the driveway and headed off to Longleat Safari Park for a family day out, a day out to somewhere which we enjoy immensely but have not visited for around five years, this would be the first visit for `Pickle` so it was going to be interesting to see her little face in the safari when we would be driving around the various animal enclosures. The park opened at 10 am and we wanted to make sure we were there as close to that time as possible as we had an idea that it would be busy.
On the way up the A303 we encountered very little traffic which was a good sign, this meant that we had left at the right time, we did however encounter some rain which was not massively encouraging but there was still time for it to clear up as we still had a way to go until we reached the park. Sure enough the rain stopped and we arrived pretty much bang on 10. My Wife had traded some club card points for vouchers to get the cost of entry down which arrived by e mail. The panic then was weather the mobile phones internet would work, the park is not far from being on Salisbury plain to be fair and I have never managed to get any kind of signal up there trust me! As luck would have it I managed to open the e mail and the girl on the kiosk took the information she needed and gave us the tickets, and so we now had the decision to make, safari or park first? We decided on the safari first, `Pickle` wont have been this close to these animals before and so we were all looking forward to seeing how she would react, to that end, we took the road to the safari.
They give you a CD to listen to on the way around which explains about the animals in the different enclosures, this started off well but then `Pickle` got a little excited and we could not hear the CD so we turned it off. We parked up at the first stop which was an African enclosure, you could and were encouraged to get out of your vehicle and look around which we did. It was worthwhile as you could feed the Giraffes, (which I did think was a little pricey at two pounds per lettuce sized leaf), but the standard line would be that "You were paying for the experience", I remember this from my days working with Elephants in the wildlife park. It was `Pickle's` first time at the park and so we paid for her and my Son to do it.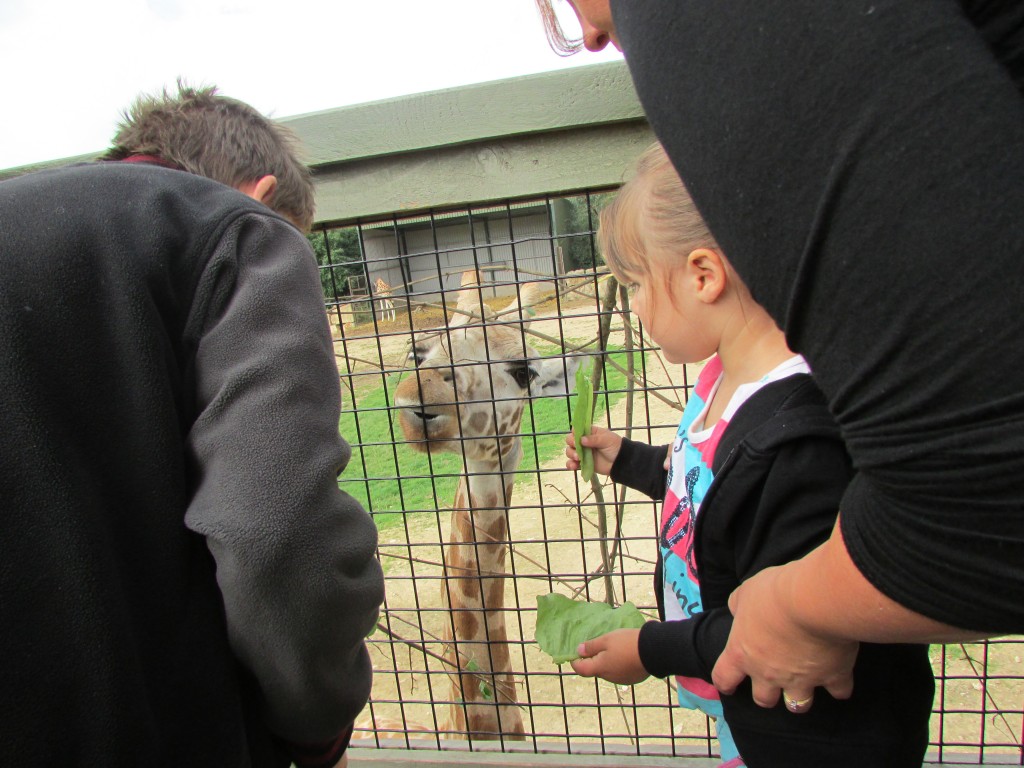 From here we took a walk around to see some other animals. First were some very impressive Tortoise.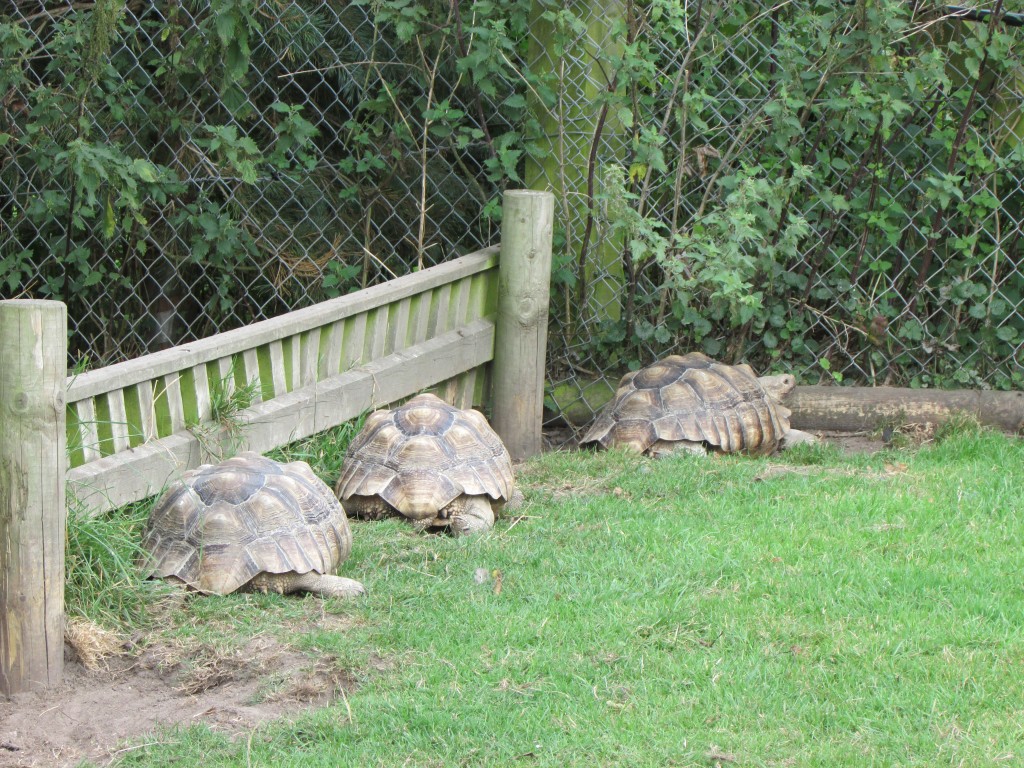 And then we took ourselves through the Lemur enclosure. This `Pickle` loved.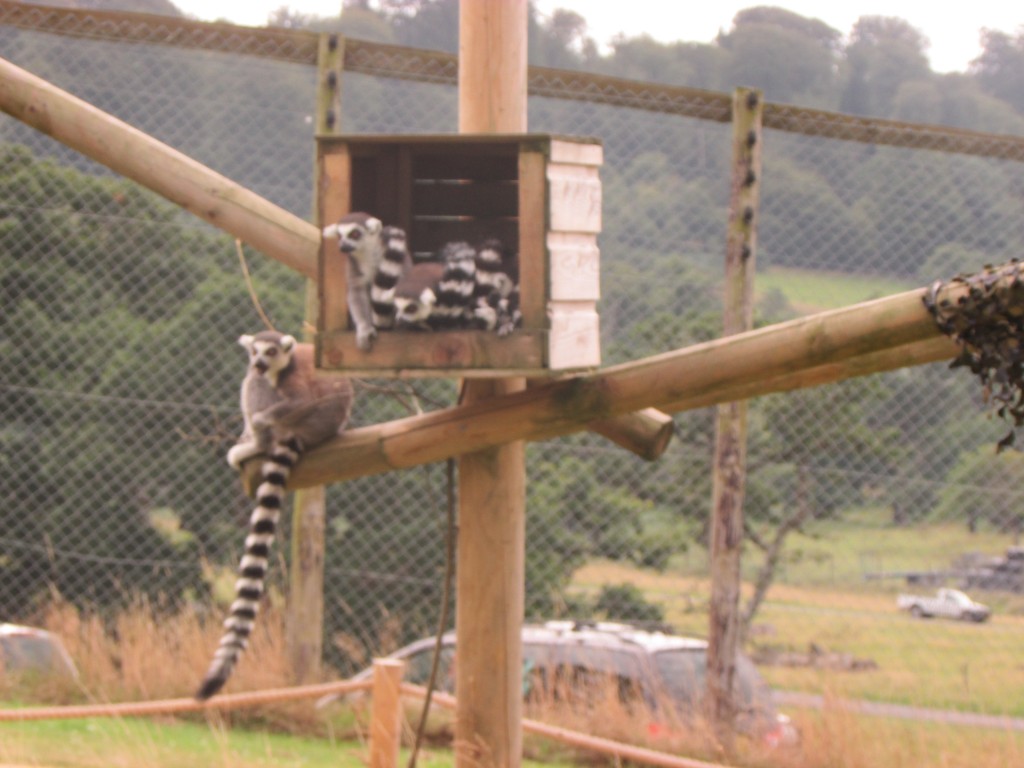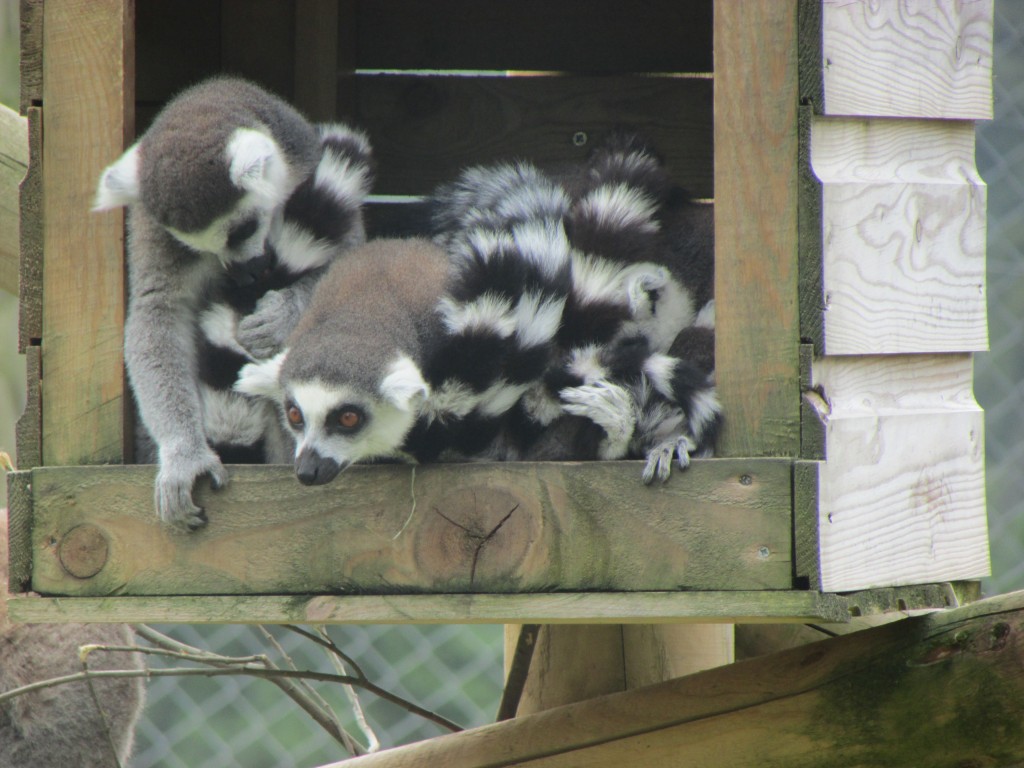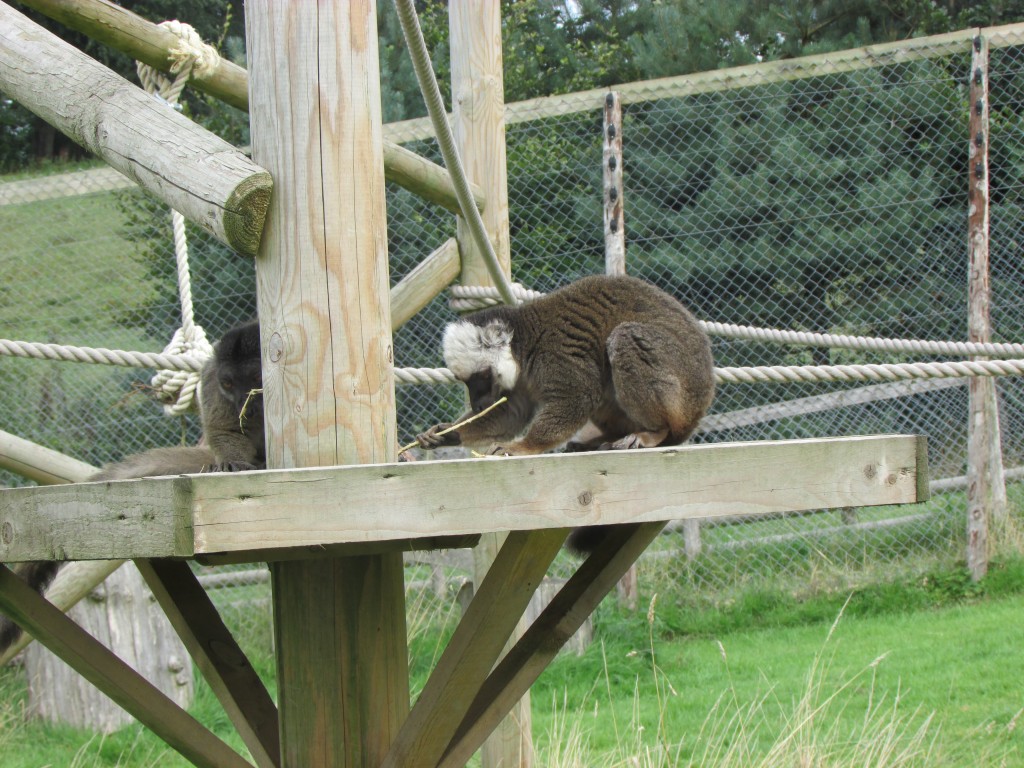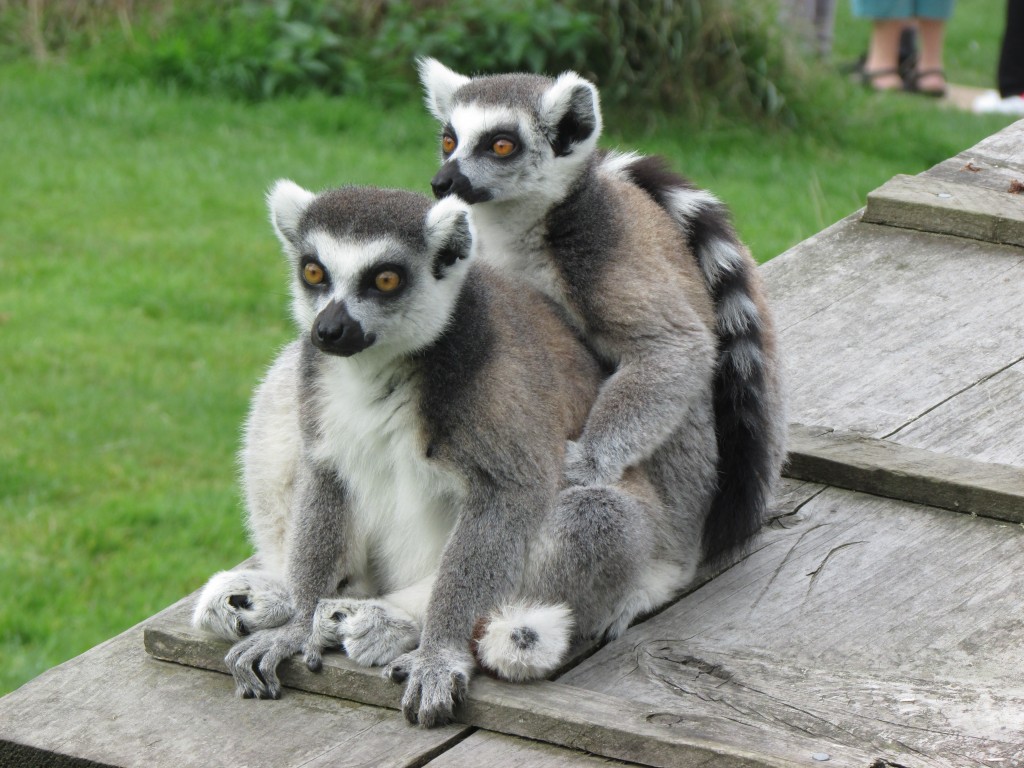 Then it was time for the kids to get up high like the Lemurs and head back to the car park.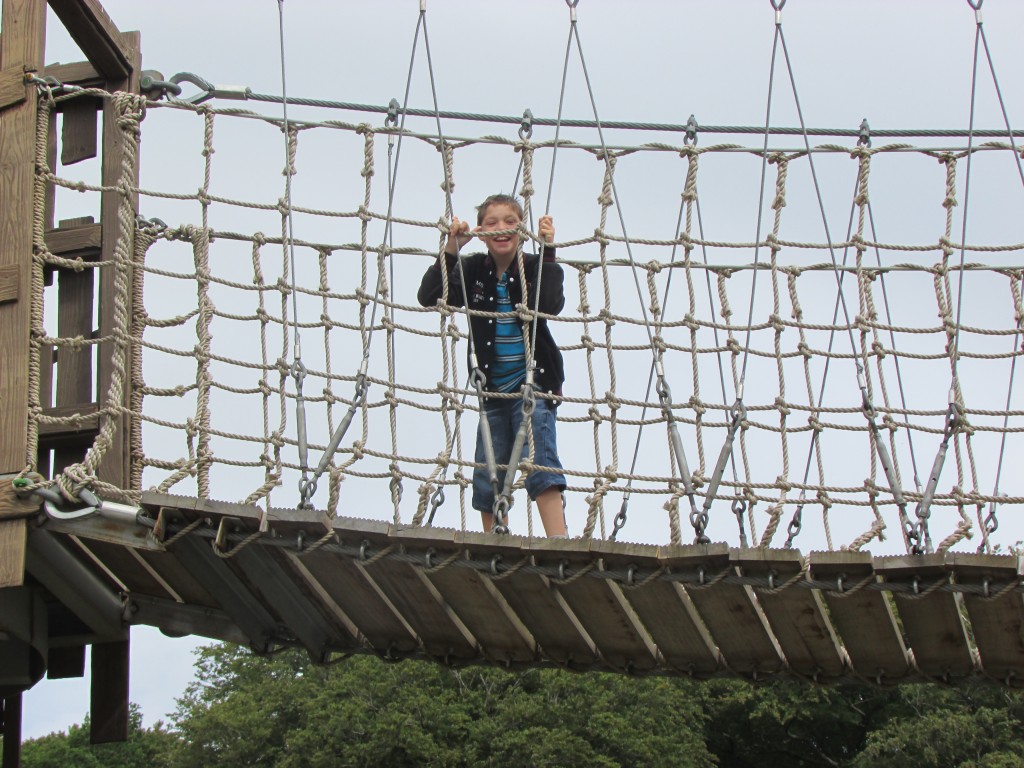 We then got back in to the "Chucklebus" and made our way around the various enclosures around the safari drive. This got `Pickle` some wonderful views of the animals.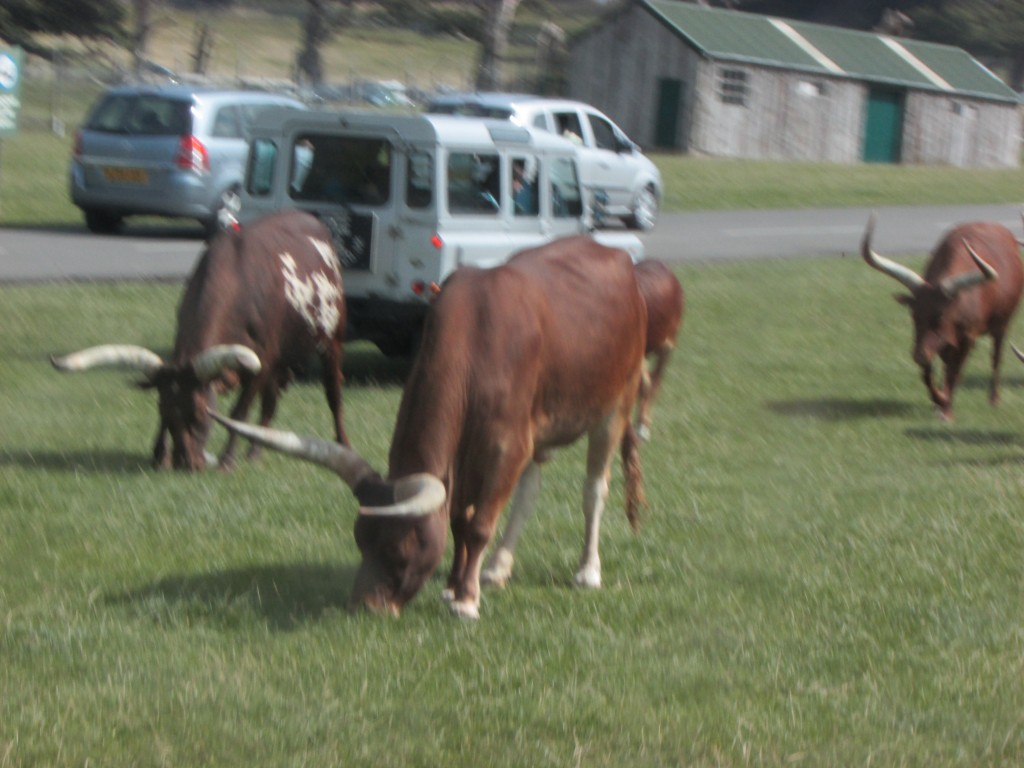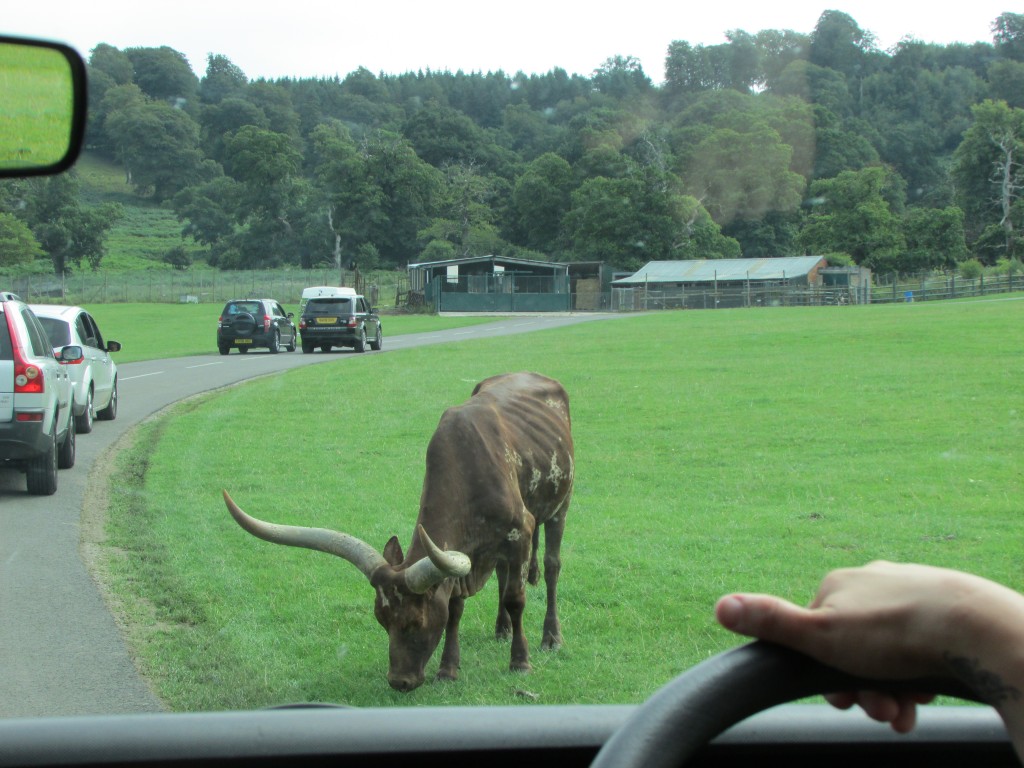 "Mum, that animals crossing the road!"
The next animal got a reaction too.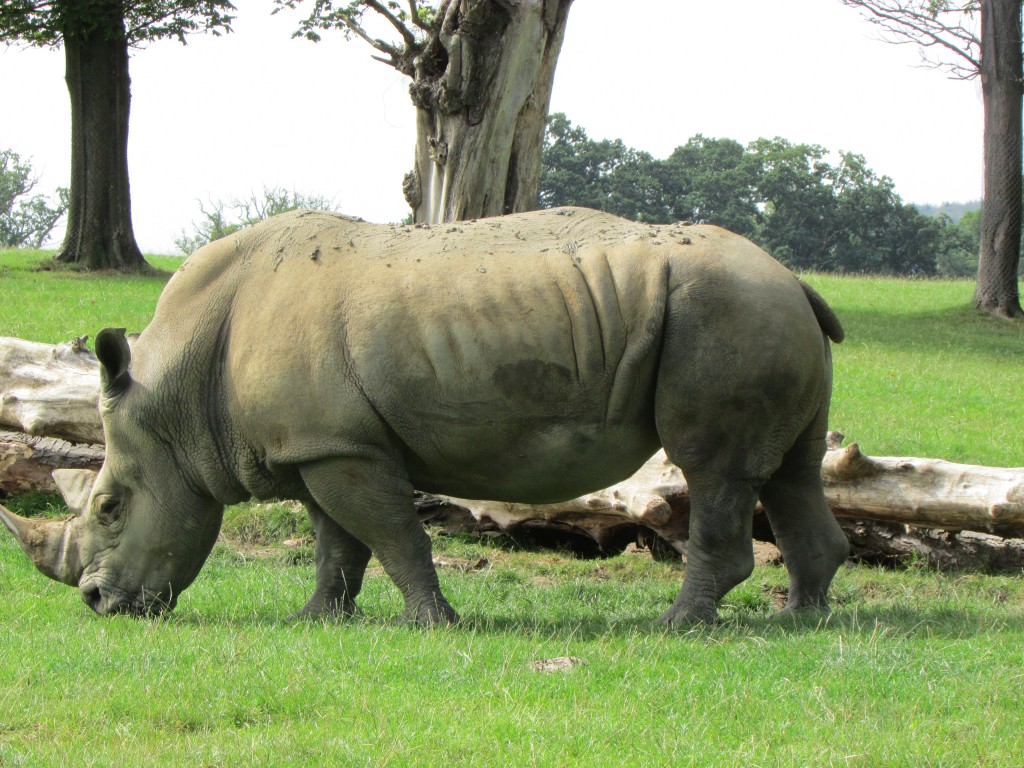 She was a little concerned at the size of the Rhino.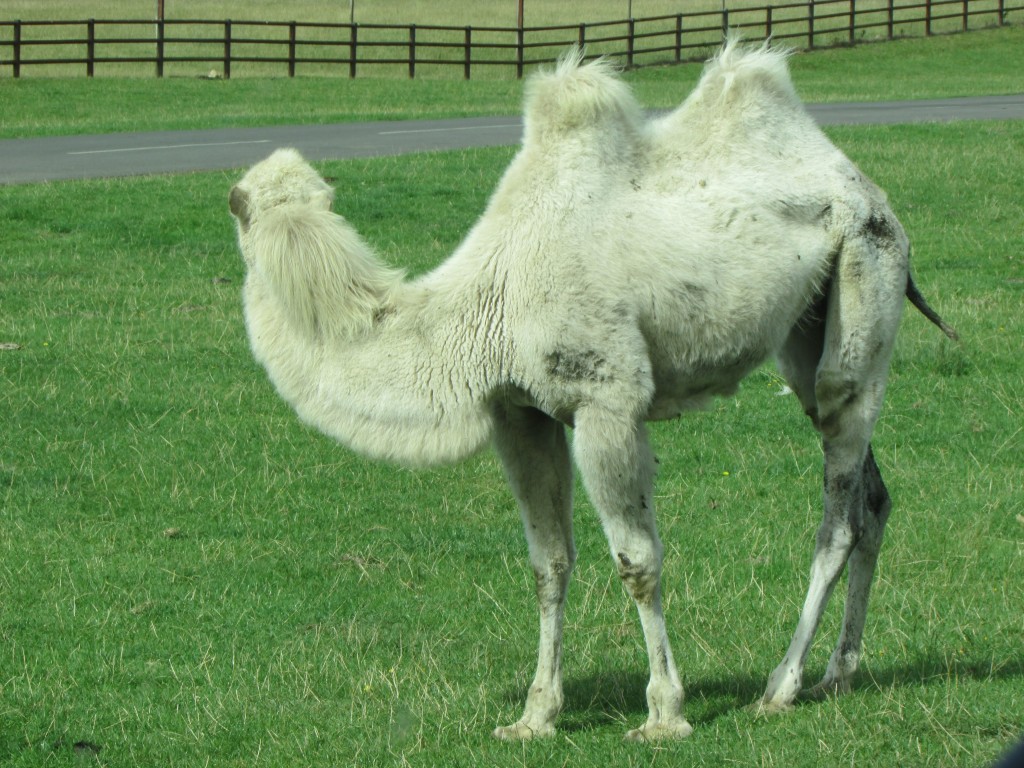 It was good for her because the animals can get so close to the car, on the flip side though…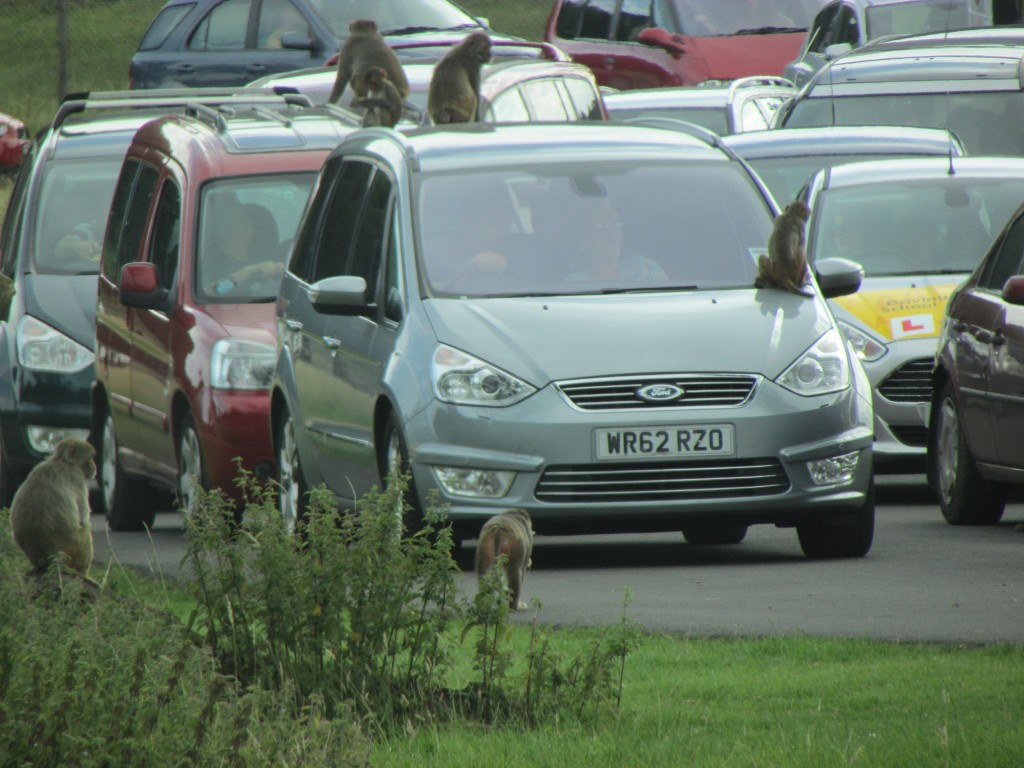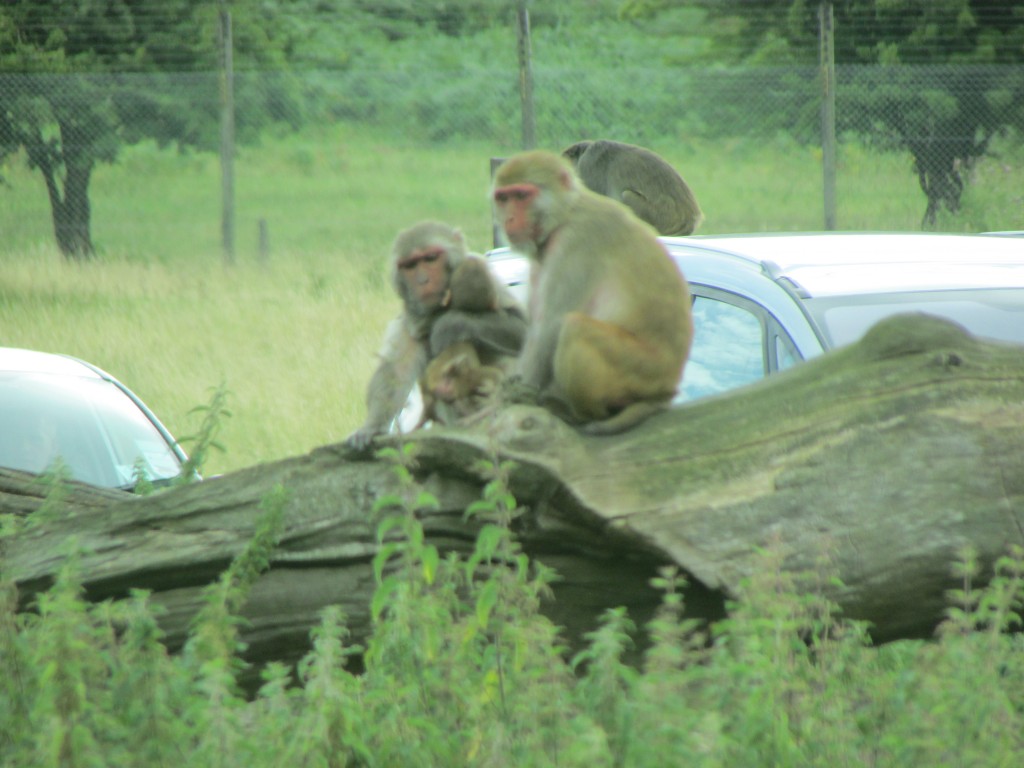 You do not have to go through the Monkey enclosure and if you do it is at your own risk. There is a collection of number plates, wheel trims and bits of car at the entrance for you to see and if you go through then no one can say they did not know the risks. We decided to go through as we were in the "Chucklebus" so what was the worst that could happen after all it is a van, and because "Pickle" had never been through. Now Longleat have a simple rule, drive on the left and right but stop only on the left so traffic can keep moving. People being naturally unable to follow basic instruction, (despite it being written on the roads for all to see), they stop on both sides meaning that if a Monkey is destroying your vehicle you can't drive round the stopped vehicles to get back out. We knew we were in trouble when we saw one little bugger look straight at us and start walking over to the "Chucklebus". It jumped up on to the windscreen and then sat on the roof. I think it was approximately three minutes later we heard the first bits of trim being removed from the roof, bits that to be honest we did not know were there  but we do now. Fortunately for us the Monkey was kind enough to deposit the removed bit of trim on the windcreen after no doubt waving it in the air to show his mates what he had done, (the little shit!). "Pickle" asked what the Monkey was doing when the noises from the roof were happening, to which we replied "Breaking the bus love!".
"Uh Oh Daddy!" she said when the Monkey put the trim on the windscreen, it did not take her long to end up laughing hysterically as more Monkey's jumped on the bus, much to the delight of the other people in their cars who were videoing and taking pictures as the roof of my van was being dismantled. Unable to move due to the thicko driver who was blocking everything up, we could do nothing but hope that all of the removed items would still be on the roof or windscreen by the time we got out so that we could collect them and have them re fitted later, we simply had to hope that the Monkey's would find another vehicle to dismantle. This did not happen, no wonder people were staying close to us, we were far more attractive to the play full or destructive little buggers than a Ford Focus or Vauxhall Astra! Eventually though we did get out and the lady pointed for us to pull over before the next enclosure to retrieve our bits of bus before we carried on. We managed to get three of the four bits but to be honest, we don't know if the trim was complete before we went in. It had to be the longest bit that we lost though.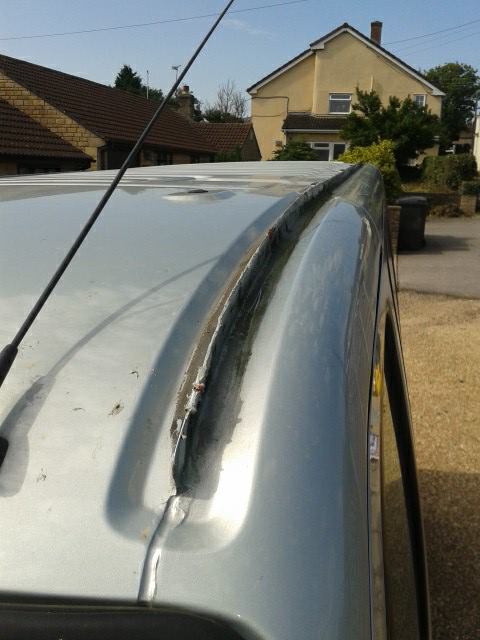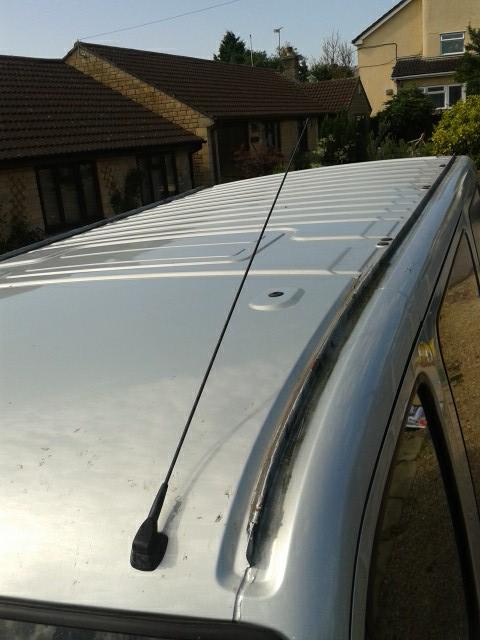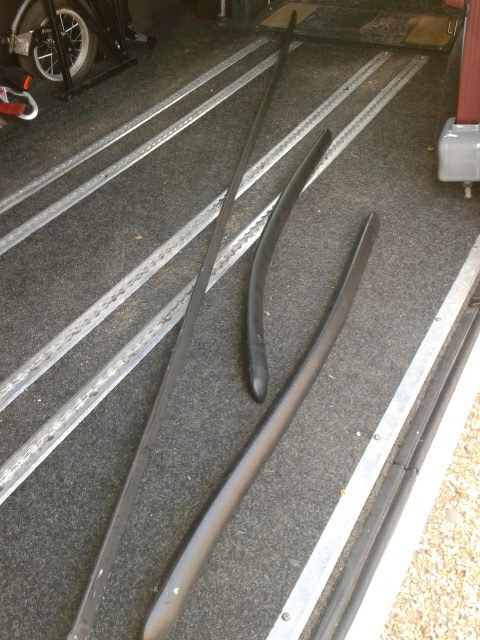 Once out of the Monkey enclosure and with the bits placed INSIDE the "Chucklebus", we continued with the safari drive.
The big cats were impressive as always.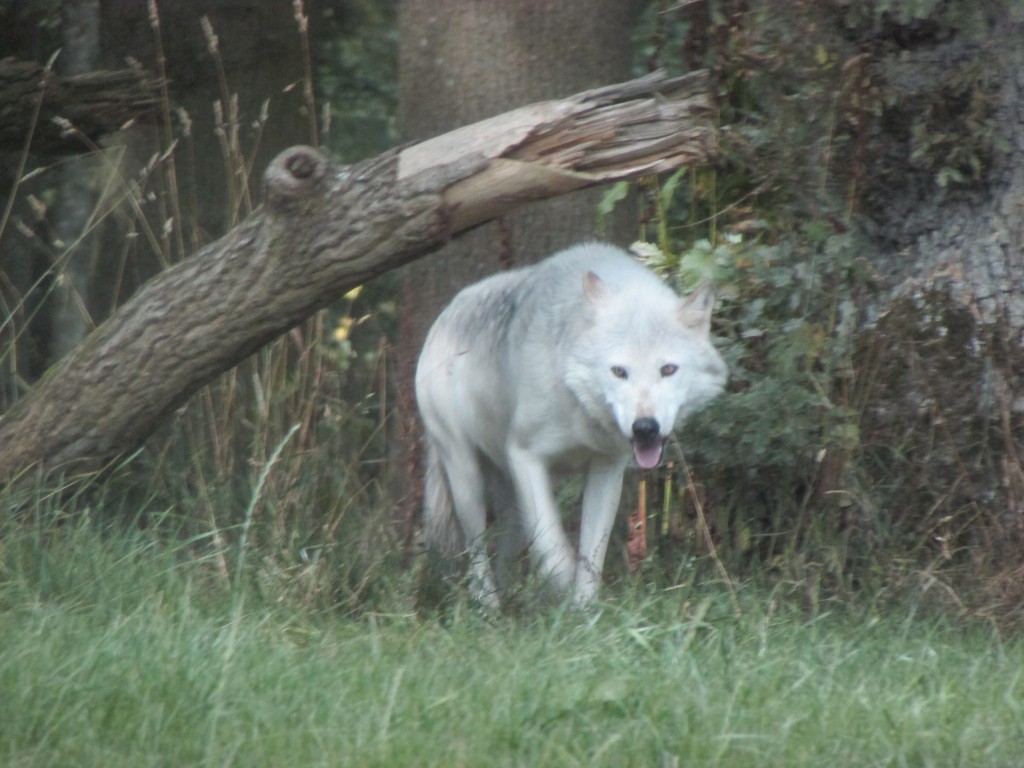 The wolves were a favourite with my Daughter.
And obviously the Ele was going to be a favourite for me, bringing back memories of when I was an Elephant handler years ago before the wildlife park I worked at became a hotel.
With the safari done we parked up and started our walk around the park. It has changed a lot since we were last there and has been done really well, it is clear that they have invested a great deal of money in it. All I can really do is share our visit in pictures now, not an exhaustive amount but enough for you to see some of the day. As you will see, the weather changed dramatically from the rain on the way up, it got really quite hot.
There were keepers on hand to talk to you about the animals as well, I did not realise that a Porcupine will run at you backwards, and once the spines (which are seriously sharp by the way!) have made contact and stuck in you, it can release them leaving you looking like a pin cushion.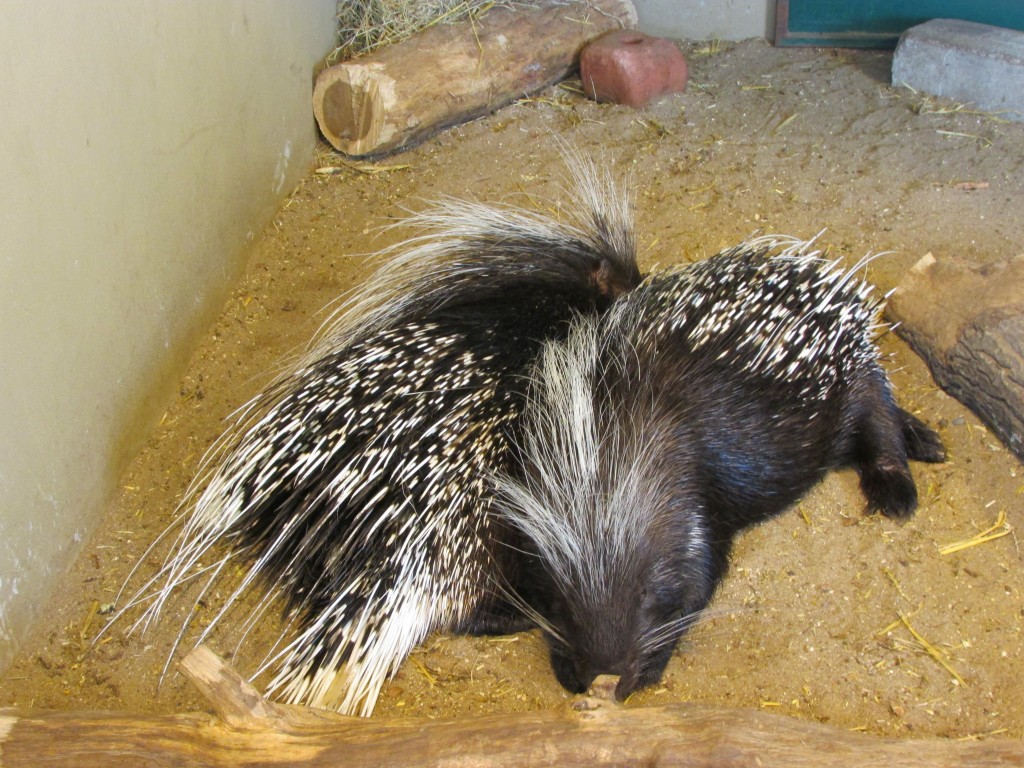 The young lady who was telling me about the animals said that she was not fond of the Porcupine for that reason and that her favourite animals were the Ant Eaters, never knew how many ants they eat a day either.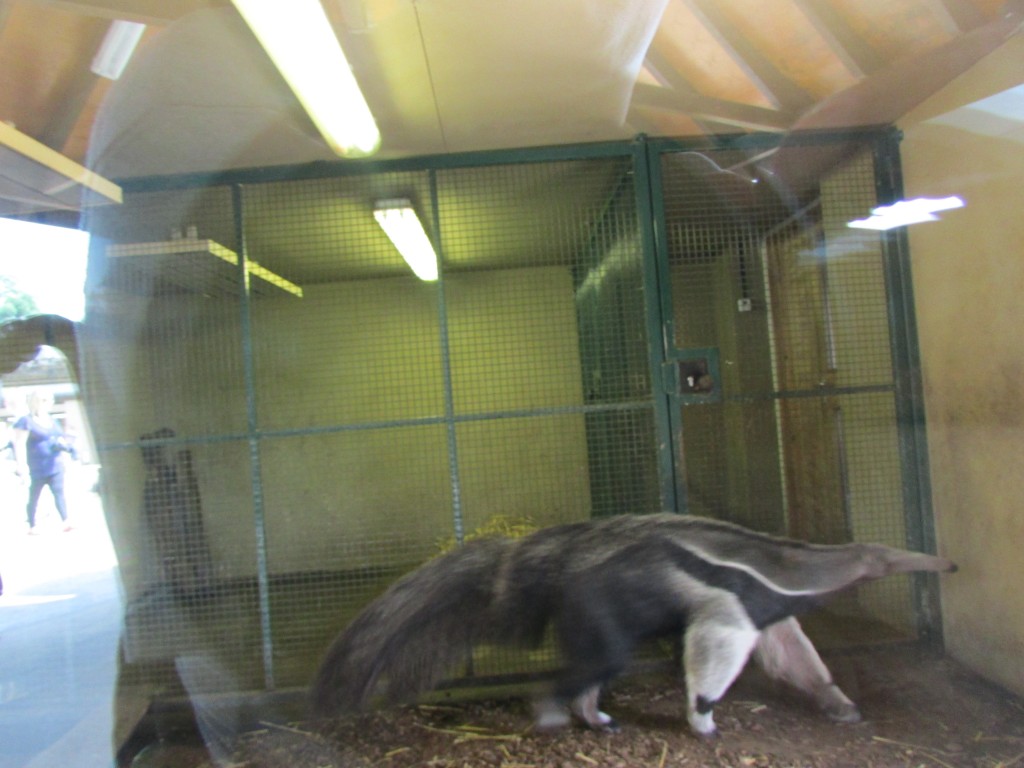 These little Monkey's were free roaming just like when we used to have them at the wildlife park I worked at, it's good to see them running and climbing all over the place, `Pickle` loved seeing them.
These guys pictured below had tubes that they could run through to get to the inside of their house, the tubes travel right over the visitors heads.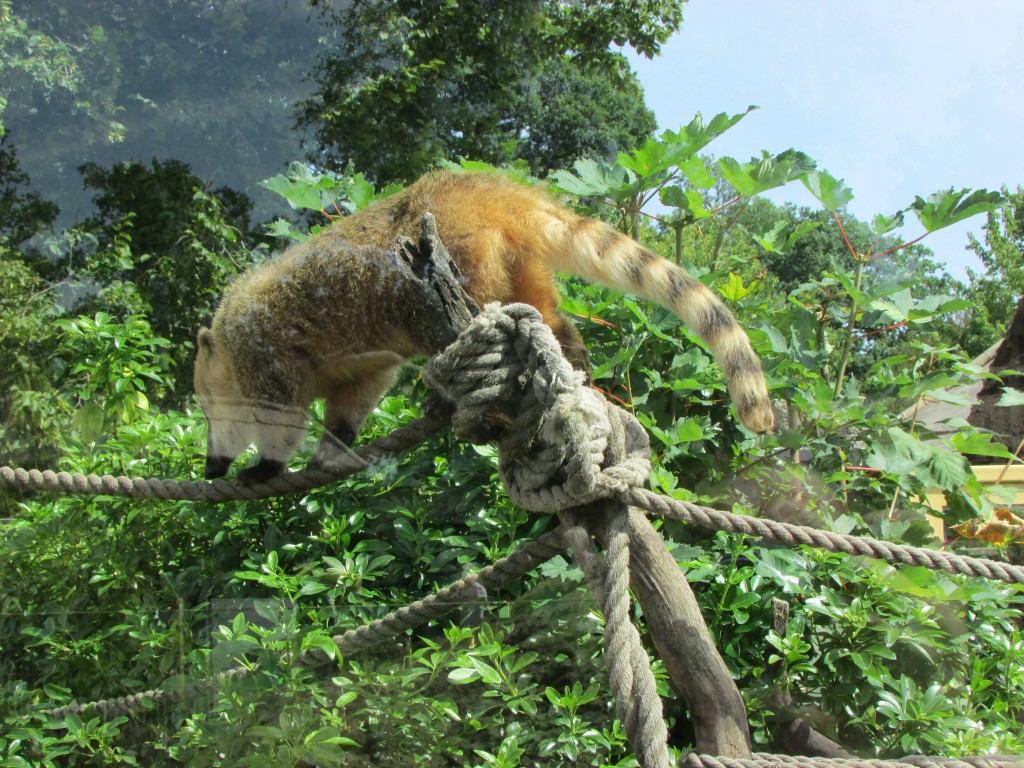 Then it was off to the Penguins, this was not here last time we visited. It was very impressive giving you the opportunity to see them swimming underwater through the glass screens which formed part of the sides of the pool.
From here we visited the Stingrays. This was a large pool where you could see them swimming and also see how they hide from sight by burying themselves under the sand on the bed floor.
The Meerkat's have there own enclosure which you can walk through. There is a notice informing or warning that they like brightly coloured toenails and that there is a risk of you having your toes nibbled, never the less we went through, I was confident that I would be safe as my brightly coloured toenails were inside my shoes! (Ok, I don't really have brightly coloured toenails.) Just in case, `Pickle` sat on my lap so her feet we were well up off of the floor.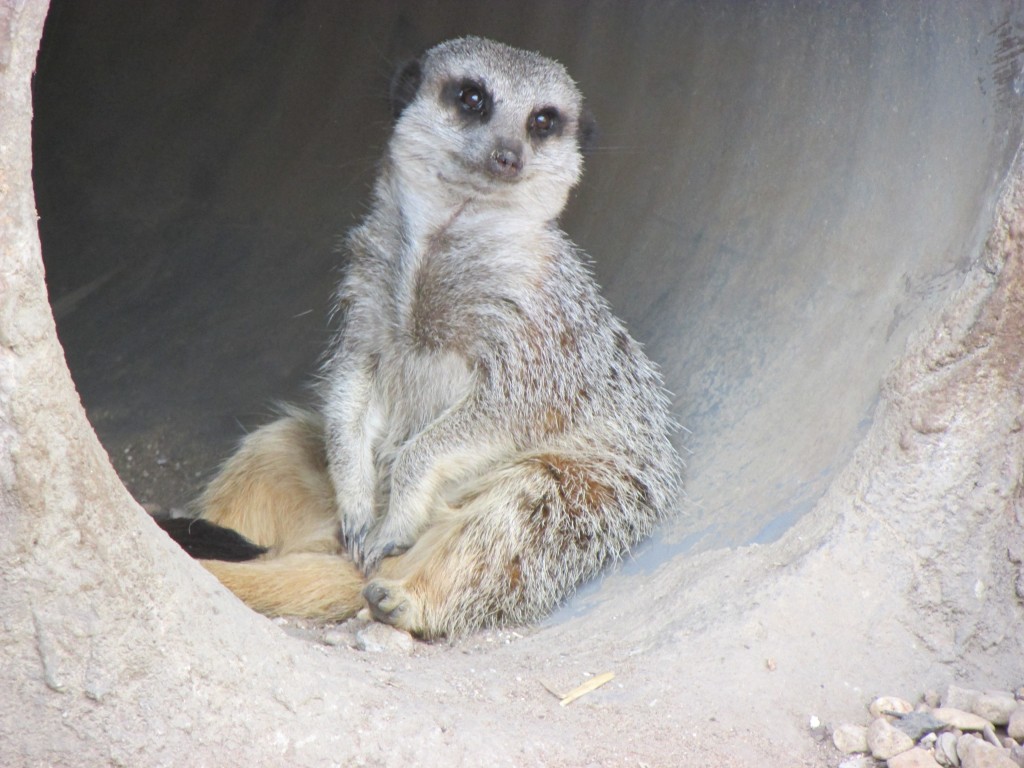 `Pickle` spotted this through the glass.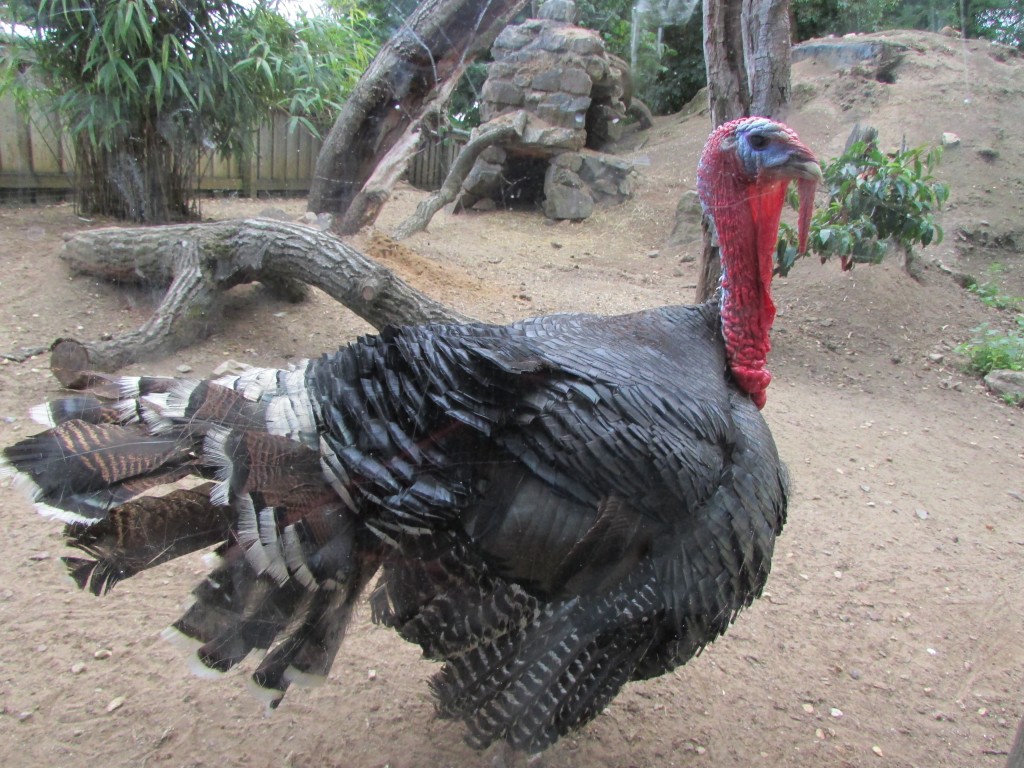 We took a ride on the boat which I can tell you is fine for a wheelchair. I was in my power chair and I went straight up the ramp and in. I would say you could probably get a couple or three wheelchairs on but don't quote me. I would guess that the staff would hold a wheelchair back until the next boat if there was not room. We sat right at the front of the boat and my family sat with me on the benches marked for disabled, I guess that they are for the family of the disabled person. The first thing the kids spotted were the Hippo's.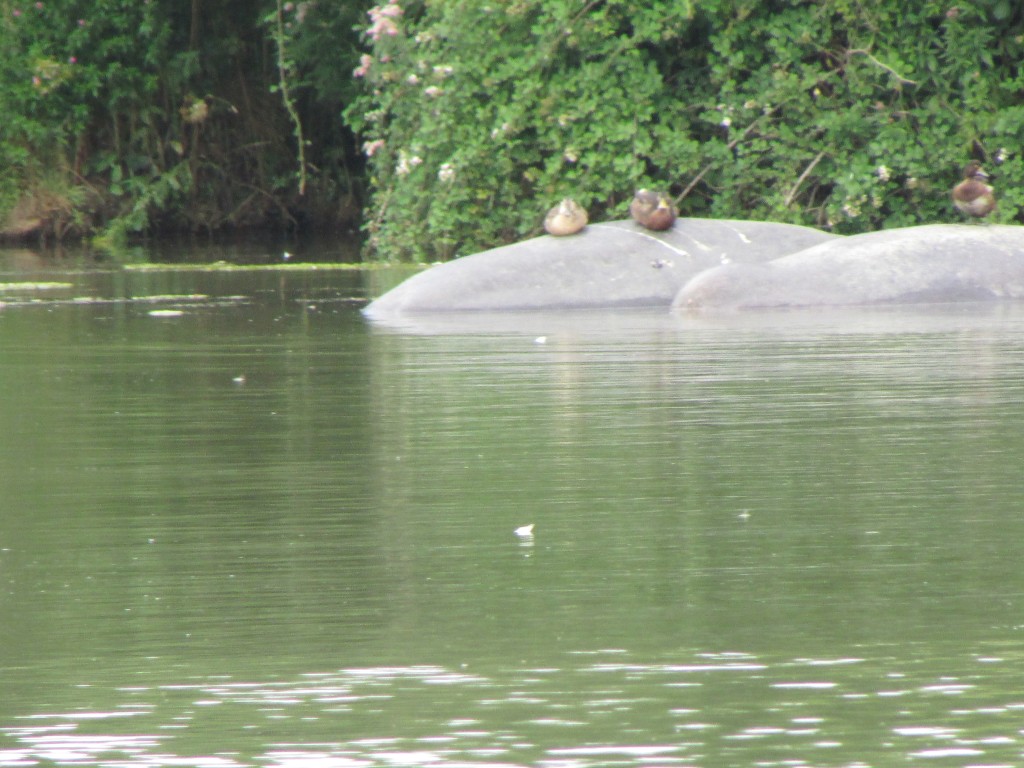 Then we saw the Gorilla's. The big silver back lives on his own on his own island after his mate died six years ago. As he can not be mixed with other Gorilla's, he has his own Sky television and enjoys watching children's cartoons as company.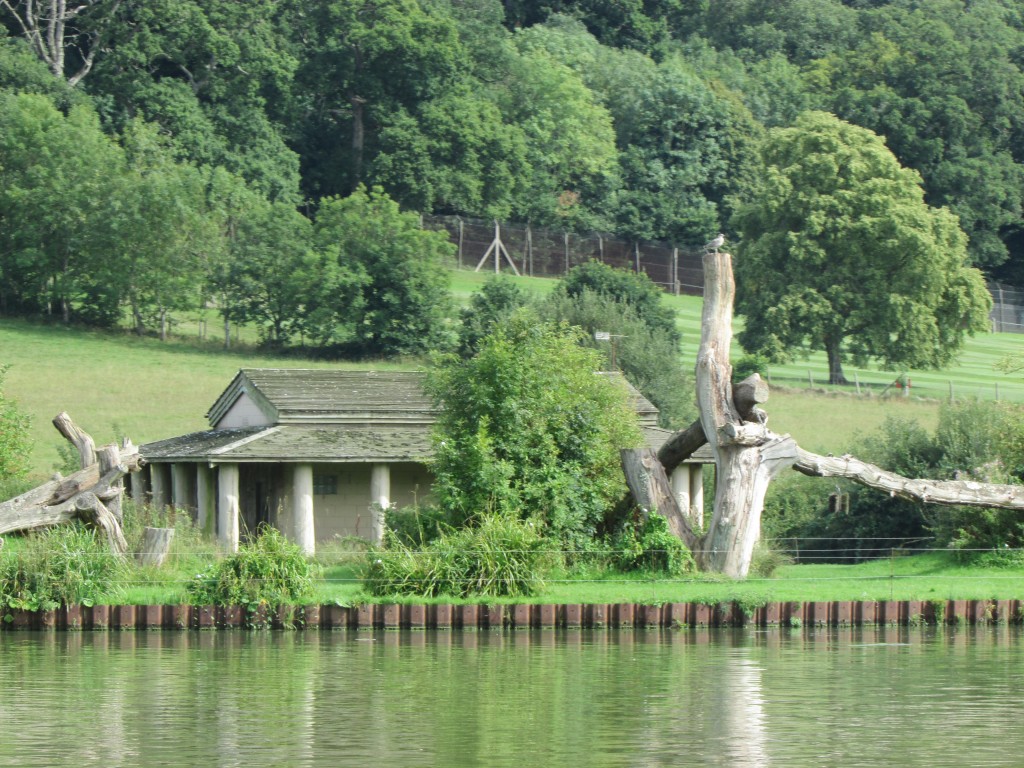 Since we were last here they have built another area for Gorilla's and have a few in there.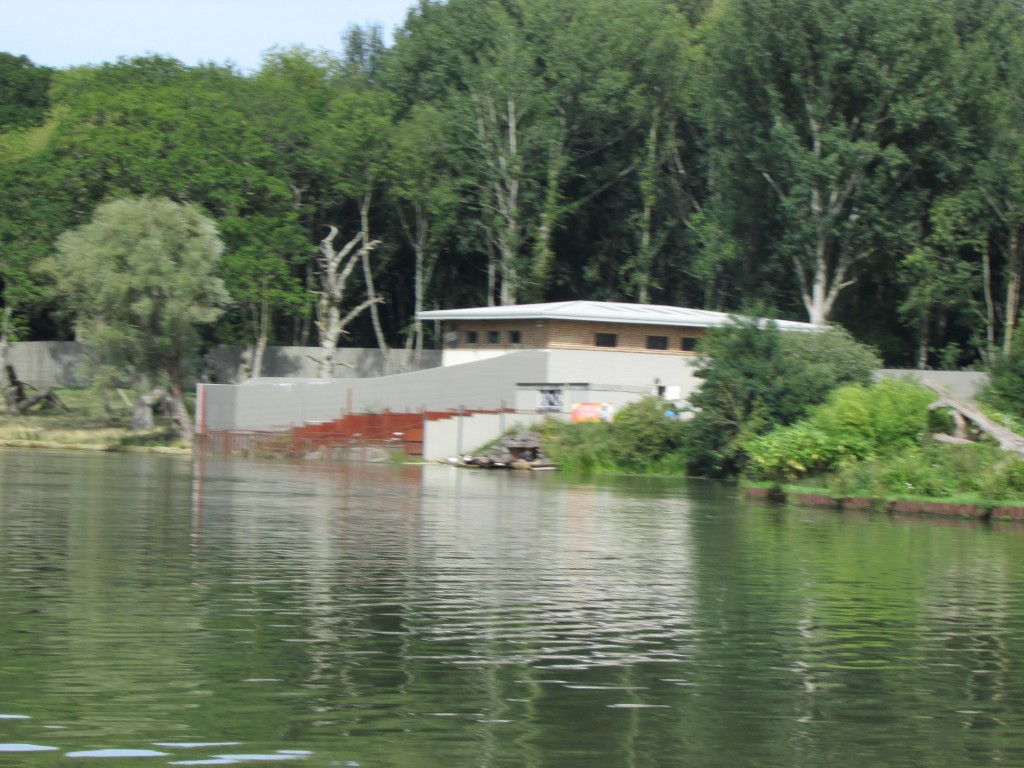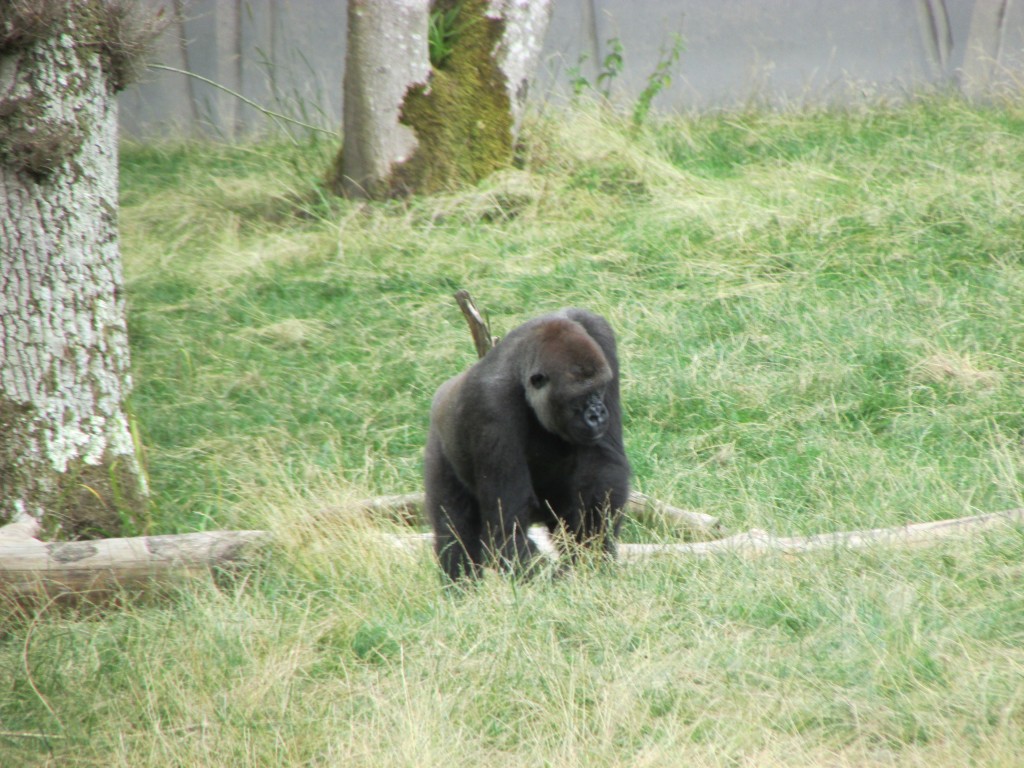 At this end of the lake are the Sea Lion's.
`Pickle` really got excited about these as they were swimming alongside the boat and jumping out of the water for fish.
After departing the boat, the kids wanted to go on the train ride. Again, I managed to get on to the train in my power chair. i think there are two carriages for disabled, and in with me were my Wife, Son and `Pickle` so there was room. I had to reverse in as it enabled me to turn easier, you do have to duck getting in and lean forward to see out when you are in there but at least they have made it so wheelchair users are able to enjoy the ride as well.
There was a Postman Pat village which `Pickle` wanted to see, so off we went.
The maze had to be done, but not wheelchair friendly so I stayed and had a coffee with Mother in Law.
They made it to the middle, who's in the tower?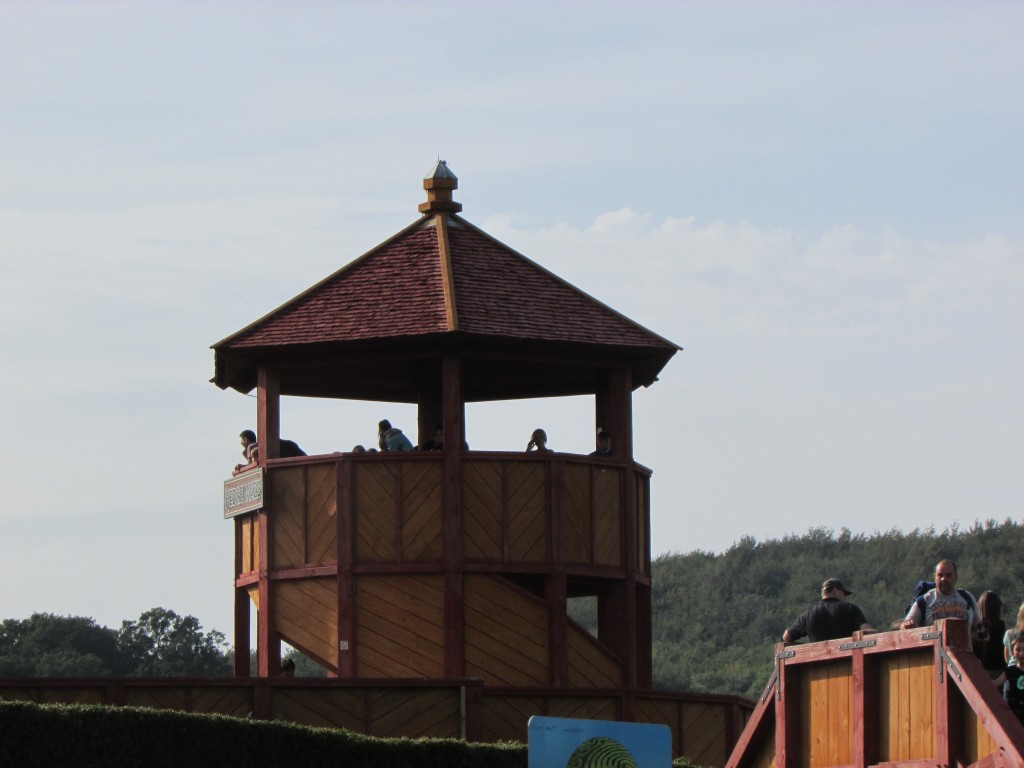 `Pickle` and her "crew", that's who!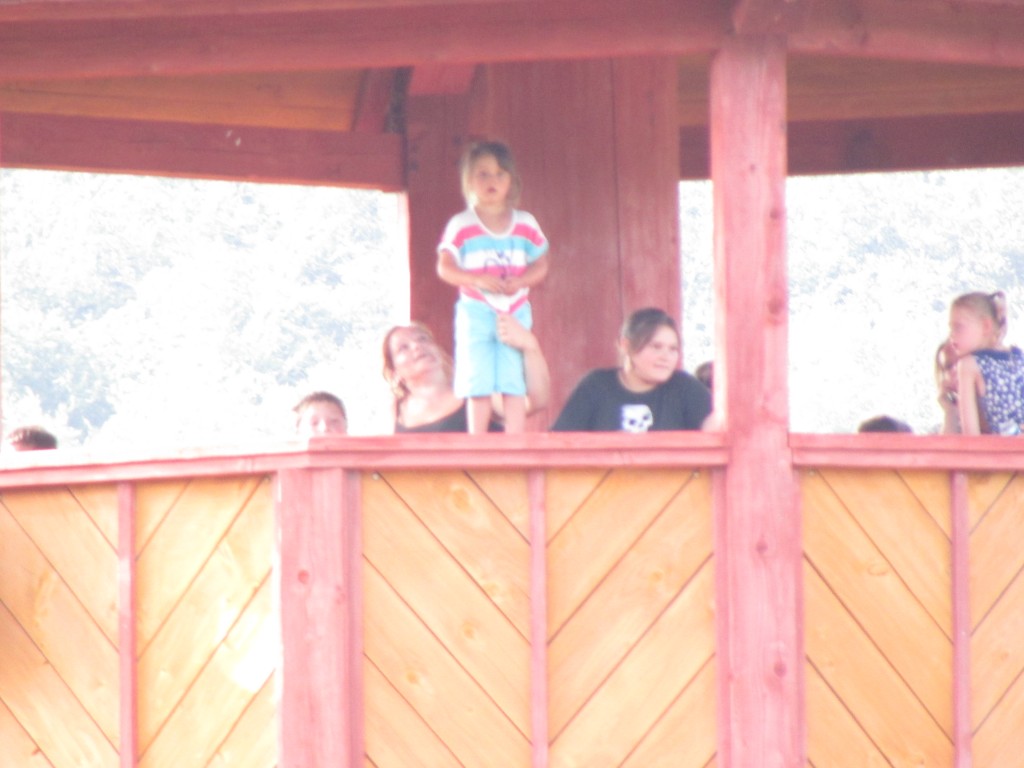 With other attractions seen and more animals seen we ended at the play area.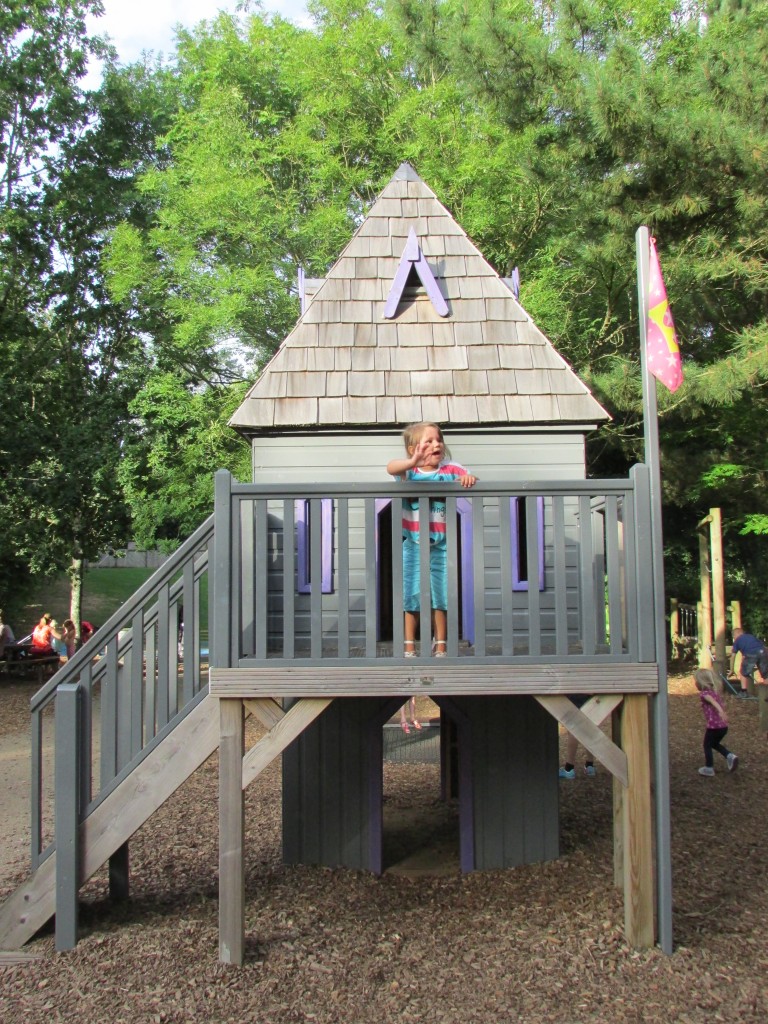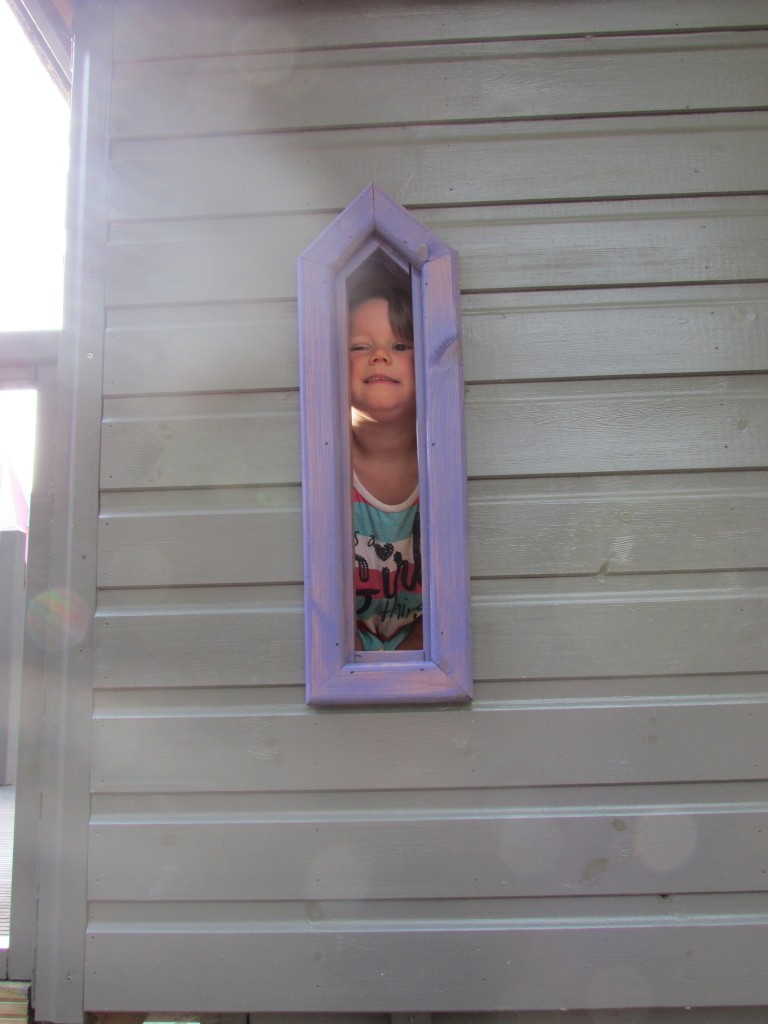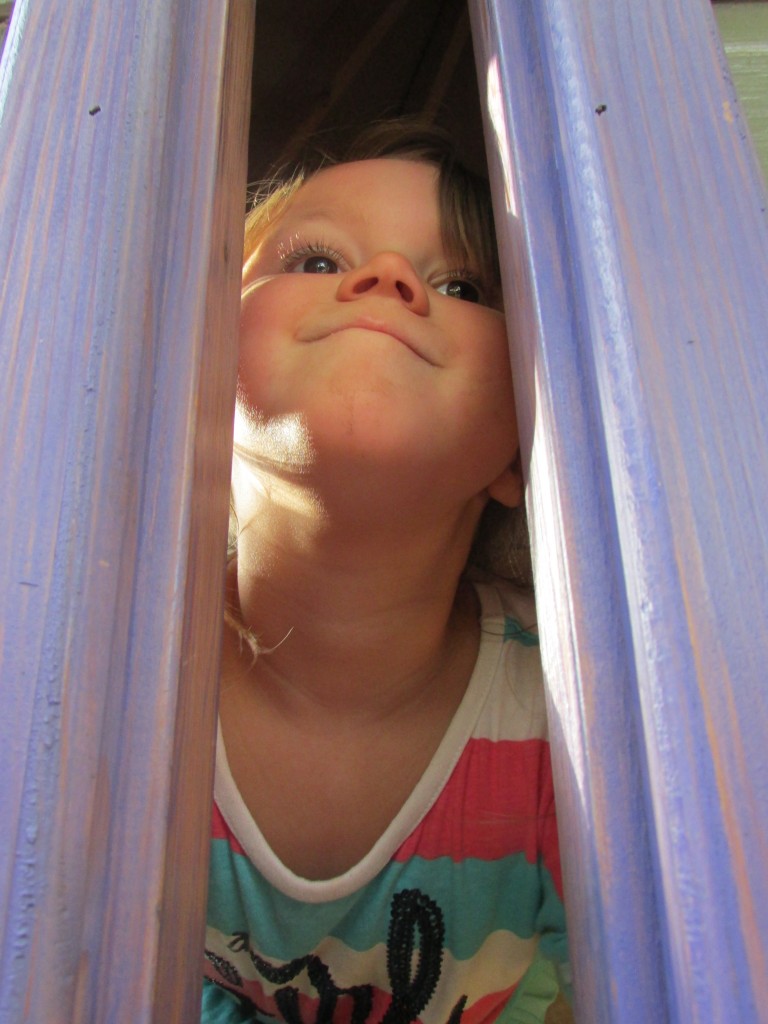 And I managed to push `Pickle` in the swing which was something I hadn't done since my accident.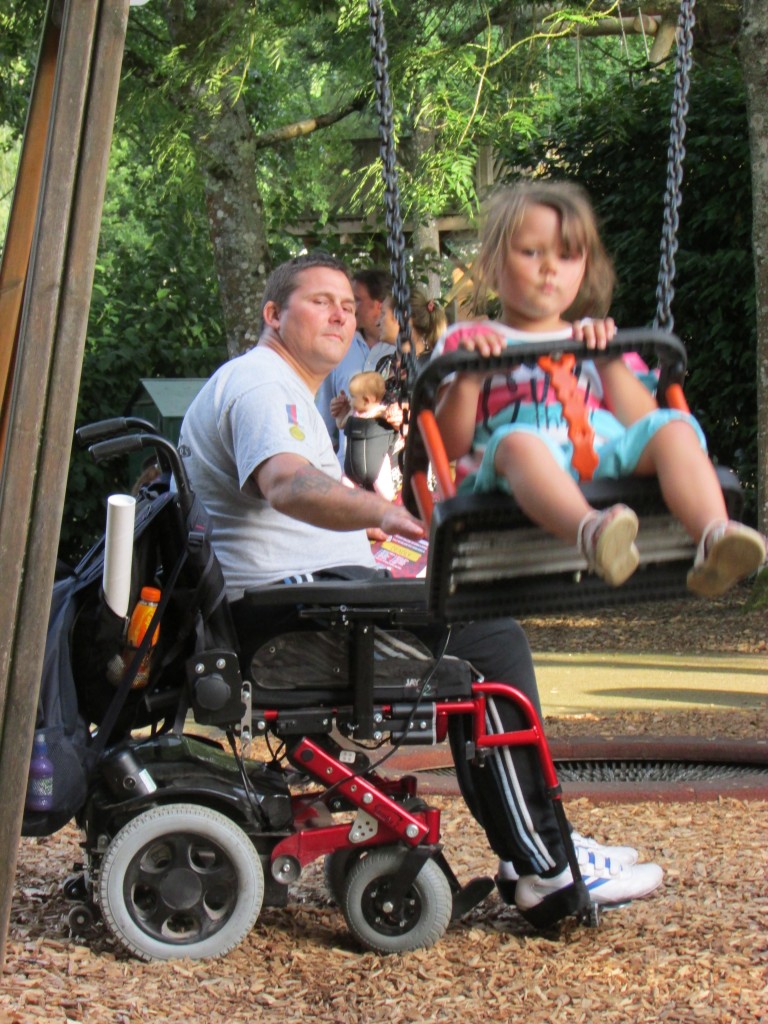 One last thing that they wanted to do before they left.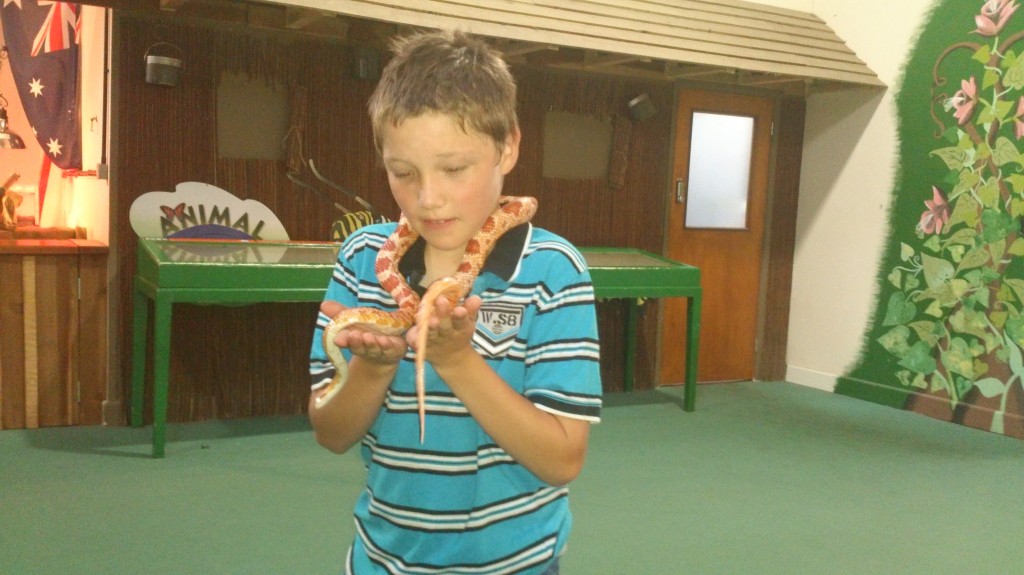 My Son was not sure to start with as it was a new experience, but he soon got over that.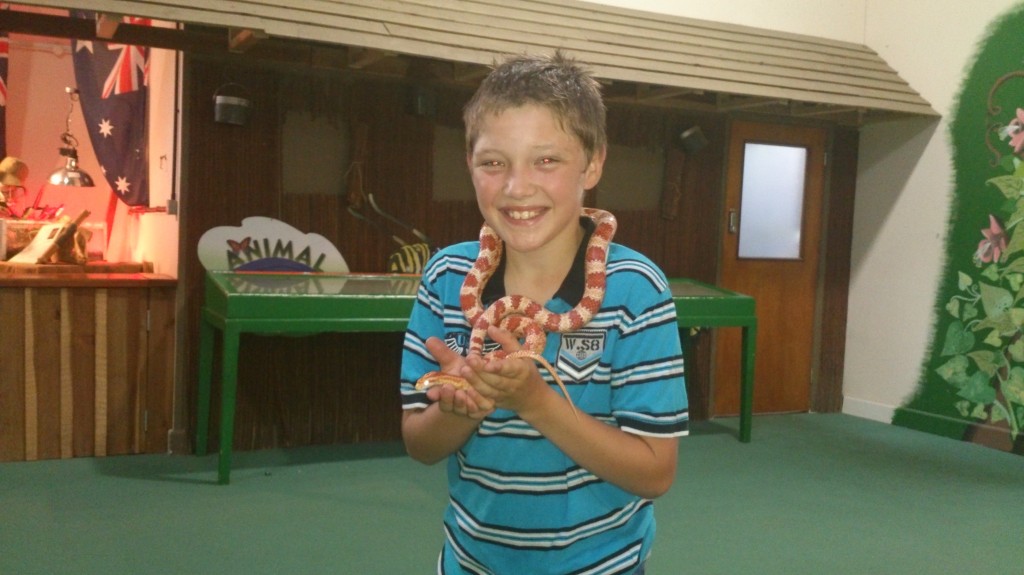 My Daughter however was in her element, and "No" you can not have a snake love!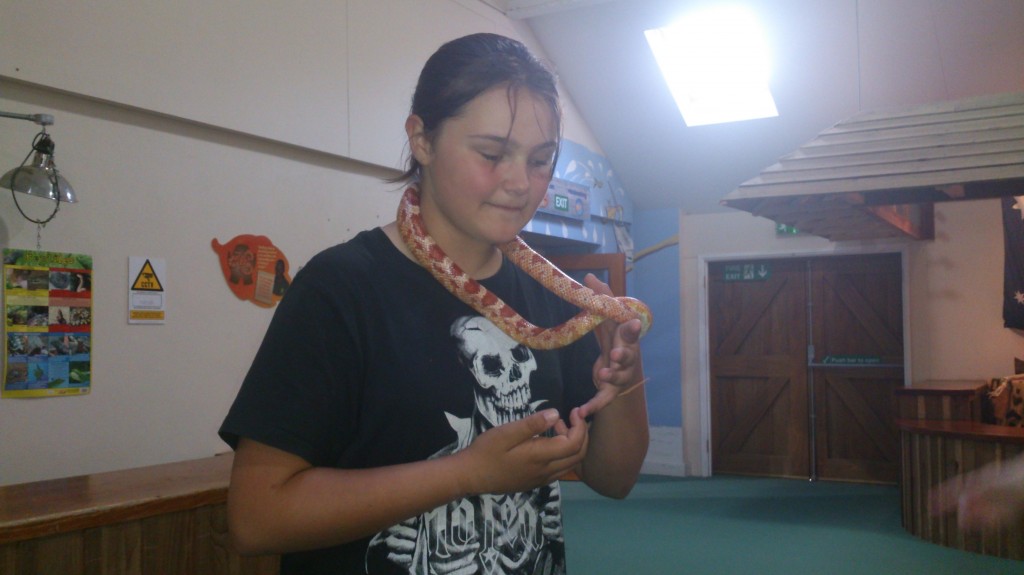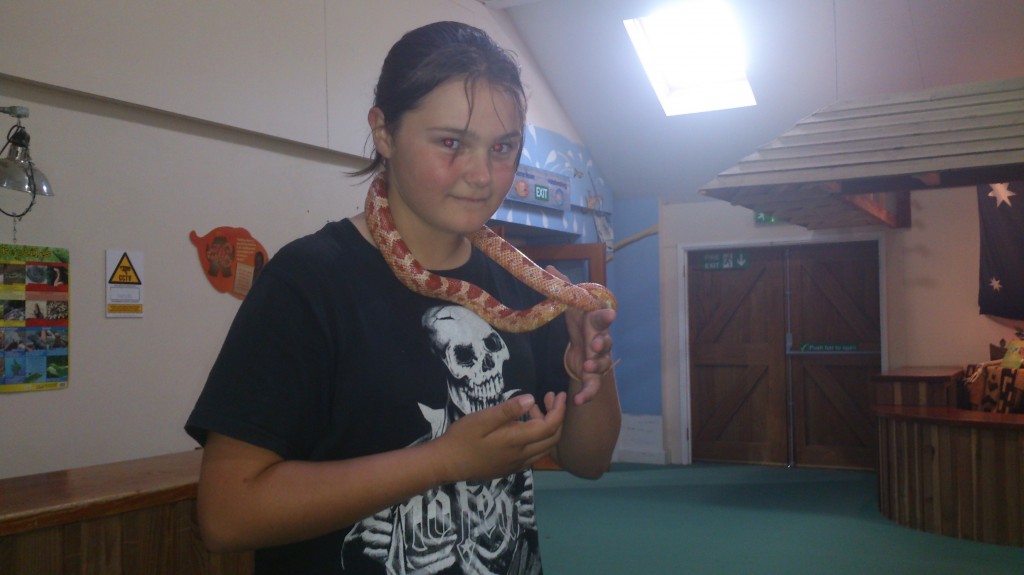 It wasn't until after 7 pm that we left having had a brilliant day out. The kids enjoyed it no end and `Pickle` was asleep before we even got out of the driveway! It was a really good day out and was enjoyed by all. If you haven't been before or indeed lately, it is well worth the visit but it is going to cost you. That said, the money they have spent on the place is worth the entrance fee. Hope you are enjoying your school holidays. My Son's Birthday treat tomorrow, (Saturday), which is going to be another long day and will give me something else to write about. Until then.
Good evening all.