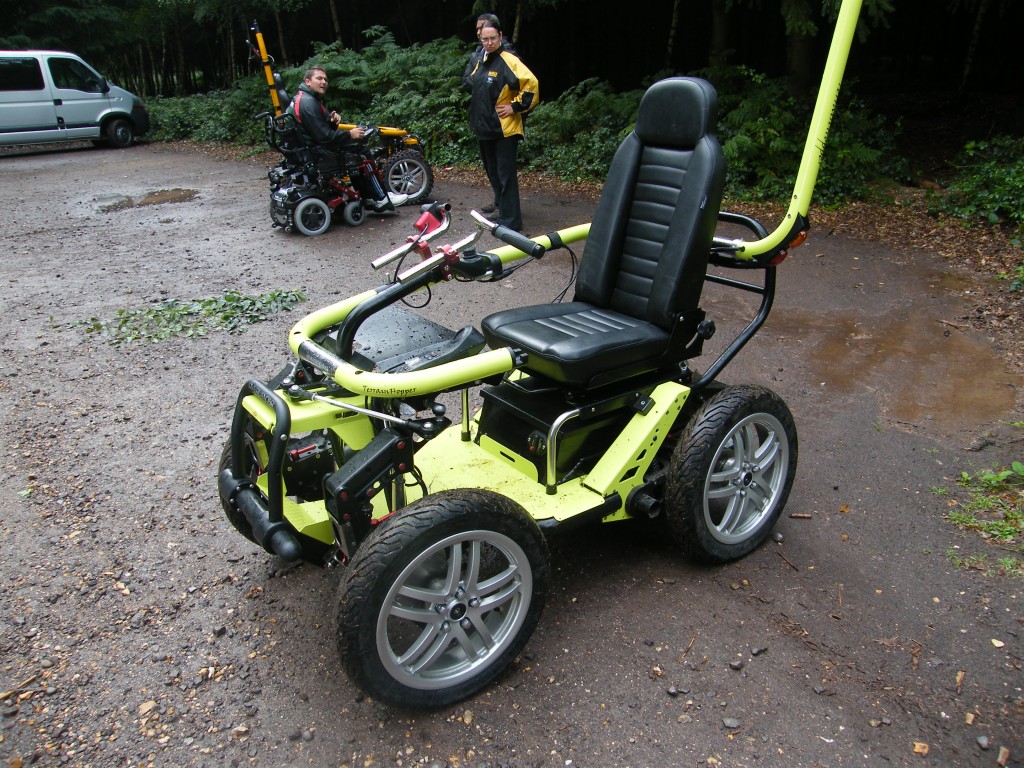 Yesterday, (Friday), Darren drove me to the New Forest where I had arranged to meet with Sam and Debs whose company "Terrain Hopper" manufactures amongst other things, the `Overlander 4`. I have tested a couple of off road mobility vehicles in the past and have shared my experiences of those products on my Blog, I had been set on one of the two previously tested products but I tested another to compare, the first item though was still the better of the two in my opinion. I have been saving and did my sponsored skydive to raise the money for the vehicle but continued to research other products just as you would if you were looking to purchase a new car for instance. After looking over various internet sites my attention was drawn to the `Overlander 4`, and when I watched what it was capable of doing I set about finding out more about it.
I looked on the website of the company "Terrain Hopper" and looked at the information that was there and then I e mailed for more information still and also asked about arranging a test drive. I really wanted to test it at the local forest that I had tested the other two products but was instead offered to meet them at the New Forest where they would be on holiday. I agreed to this and so waited for the day to come. Meanwhile I e mailed Debs at the company and having looked at the options and requirements I asked her to send me a quote for the cost of the unit to my requirements. As you will already know if you are less able'd than others, nothing comes cheap but I would reserve judgement until I had seen the product and tried it for myself. Finally, the test day came and as I said previously, Darren took the day from work and we headed off to the New Forest.
We know that it can take up to two hours to get there so we allowed two and a half hours as it is school holidays so this should be ample. How bloody wrong we were, we were following a car that would not go above 30mph on the main road which I consider dangerous as people get impatient and try to overtake in dangerous places or people travelling at the 60mph speed limit collide in to the rear of the slow vehicle or end up colliding with another vehicle or object trying to avoid the slow driver, I could not help thinking that DVLA had revoked my license but idiots such as these are on the road every day, very frustrating! Anyway, with the traffic completely against us and having text'd Debs to tell her that we were stuck in traffic and would not make the time we had arranged, we eventually arrived at the New Forest some three hours after leaving my bungalow.
We parked up and from my `Chucklebus` I could see the people who had booked a test before us. He actually owned one of the products that I had previously tried and was visibly impressed with the `Overlander`. He was able to walk but my guess would be that he was unable to walk long distance or over rough terrain and therefore had the mobility vehicle I had previously tried. Now though it would appear that he required something more capable and was trying the `Overlander` to see how he got on with that. I got out of the `Chucklebus` and Darren and I headed over to meet Sam and Debs. They were very pleasant people and we spoke while the other interested parties said their goodbyes and Thank you's and left. I spoke to Sam who is the designer, and owner of the "Terrain Hopper" company who explained how it all came about and the testing they had done which had ended in the very product that I was looking at and was going to try out. 

It was clear to me that he knew exactly what he was doing and could not have tested more thoroughly or comprehensively which had culminated in adjustable suspension and ride height and even the wheels being the size and width that gave the best stability and grip.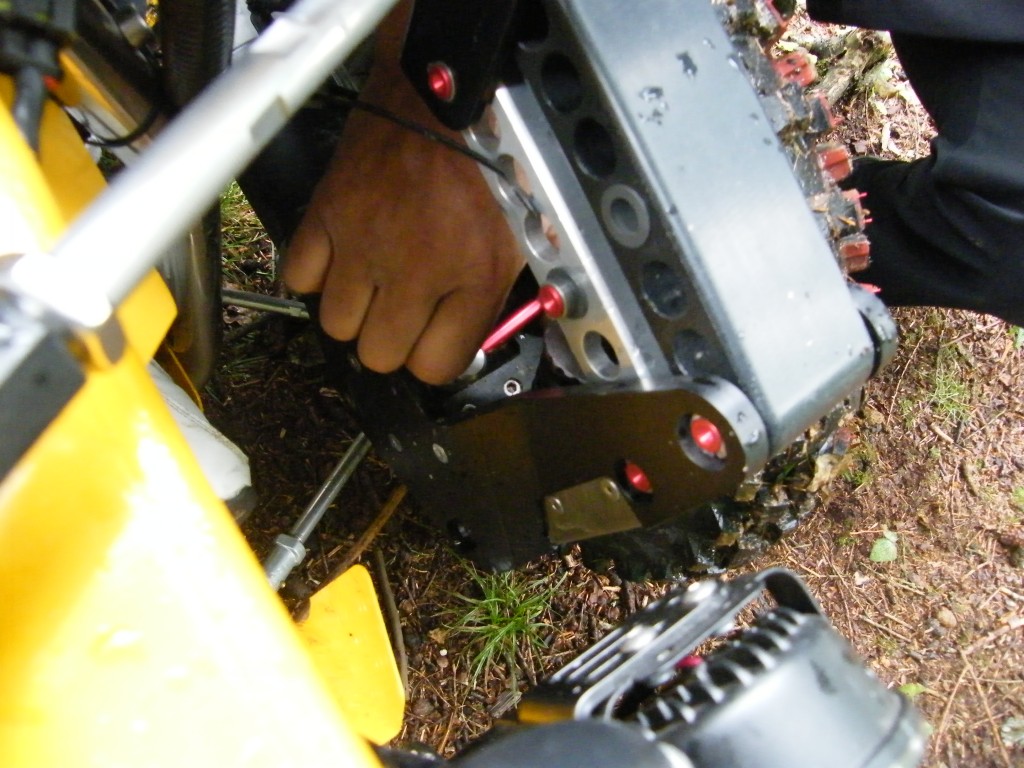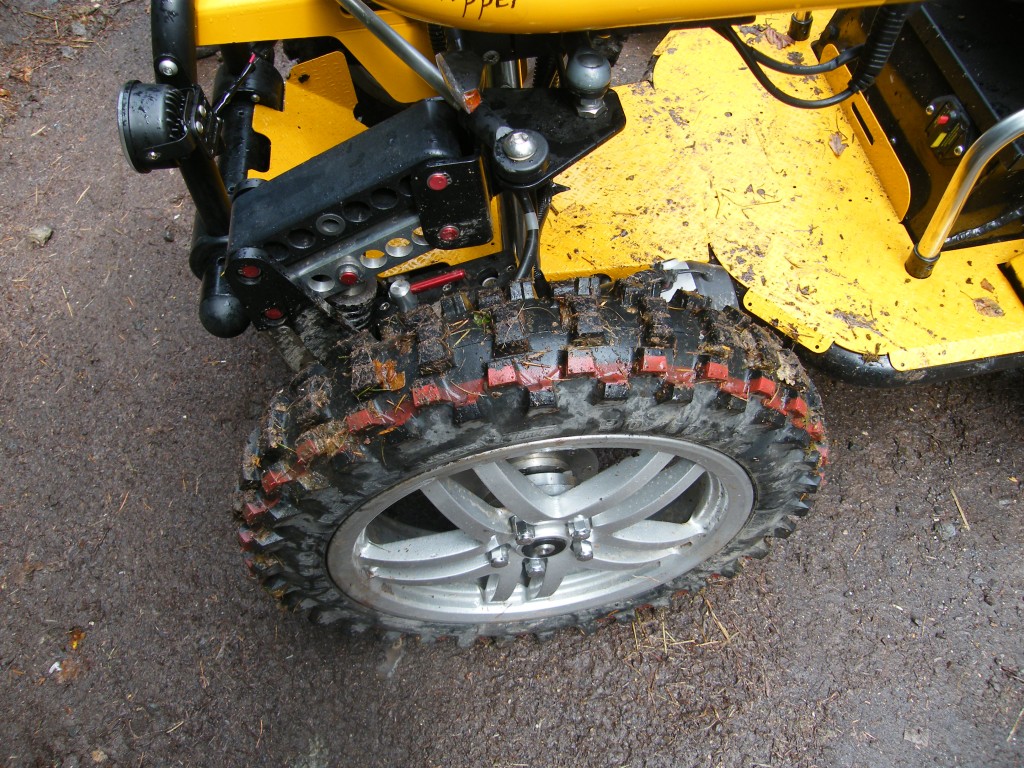 Hardly surprising when Sam is a design engineer, and from what I had heard so far and from the first view of the product, a very good one. So having spoken to Sam for a good while it was now time for me to get in to the `Overlander 4` and see what I thought. I was in my power chair as I had been unaware as to where we would be going or what the ground would be like and this means that I need really to transfer from the left hand side. This is because my control unit for the chair is on the right hand side, I can get out of the chair to the right but I prefer not to as it puts unnecessary strain on the wiring while the arm which the control unit is attached to hangs down. This is not a problem as the sides on the `Overlander` both raise up for access.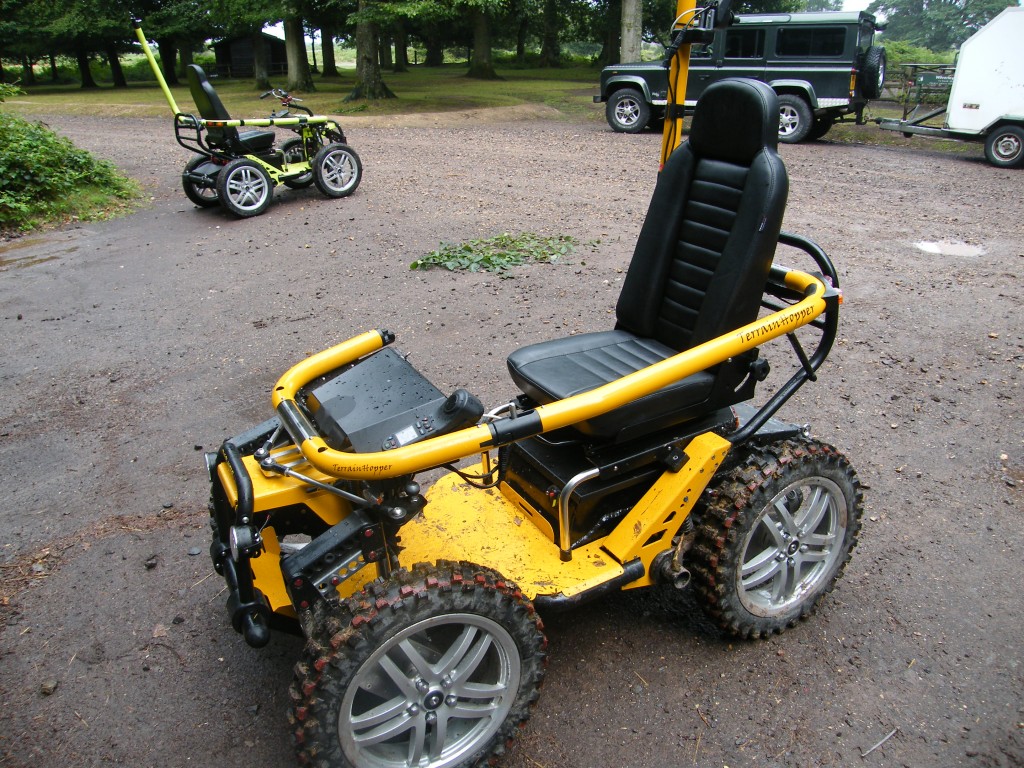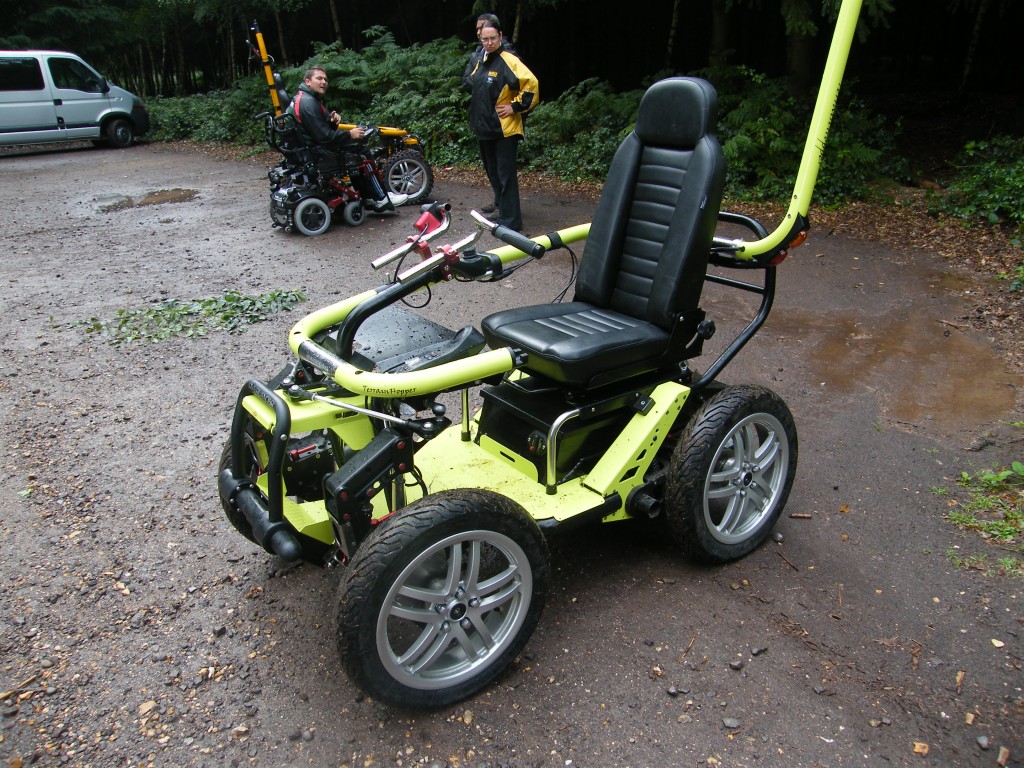 They had brought two units with them, one manual control and one joystick control both seen above and showing that both sides open. They were set up with road wheels pictudre immediately above and the yellow model was fitted with off road knobbly tyres, whilst it was the manual unit I wanted to try I would use both to see the capabilities of the off road tyres in comparison to the road wheels. To that end I tried the joystick unit first.
The first thing I noticed was that at the moment I required the slide board to get from the power chair to the `Overlander` but it was really easy as they were of very similar height. As well as the height similarity, you had the side bar to help you if you needed to pull yourself in. I then had to lift my feet in to the unit which I did all be it with a little help. Bear in mind that this was the first time I had tried to get in to the unit and so would not have been as smooth as I would have liked as it was new, never the less though I was in. The first thing I noticed was that my legs were able to be outstretched as the seat was adjustable and that my feet were unable to kick out anywhere due to the frame not allowing it.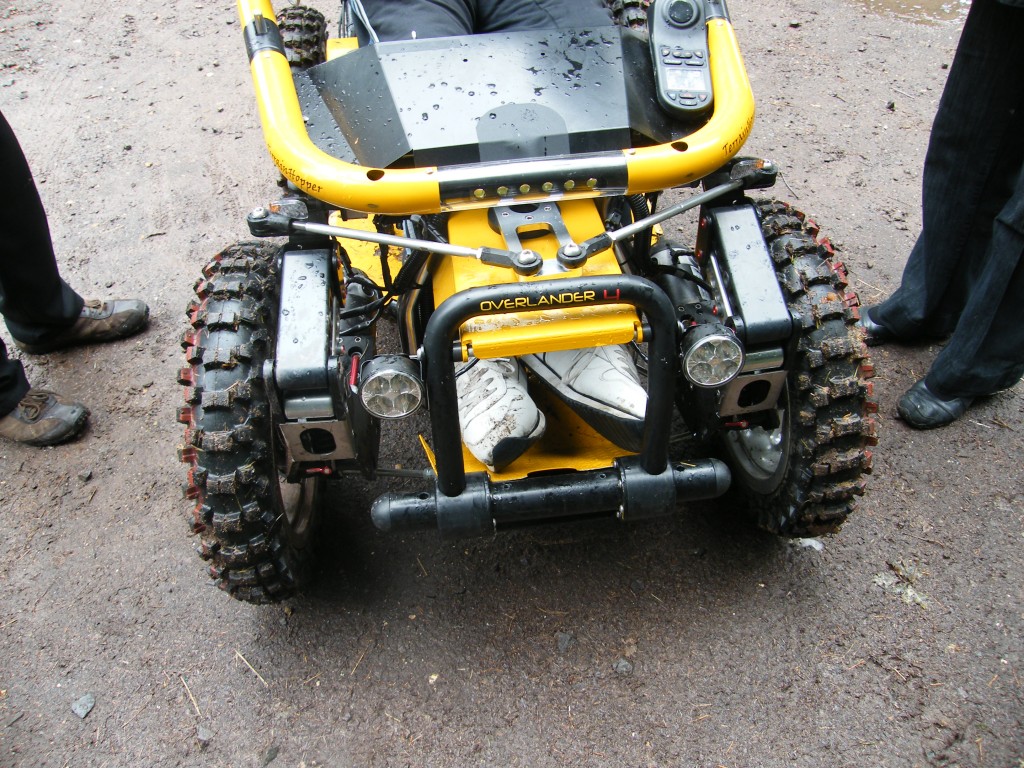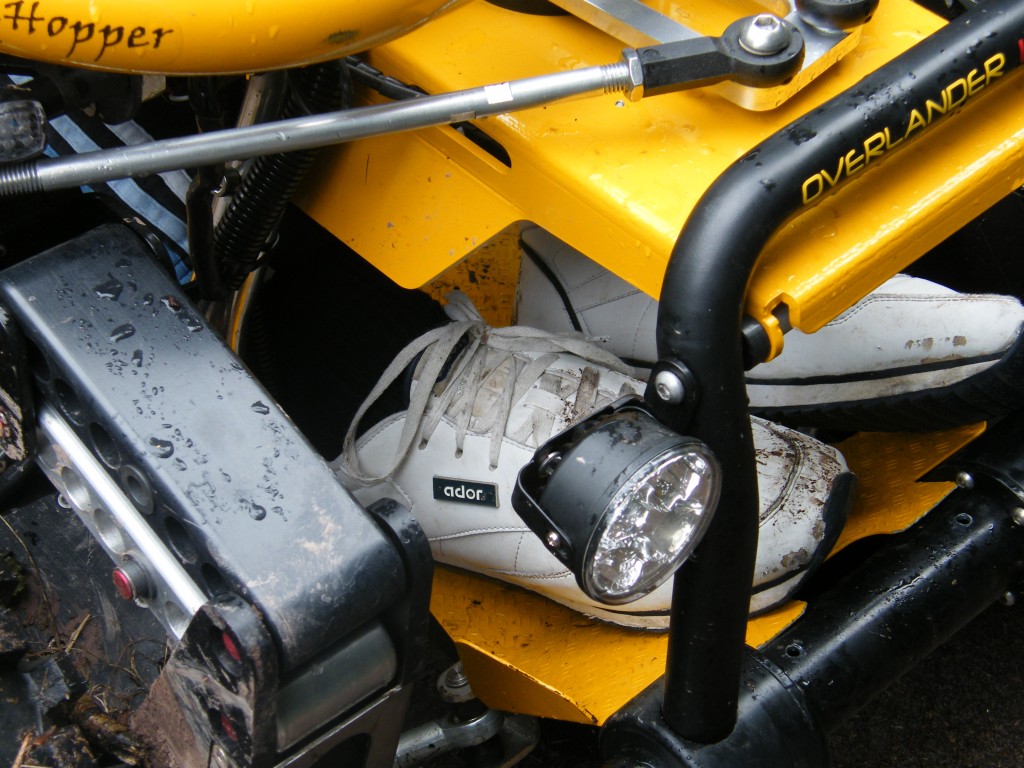 In addition to this they can fit the unit with a strap for you, I have to be honest when I say that I did not ask if this cost extra so I would allow for this but also with complete honesty I can tell you that I did not need it. At no point did my feet want to be outside or indeed anywhere but where I had left them. So then, with regards to leg and feet positions it was perfect.
The next thing I was taken by was the fact that once I was in and I secured the sides which is done simply by lowering the side bar down and sliding the catch back and then once the bar has dropped all the rest of the way down, release the catch to lock it, could not be simpler. As I was saying though, once both the sides are down and secured you can use them to lift yourself to get properly settled in to the seat which by the way is very comfortable. The frame is 2 inch tubular aluminium so you have no worries about it being too flimsy, and the side bars prevent you from falling out of the side. The unit does have restraints to hold you in the seat, seat belts effectively but the one that was decided would be best for me was the five point harness. I will point out now that neither of the units had belts but at no point did I feel as though I would fall or slump. I would also say though that I would not drive on slopes without one as I have no core strength.
The unit can be used in two or four wheel drive which I was able to select myself by switching the motors at the front to drive or free by leaning forward. Once motors are engaged you must then turn the control box on for it syncing it with the rear motors.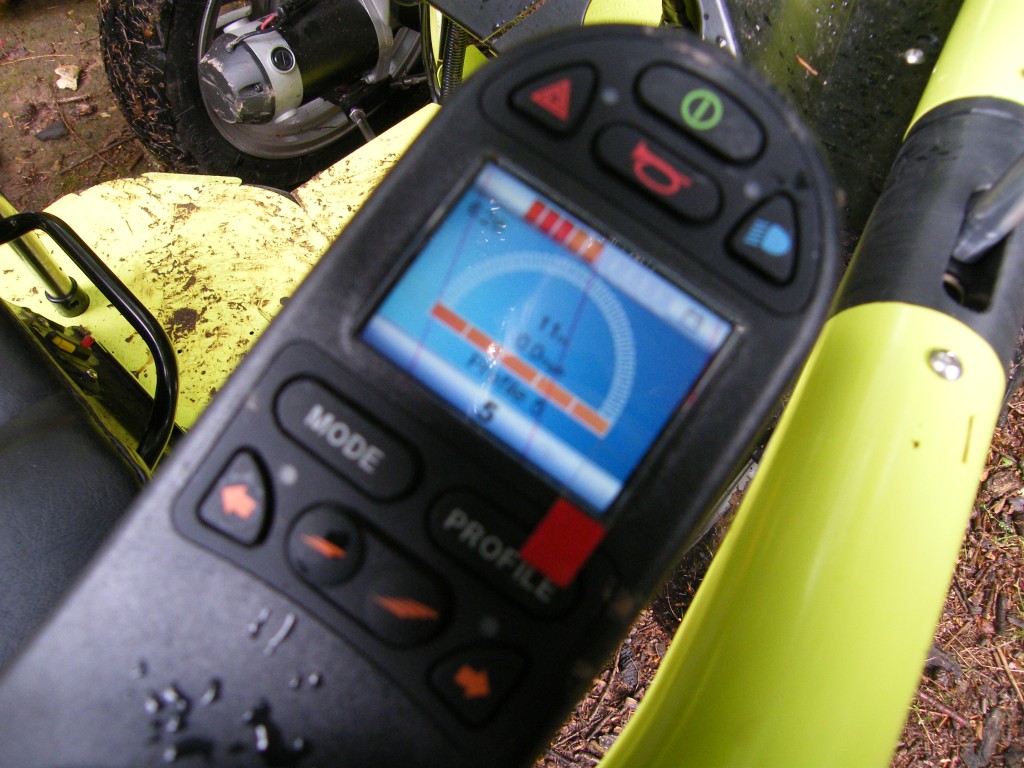 The syncing is simple to do, the box shown above is the module that runs the rear wheels. Even on the manual it had a joystick control but would only operate forward and reverse as you would then steer with your manual bars.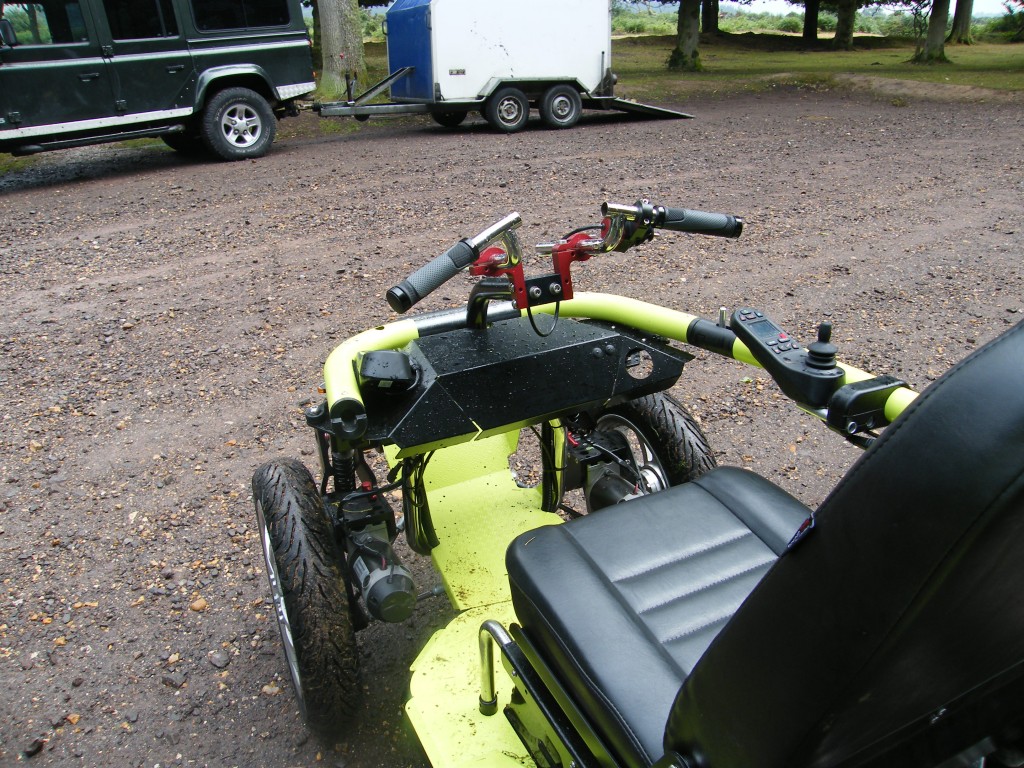 So with me in the unit and comfortable it was time to go for a drive.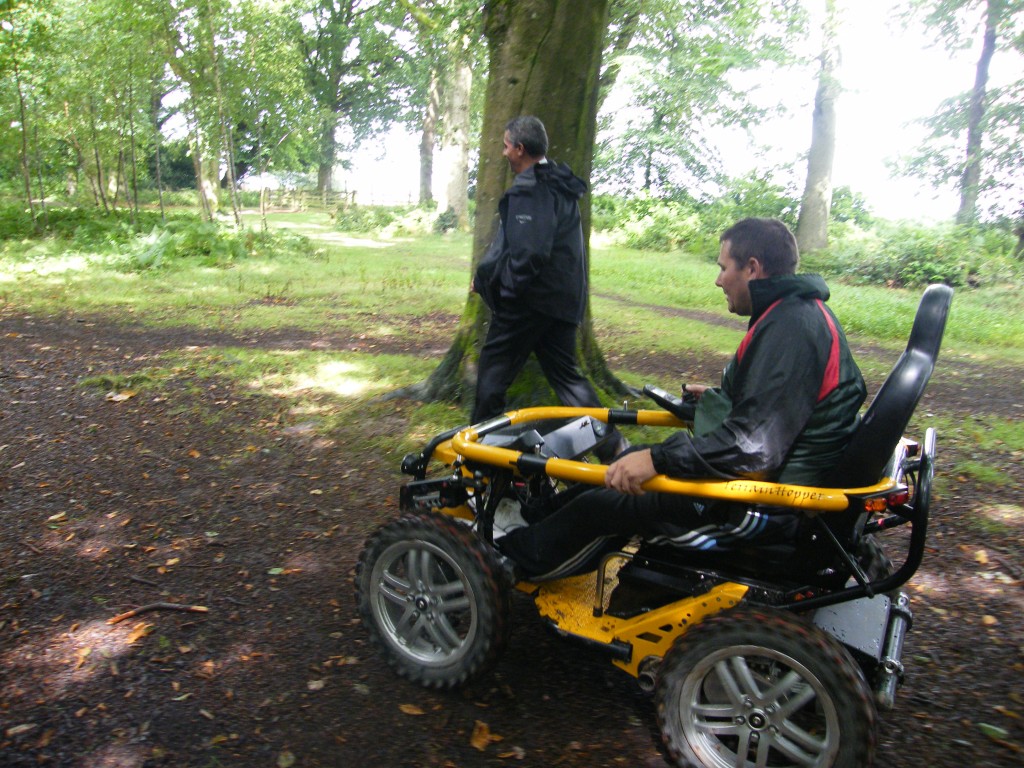 As I did not have a restraint belt and I was on joystick control I simply held the side bar but I will point out that this was not to keep me upright, just somewhere to rest my arm. The units were limited to 4 mph and as I expected, the unit did slow when it turned but not to a huge degree. So with 2wd running I went off to see how it was. Sam walked with me and Debs bought the manual unit along, all the while allowing me to ask questions. It was not too long before I found a wooded area but before I went in Sam told me to drive over a log, I have been unable to attach the video to my blog for you to see but it drove over no problem, the two rear wheels pushing the front wheels over the log with ease. Had I have been in 4wd I have absolutely have no doubt that it would have gone right over but as I only had the 2wd active I required a nudge from Sam to get the rear wheels to grip the log, but as soon as the rear wheels touched the log it was over it. More to the point, when we bumped down from the log I did not get thrown around as the suspension and seat absorbed the lot. Very impressive. I was concerned if there was anything underneath that may get damaged by doing such things but was reassured by Sam when he showed me the underneath.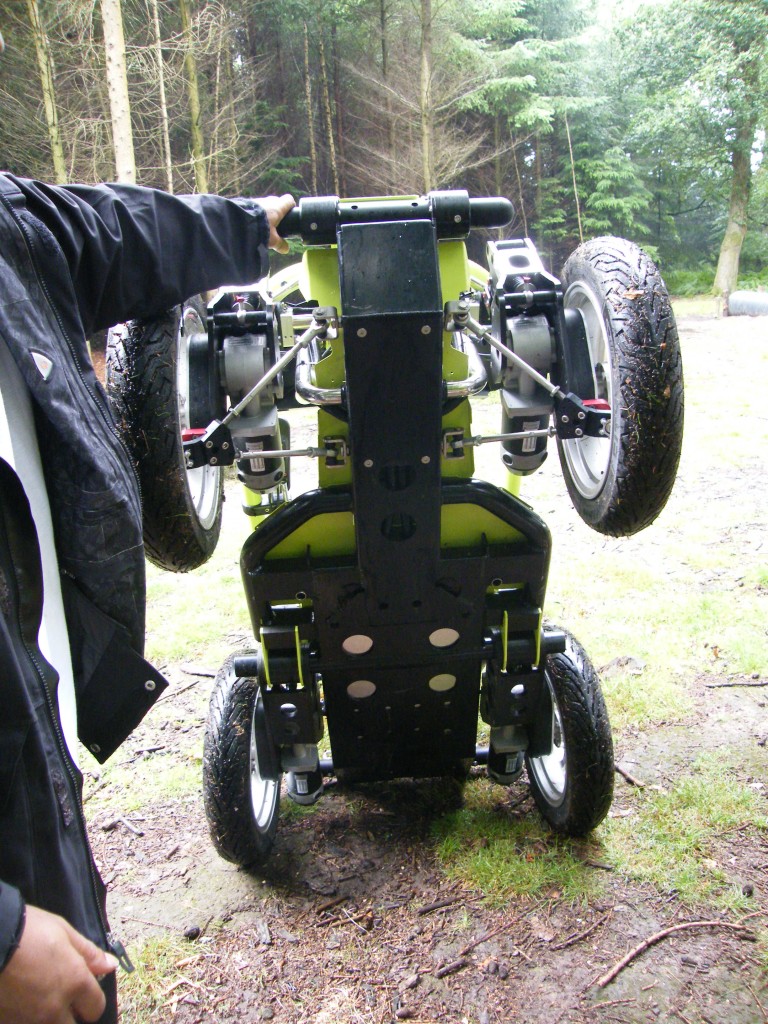 I then decided to try out how it would go through dense forest almost exactly like the areas I used to train recruits on Woodbury Common in Devon, I could not believe how well it cut through the trees, over the tree stumps and fallen branches and turned through and around the area with ease, so much better than I actually thought it would. Having done this, driven over things to get stuck which did not happen as the `Overlander` still reversed out but then as soon as I activated 4wd it managed it with ease, I wanted to try the manual version which had the road tyres fitted.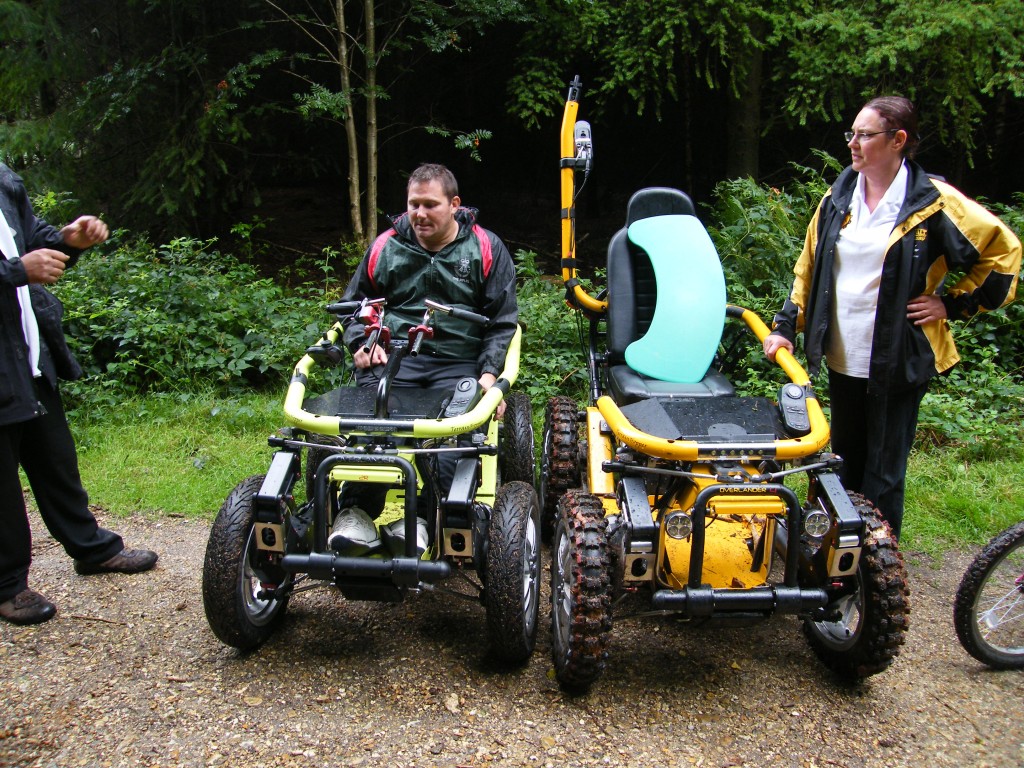 With both the units parked next to each other and using my slide board which you can see in the seat of the yellow unit, I easily switched units. I do not think I could have done it without the board but again, I have taught myself to transfer and so it is not the easiest or most dignified way and others may well not need a board but I can only tell you about how I got on. With me in the manual unit Sam and Debs told Darren to get in to the yellow unit and see what he thought, he did not need telling twice the big child and so he too was able to test it out.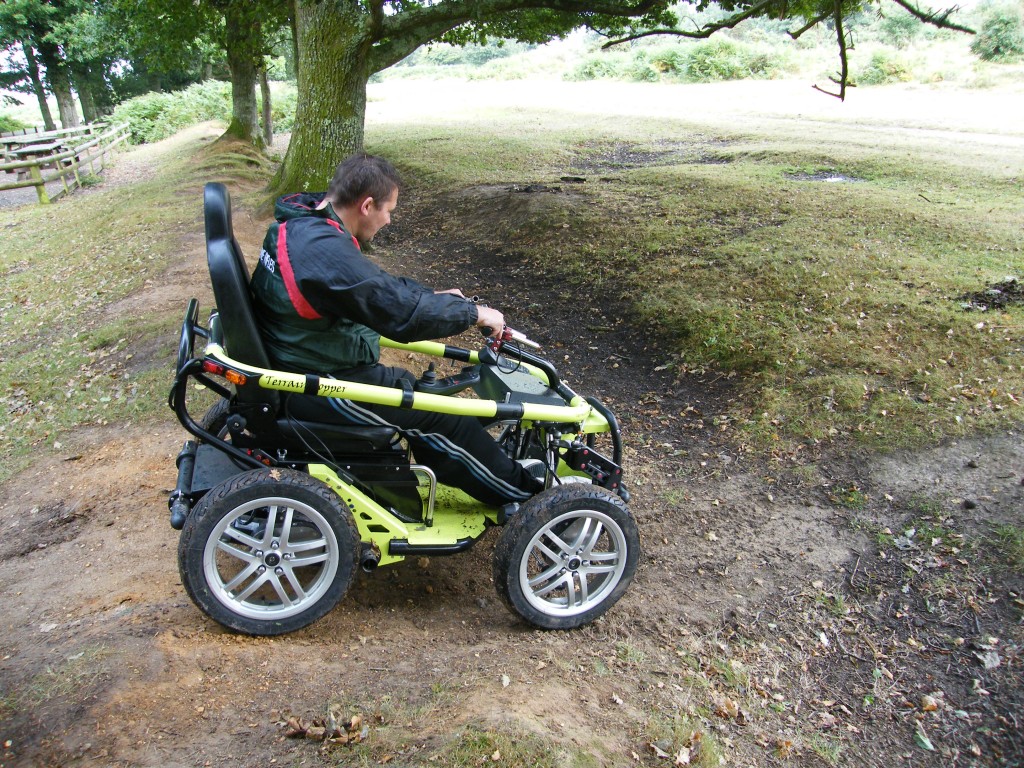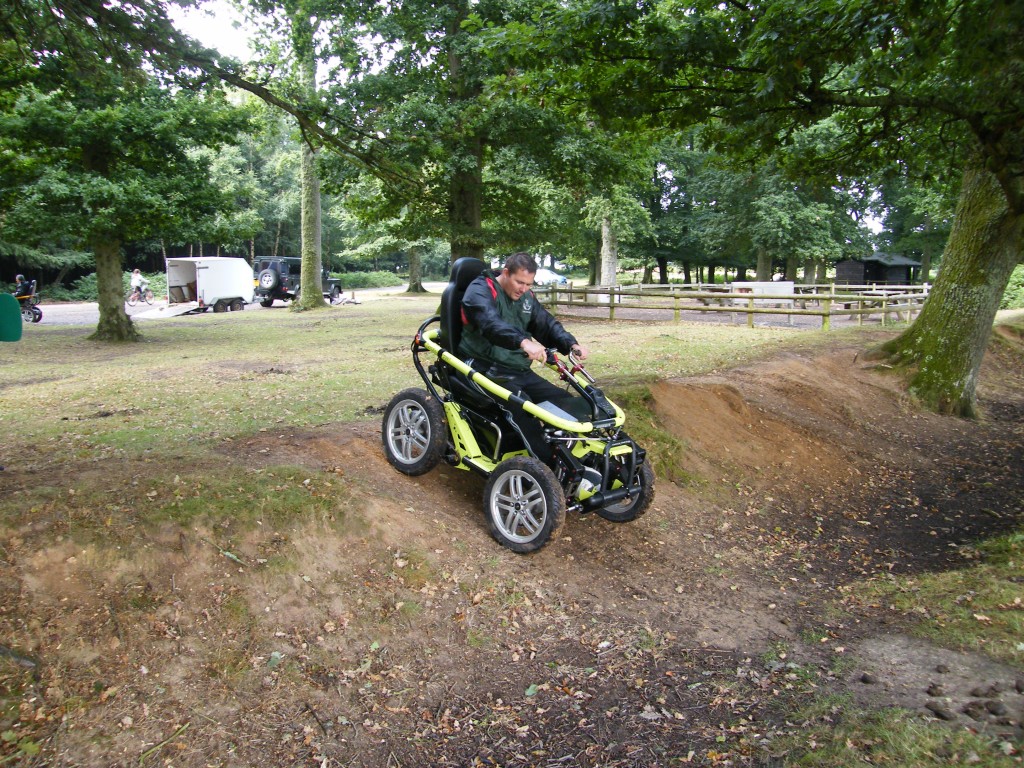 The manual handlebars are adjustable to how you feel most comfortable, to move the unit there is a lever which you pull like a brake lever to go and push away with your fingers to reverse which gave me incredible control , it is not a twist grip like a motorcycle which was much better, this was something else that Sam had figured out by testing, testament that he had left nothing untried or untested ensuring that he was able to build the best possible piece of equipment. Debs also researches how bodies are affected by paraplegia and other conditions and passes the information to Sam who adapts as needed, a very good partnership ensuring that almost every angle is looked at. Even though I had no belt to keep me in the seat I was able to stabilise myself with the handlebars meaning I could go up and down some slopes but Sam did say that there was one I should not attempt as he did not want me falling forward, instead he would do it.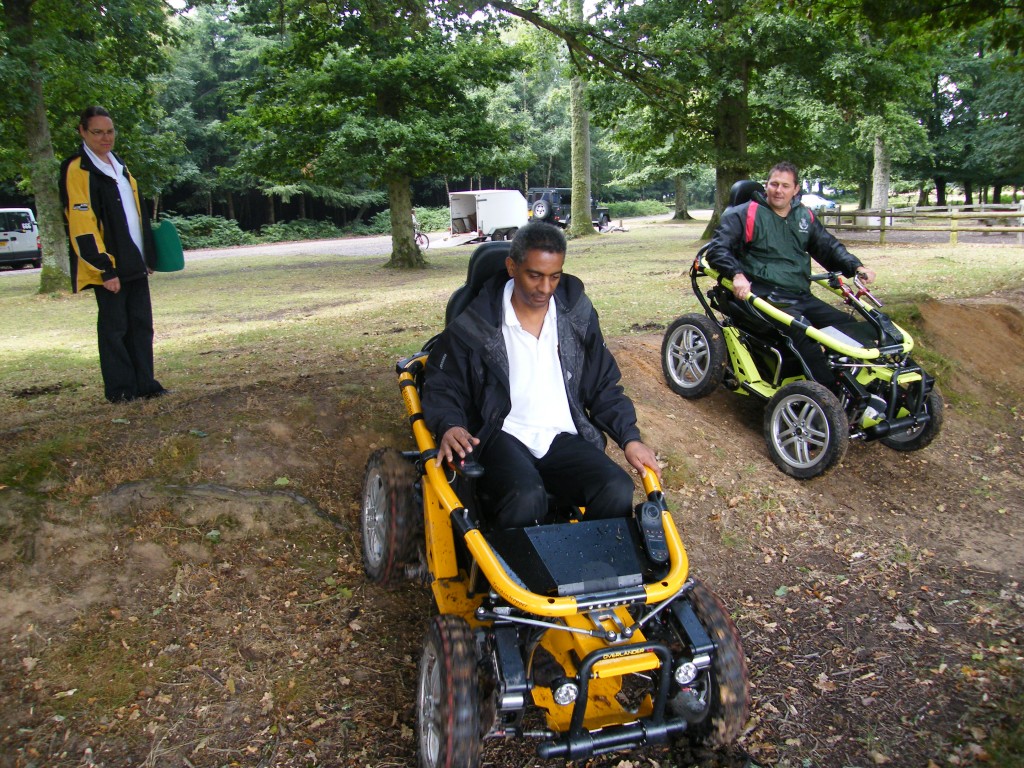 The pictures do not do it justice as to how steep this was and Sam demonstrated that he could go down over at a snails pace and even stop without sliding, meaning you the driver had complete control at all times, he even stopped and then reversed back over something which I know the other units would have struggled with if it managed it at all. After testing for a total of one and a half hours I eventually had to let them have the unit back but before we did we looked at the possibility of it going in to the "Chucklebus".
The unit is too wide to go on to the lift at the back but with ramps would go in to the bus. The easiest way to do it would be to remove the seat immediately behind the drivers seat and drive it straight in but as I would be looking to take it on holiday with us where I would also need my power and shower chairs, I would have to look at having a trailer built for it, an extra expense but a price that would give me such a massive thing back, that being I would be able to go to the beach with the kids and be on the sand and at the water with them. To be able to go for walks in the woods with them and not be as restricted would be great. And to be able to attempt some of the ideas I have would just be immense.
I am proud of the fact that I write with honesty, I will only write as I find and experience and only write what I know to be true. This blog entry has been to tell you the reader about another day of my life and what I did, also I hope that it will act as a review of a piece of equipment that could massively improve your life by allowing you to get out doing things that you used to enjoy. I found this product to be an incredibly stable, comfortable and capable bit of kit. I am a T4 incomplete paraplegic who does struggle with transfers and I also do get spasms in my legs. The spasm will normally happen over cobbles or rough terrain but I honestly did not get anything whilst driving the `Overlander 4` which can only be down to the suspension, wheels and tyres and the extensive testing and research that Sam and Debs have done. If you are looking for something that will get you out and about in the forest, beach or country walks then give their office a call and try to arrange a test drive. Everyone is different and needs differ from person to person but I don't think you will find a more capable off road mobility vehicle without getting something with tracks.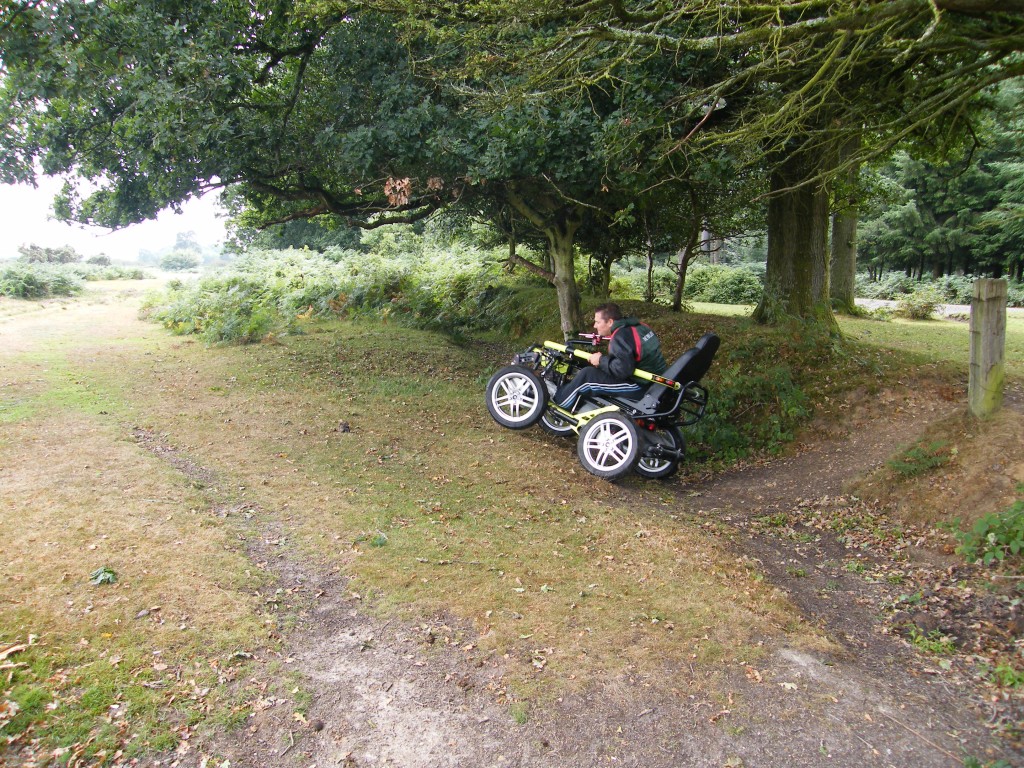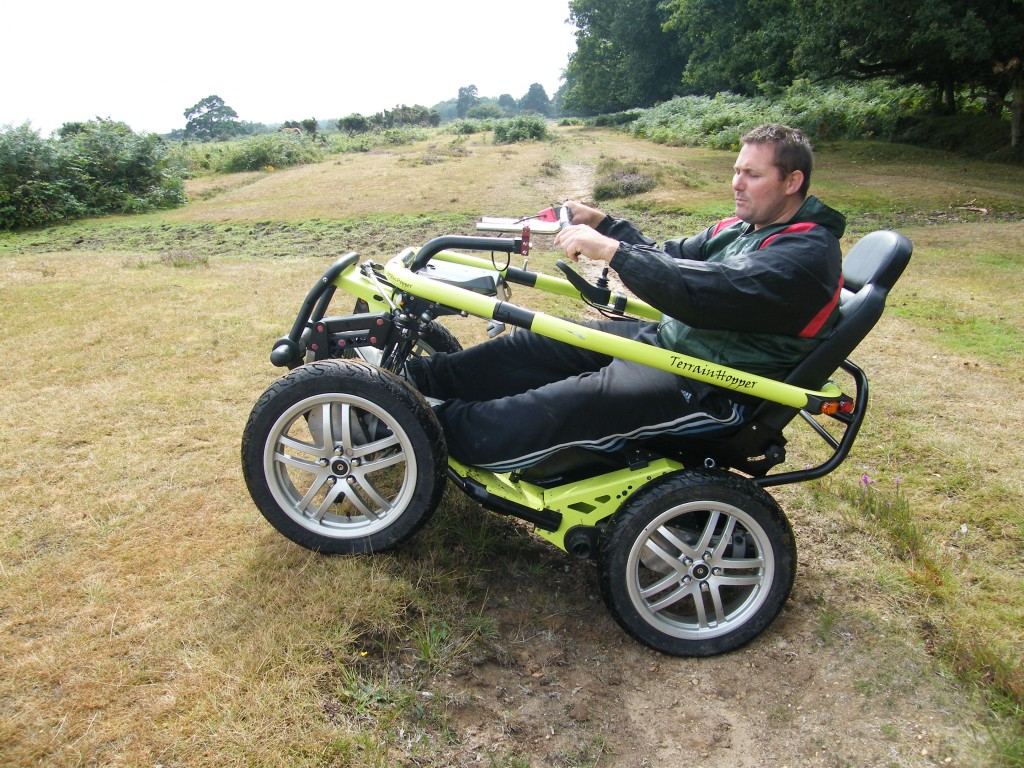 Afternoon all.