Last night I went to T A, in uniform! The training was using weapons on a simulated range. It is easier to describe it as a large video game but is obviously a training aid. It meant that I could see how I would cope with using a rifle in my wheelchair, without the risks of live ammunition. I tried a couple of different ways of shooting from the chair and eventually found the best and safest way for me to fire. Groupings were OK to start with and by the last five rounds I was getting back in to it. Certainly not as good as I was before my accident but by no means off target, just not quite so tight on the groupings. After we had finished at the camp, we made our way back to the TAC (T A Centre), we had a final parade then the guys got me upstairs to to the bar for a chat and a coke. After an hour or so, they helped me back downstairs and I loaded in to the Chucklebus, then my mate drove me home. I had a cracking night and felt more a part of the T A again now that I can parade in uniform. The next thing is to establish what job I will be doing, until then I am going for the social aspect.
This morning I woke to the sound of the telephone, the bungalow was quiet which meant that my Wife had taken the kids to school and `Pickle` to nursery. But it was almost half nine, this was strange, normally she would have been back way before now or before she had left she would have told me that she was going to be doing something. So I answered the telephone that had been left on my bed and it was my Wife, she was talking me through her journey from the bungalow to the kids school. A journey of approximately four miles which would normally take no more than ten minutes and then another couple of minutes to the nursery and at most fifteen minutes back to the bungalow again. All in all a return journey of no more than twenty five to thirty minutes. Not today however, two hours it took, TWO HOURS. It genuinely only takes me one hour and twenty minutes when I go in my manual chair. So what exactly was the problem today then, why the hold up, what could possibly cause such a delay? The answer… Mother nature, just letting us know that she is in charge and that she needs a little respect. The roads were flooded, the fields were flooded, hell even the floods were flooded! This was the view down on to our friends house who we were concerned about, they were OK but it is a bit of a worry. The picture quality isn't great but it gives you an idea. If you look to the right of the trees in the middle distance you can see a white vehicle and a silver colored vehicle to the right of that, the road that they are on is the A303!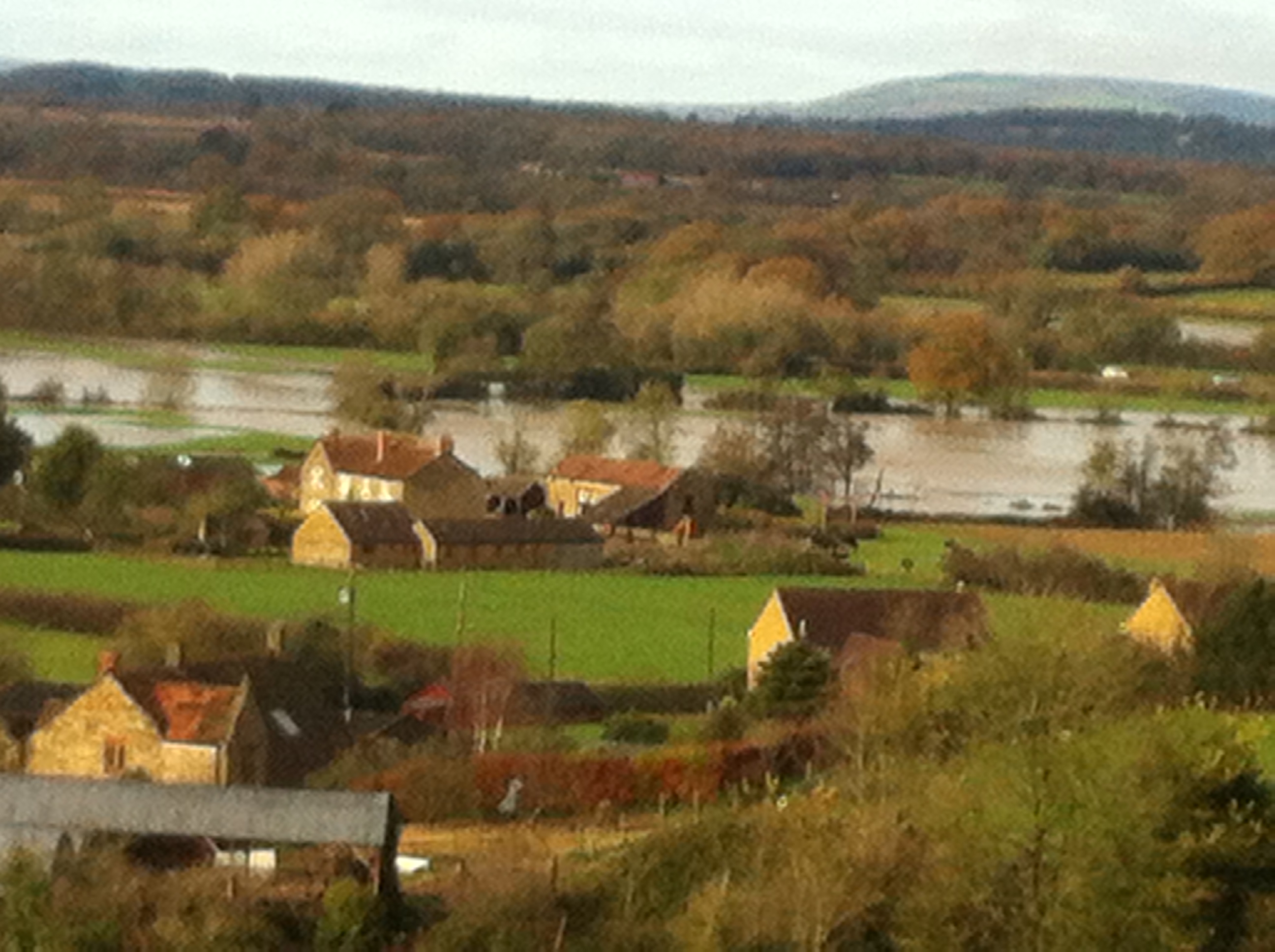 After my Wife had dropped `Pickle` to nursery she stopped off at the school as they had called. She was told to take the kids back home and they would be holding the busses at the school also as the teachers had not all managed to get in to school due to the flooding. It was looking likely that the school would be sending the children who rely on bus to get in to school, home again. Ilminster was all but cut off except from Chard.
The main road out of Ilminster to the A358 and A303 roundabout was closed as the water was completely flooded and as the traffic was trying to go through it was forcing the water towards the front doors of the houses. The road out towards Westport and Ilton was closed due to excessive water causing people to abandon their cars. The road to Yeovil, the old A303, was ok but flooded in places, mainly in Seavington which was passable on the opposite side of the road. The back roads were not worth looking at. I was shocked at how bloody ignorant the drivers were, no one was prepared to wait for others to negotiate the floods before they pushed through, common sense says that two bow waves are going to result in the water crashing in to each other and bouncing back to the vehicles that sent them..tossers. Why are people so impatient, so ignorant, so rude and generally so pig headed??
Knowing the problems that my Wife had encountered, I called my Brother who had to travel to Taunton for work this morning. He was also having problems and explained to me where the flooding had occurred on the road to Taunton, the A358. He had reached the park and ride facility just off of the Motorway and just outside of Taunton, well done mate, it had only taken him just shy of three hours, to travel a twenty minute journey! He had called ahead to warn them of the trouble he was experiencing and that he would get there when he got there as there was little he could do to speed up the journey. There is one thing that I will say for my Brother, he is a dedicated worker, if he says that he can not get to work, he can not get there. He took a little over three hours to get to work today, most people would have turned around and admitted defeat but not him. He is exactly as I was before my accident, sick days don't happen, if either of us called in sick, we were SICK, badly.
My friend who I go for a walk with on Wednesday called on the phone this morning after reading that my Wife was stuck in the flood traffic. She called to see if I was ok, and did I require help with anything as obviously my Wife had left me in bed. It was not an out of the ordinary thing to do, it is a regular occurrence as it means that she can concentrate on the kids and getting them to school on time. It was a very thoughtful call, to come round with her husband who was off today, to help me get up if I needed it. Unfortunately there was no way I could get them a key and so I had to decline their offer of help.Wifey came home with the kids and helped me with a couple things while I got washed and dressed and ultimately got up. We decided that it would be a good idea to leave almost immediately to collect `Pickle` from nursery in case the flood water was still causing major problems. Fortunately the roads were a little kinder and it did not take too long to get to Ilminster. To that end we had a little drive round  to check the roads for my Brother so he would have a heads up for when it was time to come home. We also had a call from my friend and her husband, they were going to travel to Taunton or Exeter to do some Christmas shopping and were asking if we knew of the road situations. I explained what my Brother had told me, and we let them know what we had experienced and seen, needless to say that they were happy with what we had told them and they consequently decided not to venture out to do the shopping. Instead, they asked if we wanted to go to the Stonemasons, which is where we normally go for our Wednesday walk. This sounded like a really good idea and so we collected `Pickle` form the nursery and met them at the Stonemasons.
We had a lovely spot of lunch and a drink and then decided to go for a little walk down the cycle path back towards Chard. It was just a bit of exercise before we headed off for the children's swimming lessons. There was a reasonable amount of water on the path, but nothing that meant that we could not get past. We walked to the old platform from when the cycle path used to be a railway line and then walked back to the Stonemasons a slightly different way. This way was a road that would take us through some of the houses of the village that are off of the beaten track. It was around half way down this raod that we encountered a slight problem with a bit of water, that unfortunately was just too wide to get around, too far down the road to turn back and too deep to not stay below the level of the top of the shoe, well, if you were a walker anyway. For me, I got wet hands from my wheels! We made it back to the vehicles and headed back to our homes. My Son got changed in to his swim stuff and put some clothes over the top and got his towel ready. My Daughter was not feeling up to it today and so we allowed her to miss it today.
The evening was spent watching various news broadcasts reporting on the flooding. It has been horrendous today for a lot of people, people who have spent a lot of money getting their homes how they want them, with the furniture they feel makes the house the home and many have had it all destroyed by flood water. I guess that Noah had the right idea. He wasn't going to get flooded inside his boat. It has been in my mind for a long time now, ever since a new housing estate was built across the road from the road in which I used to live in Ilminster. It had not long been finished when we had a good dose of rain. Then I saw a main road through the town flood. I am no architect, or expert on drainage but I thought to myself that the storm drains in Ilminster had been put in years ago, when the town was barely half it's size to accommodate the roads, drains and houses at that time with the fields helping to soak the water as well. Then you add a new estate of houses, that have roads and drains, and suddenly you have increased the strain on the storm sewer. Then you build another load of houses and roads on land that used to flood when the hills and fields could take no more and attach that to the storm sewer also, or you find a stream or river to outlet the storm water in to. Suddenly the water has no where to go, now surely that must result in flooding, musn't it? And still we look to build yet more houses on to towns that can not cope as it is. For what? So that the town council can get more council tax? But that then should surely help and make the tax cheaper, but it does not, and to top it off, they can not afford to pay for the cycle paths and footpaths to be kept clear of weeds and keep maintained. How does this work? Are people getting nice "bonuses" for granting permission for all of these new developments? Having delivered concrete in a mixer truck for a couple of years I saw some random developments in some random places, one thing I thought then which I am going to post on here now. If you require to insert or drill to make piles in the ground for buildings to sit on to prevent them from sinking, my guess is that the land was never put there to be substantial enough to build on. Generally this would be land that was always soft as it would be somewhere for the water to soak away to from the surrounding areas. So why the hell would you want to build there? I, like you will never know or understand. One thing I am not ignorant of though is this, if people continue to piss Mother Nature off, to ignore her warnings, there will be only one winner in the battle of future years, the rains are due to start again tonight and the winds have already started. Do not think that we are a tiny a little island and we generally get away with the harsh weather here, instead think that we are a little island, and if she wants to, having seen what she has done to places like the USA, she could wipe our tiny little island off of this map. She has no rules, she has no fear and as we have all seen in recent years, she has no mercy. It is time to think about what we are doing, where we are building and what we can do to protect the roads, properties and transport systems we have rather than build more things that we will not be able to keep on top of. My thoughts are with those poor people who were flooded and had their lives devastated by the destruction of their property today, I really hope that you can learn from this and try to develop your property or land to prevent it happening again. To those who were not affected by the flooding of properties today, I hope that you can stay that way. For us we will be able to sleep well tonight, but tomorrow we may not be so lucky.
I leave you with a photo of the flood on the cycle path today which would definitely have messed up our walk through Donyatt Halt to the Stonemasons. There was a guy in a fluorescent top wading through the water. He was approximately 5'10" or 180cms. And yes, he was wading through., with his hands on his head it was just under his arm pits. He decided to swim in the end. There was no way I would have got through that in my wheelchair.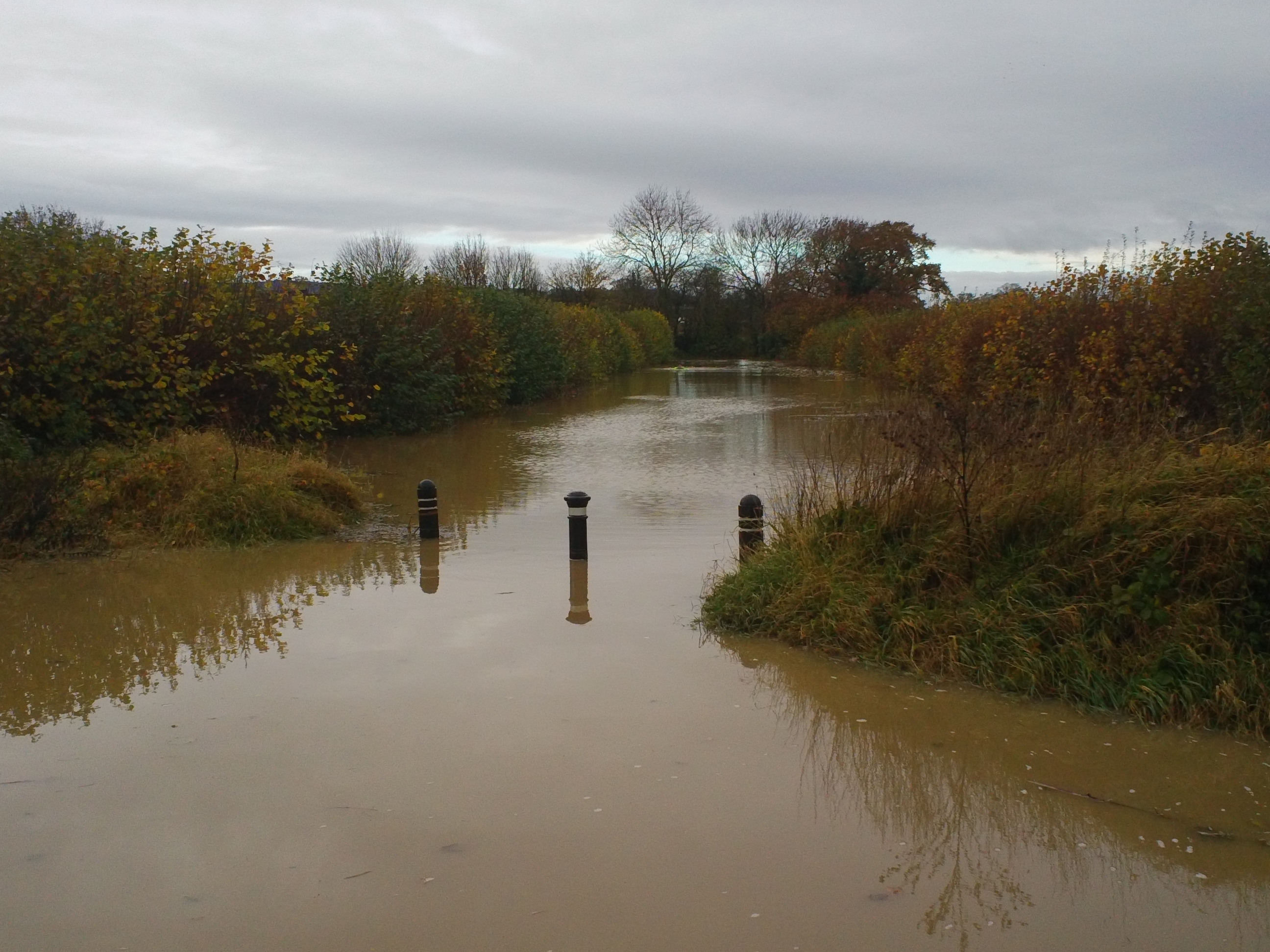 Goodnight all.