Busy, busy, busy. I really don't know where the time goes. I seem to have less time on my hands now that I am not working then when I had two jobs, granted life is at a much slower pace now but really??? I had planned to write my Blog entry on Tuesday which just seemed to be that I blinked and missed that day and then yesterday (Wednesday) I had all but settled down to do it and then a couple of things came up and after taking my Daughter to her football training last night by the time I got back it didn't happen again so today, (touch wood), I am going to start it early so that  I will get it finished before my visitor this afternoon. So here goes!
On Sunday morning at around 07.00, my Wife and kids arrived at the bungalow to get me squared away and load the car up for our trip to London. It wasn't something I could do easily on my own and so I had asked if they wanted to go. A trip to London was something that we had always planned to do with the kids so as to show them some of the places of interest and attractions, my Wife though was not comfortable with having the three kids and needing to help me in London and so her Mum came along to assist. It was around 07.30 ish before we managed to get round to collect her Mum though which was about a half hour later than I had planned. I have to admit that timings really do piss me off when they slip and it is something that I really do have to learn to ignore, when you factor paralasys and kids in to an equation it is never gonna run 100% to plan but it still doesn't stop me getting the ass about it. Anyway, I digress.
With everyone and everything loaded in to the car we set off, but only as far as the petrol station as this was something that I had forgotten to get sorted on the Saturday. The complication of this little spanner in works was that I had said that I would make sure it was done and as I had done a frankly piss poor job of hiding my aggravation at the time of which they had arrived at my place, I now looked a bit of a cock so it was best I thought to sit and be quiet….bugger. Finally though, we were on our way towards the A303 heading to London. Traffic was incredibly light all the way, no slow traffic on the A303 and the M3 was also very smoothe apart for one stretch which had road works on for a good length of the way with 50mph limit monitored by average speed cameras which slowed us for a while. Oh yes, the speed cameras. I just want to help anyone who is unaware of what the word AVERAGE means, and I am doing this to help those frankly highly amusing drivers who were trying to push me along while I was sitting at 50mph with the cruise control ensuring that I kept to the speed limit. Those drivers who would then race past me and other road users to then slam on the brakes to go past the camera and then race off again to repeat the process for the entire stretch of road works. So here you go.
adjective;
constituting the result obtained by adding together several amounts and then dividing this total by the number of amounts.
So for those who struggle to understand, I will put it in to what I call "Georgie Speak". They know how long it takes at 50mph to travel between cameras. If you are QUICKER than that time, they know you have been doing more than 50mph. Simples. 
I had pre booked and paid for a car park at the top of the Mall, effectively Trafalgar Square as I wanted us to be as central as we could be so as to make it easier for the kids to see stuff, I had requested a disabled bay which I had been assured would be reserved but obviously hadn't so I had to get out of the car and then my Wife parked it for me. I buzzed the attendant button at the entrance to the car park and explained that I was supposed to have had a disabled space which was why I had pre booked but simply got told to park in another space which was really nice and helpful. I did then say that if I was to park in another space, being a wheelchair user, I would not be able to get out. Long story short, the woman was as much help as chocolate tea pot and simply chinned me off. SO a top tip for any wheelchair dependant people. DO NOT USE Q PARK in Spring Gardens, London. £32 pounds pre paid for a disabled bay and the best they could come up with was "park in another bay". Brilliant.
We had arranged to meet my Wifes Aunt and Uncle who live in London as they were going to show us around, this would save time on us trying to figure out where we needed to go and I am glad we did, we began with Trafalgar Square…
…then we were directed by our tour guid (AKA Auntie Pauline) to the Mall. "Pickle" was sitting on my lap and as the Mall was closed off, we were able to roll where we liked as people were walking on the roads. We stopped half way down as she wanted to look at two Police horses that were there…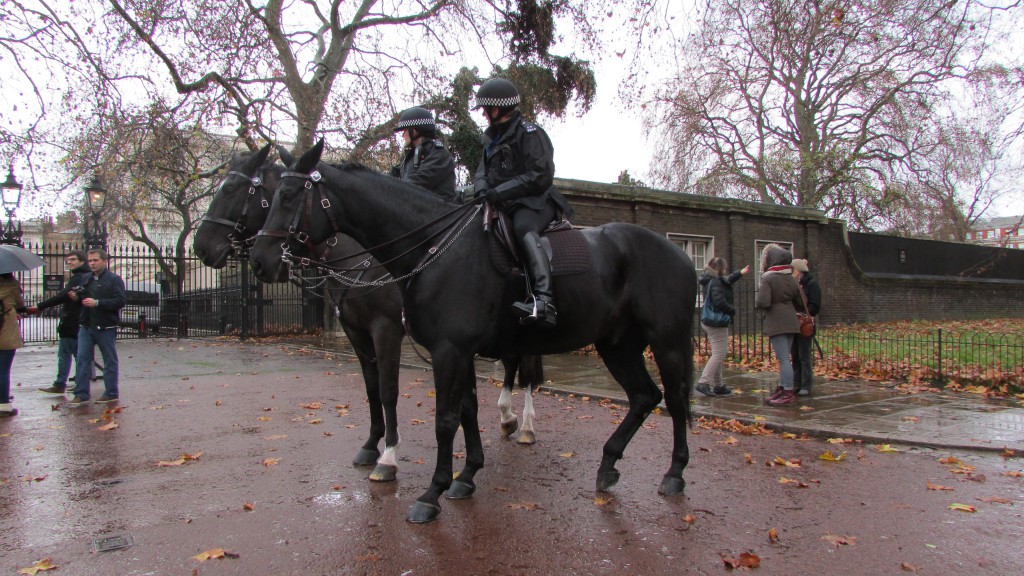 …then, some Guards emerged from the gates.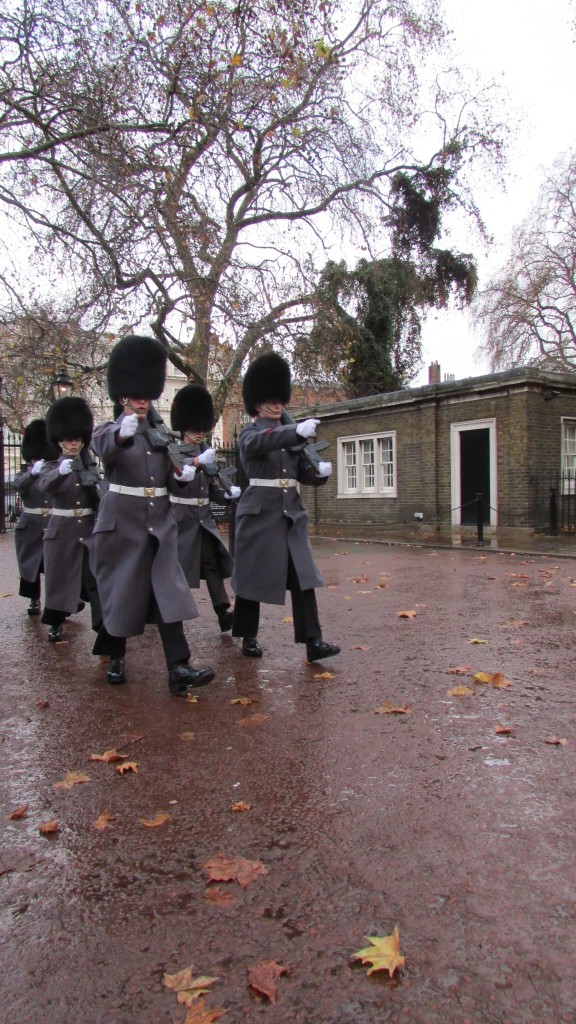 We moved over to the edge of the road and watched as the horses escorted the Guards down the Mall to Buckingham Palace. This is where we headed to next.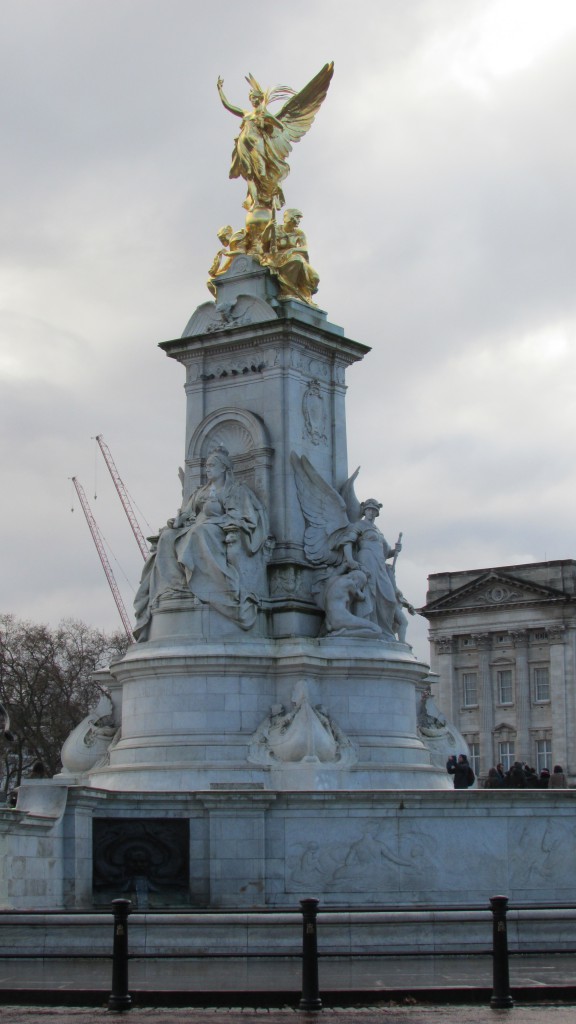 "Pickle" had never seen the statues before and constantly said "WOW".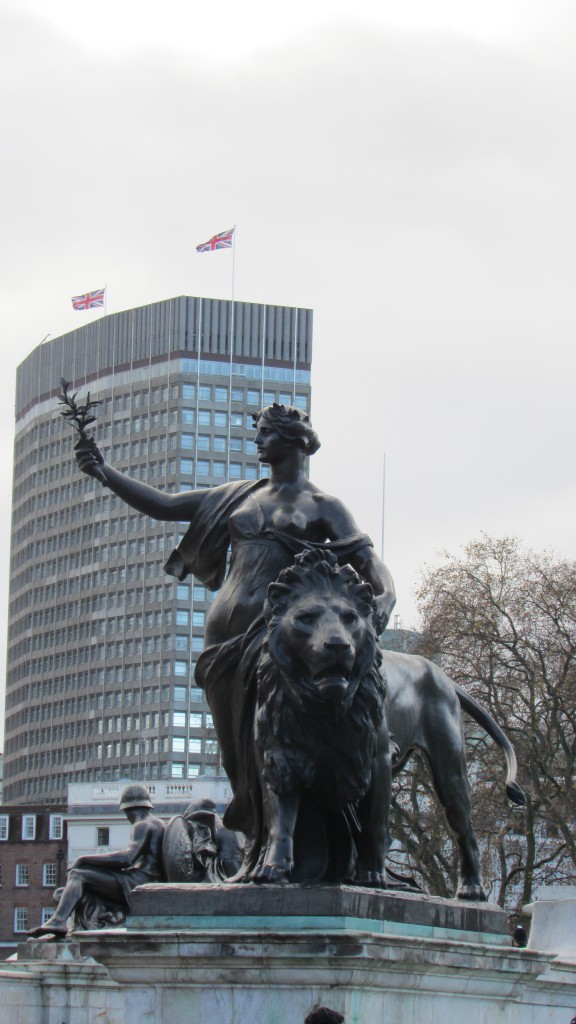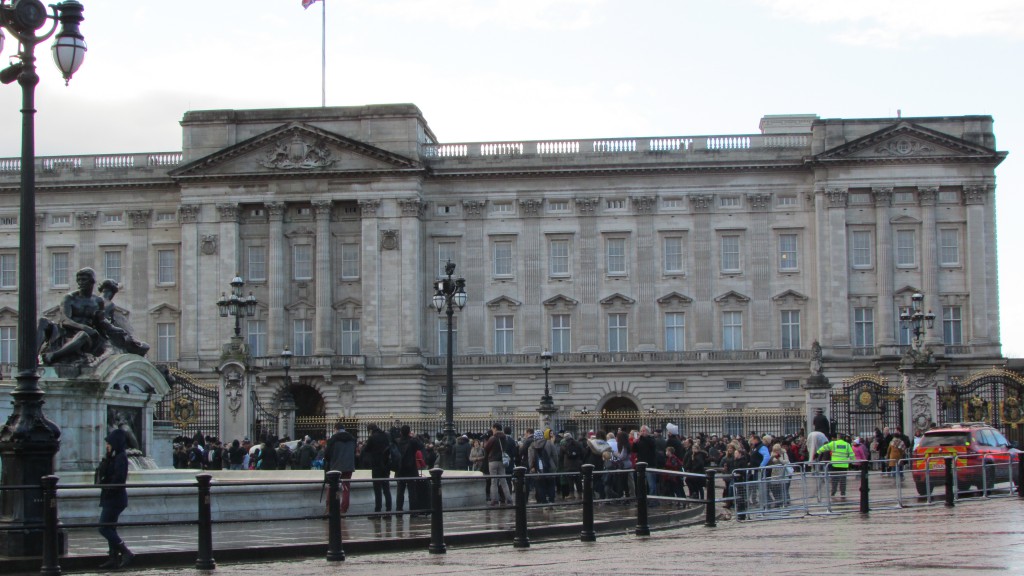 She did know that this was the house that The Queen lives in, unfortunately though she was not home. We could not have timed our visit better as the Guards were changing.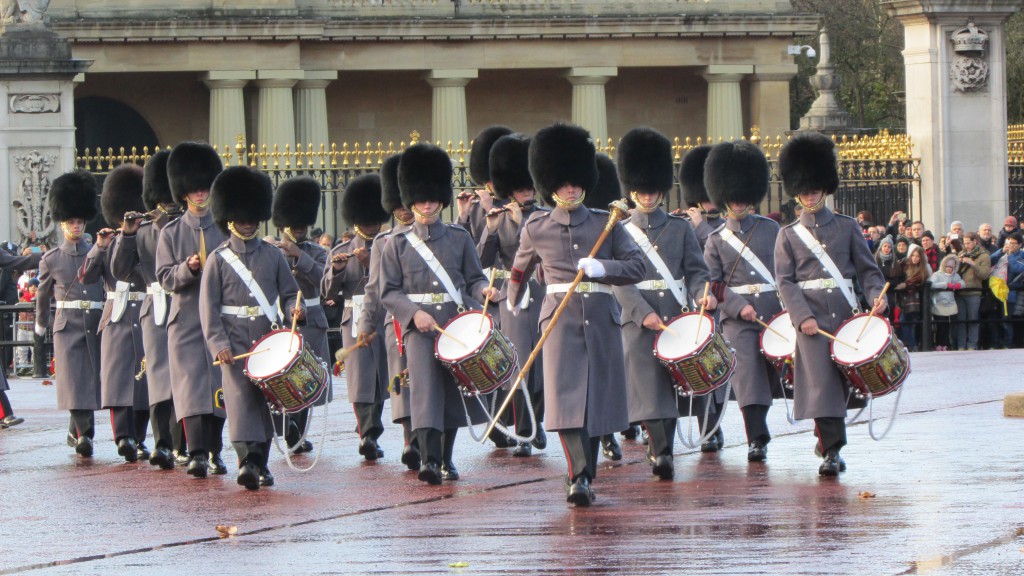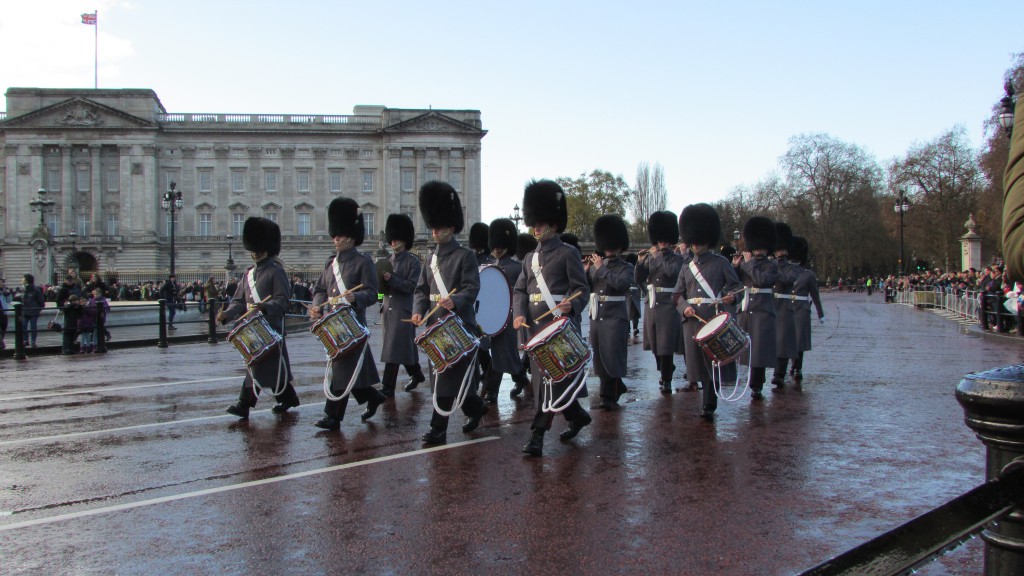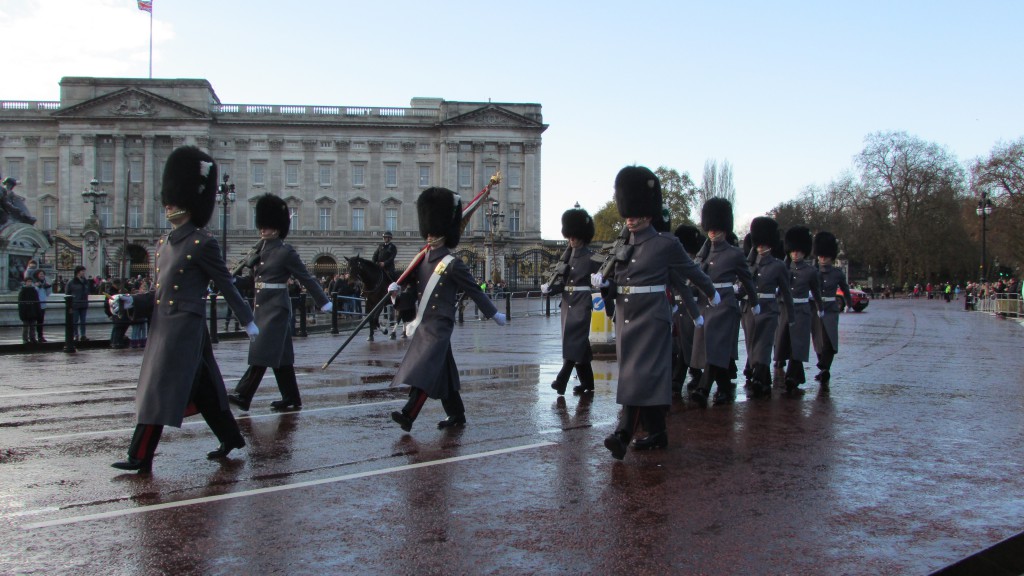 We walked along so many different streets and went in to many different shops, one of which I had to do…Hamleys, THE toy shop but it was so crowded and busy I just wanted to get out. I am fine with confined spaces and crowds but I could not move and there was nothing but ignorance so I just wanted to get out again, GUTTED is not the word, I guess I will have to go another time.
Having had an amazing wander round seeing sights, our guide took us to the London Eye which we had pre booked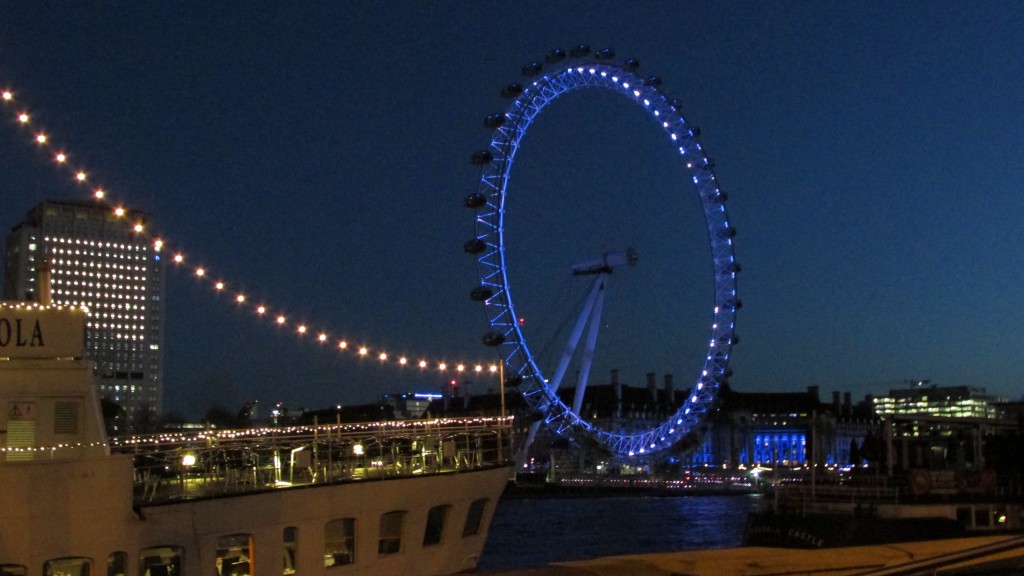 .
As we were a little early, we took the kids to a play park adjacent to the Eye. This is where we had also arranged to meet my Wifes Cousin who is my Sons GodFather. He was as much as a kid as the kids were, playing with them on the swings etc which was really nice to see. With the evening really drawing in, my Wifes Aunt and Uncle left us and we headed over to collect our tickets for the Eye. Sam had not been on the Eye in the dark hours and so we decided to see if he could get a ticket when we collected ours. The staff at the London Eye were without doubt exceptional. They made sure we were aware of all of the ramp access and were incredibly helpful. We were sent to a desk inside where the guy checked our booking and also sold us a ticket for Sam which was great, then, when we got outside and spoke to the lady who we had been sent to, she directed us around to another ramp which took us to another guy who we had been sent to see. He in turn guided us through and straight on to two other staff members who got us straight on to the Pod. I am not someone who expects any special treatment but when it does happen it is really nice.
Needless to say that the views were incredible, you hardly knew that the wheel was turning and the entire experience was amazing. It is definitely something that I would like to again and can recommend it to anyone. Here are a few pics.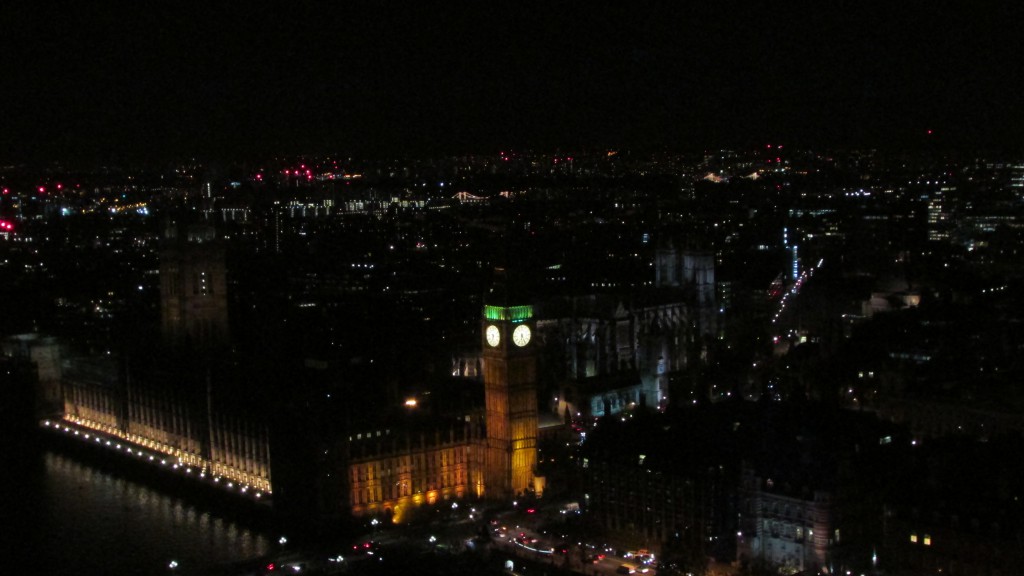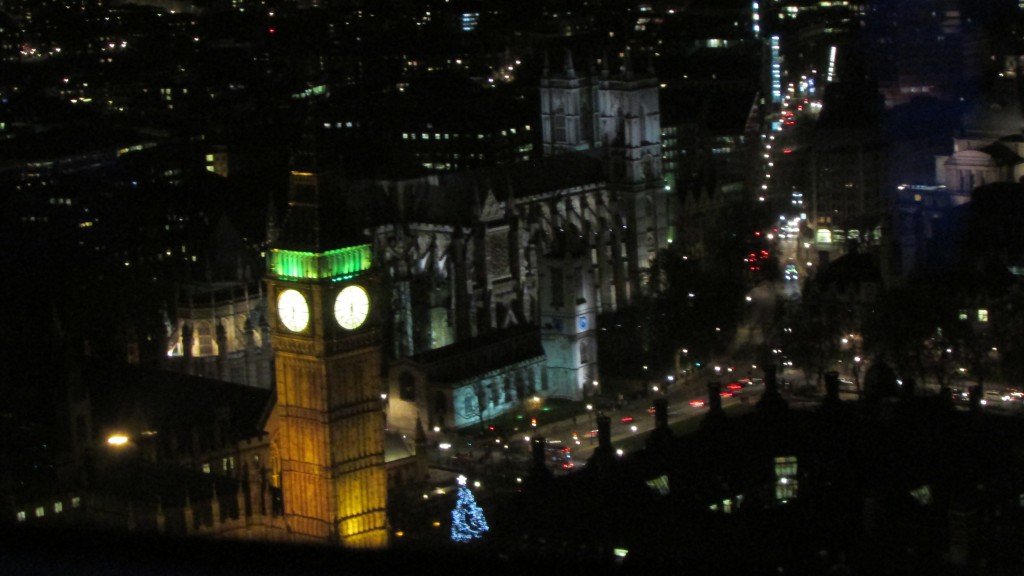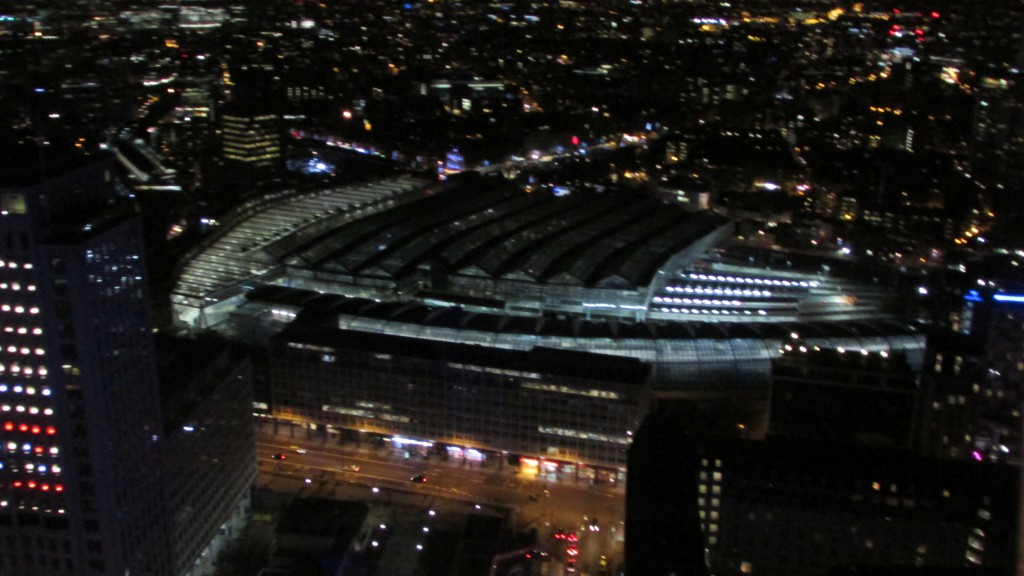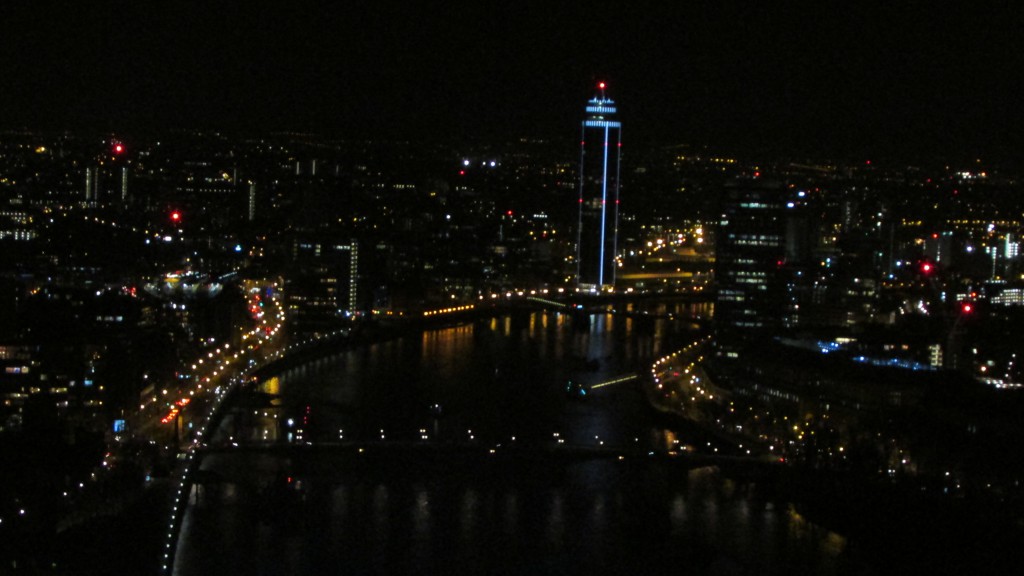 Having finished the Eye experience, we headed off for a cuppa and a chat with Sam before heading back to the car and to our Hotel.
Monday we had arranged to go to Madame Tussauds. I had never been and neither obvioulsly had the kids and so we thought that it was a must do kind of thing. I was intrigued as I had read about the wax models many times and so I was looking forward to seeing to how good they were. To get from the car park to the venue required a bus. How difficult can a bus be? You can't pay cash, you can't pay by card unless it is an Oyster card or contactless payment which will not let you pay for more than one person. I can appreciate that they don't want lots of cash on a bus in London but we were truly buggered when we had no way to pay like they wanted. Note to self, contactless card next time I go to London, although my bus pass gets me on, I couldn't get everyone else paid for.
So we got to Madame Tussauds and again the staff were extremely helpful. They checked how many wheelchair users were inside as they have limited numbers they are allowed to take in, this is something that you are supposed to pre book when you book the tickets which was overlooked by my Wife but fortunately there was room for me so in we went. It was a fantastic experience seeing the wax models and to learn about how they actually make them, I can highly recommend this as a visit too. If you are wheelchair dependant though, pre book and make sure you register as a wheelchair user or you may not get in. Again, here are some pictures starting with the grand entrance.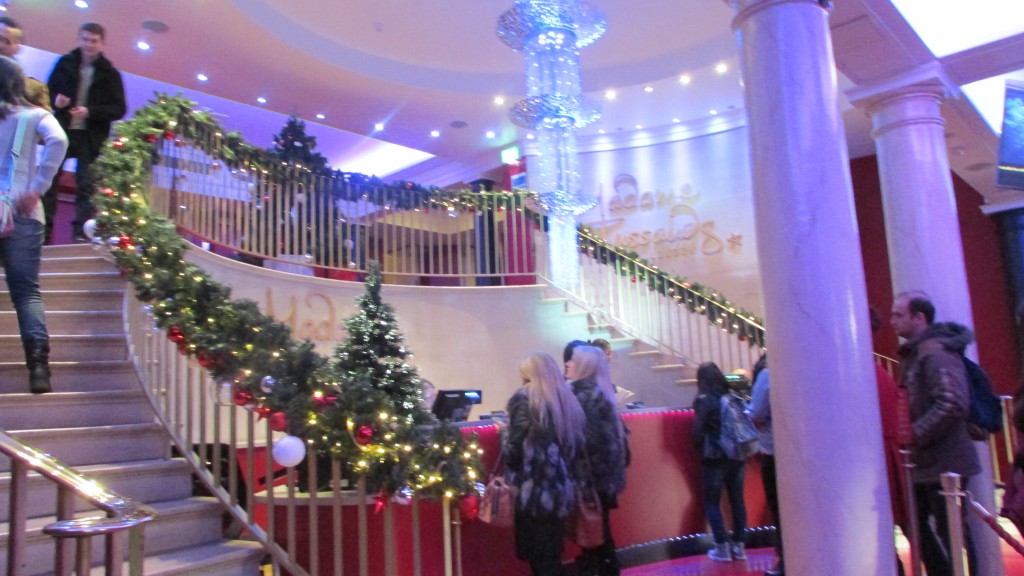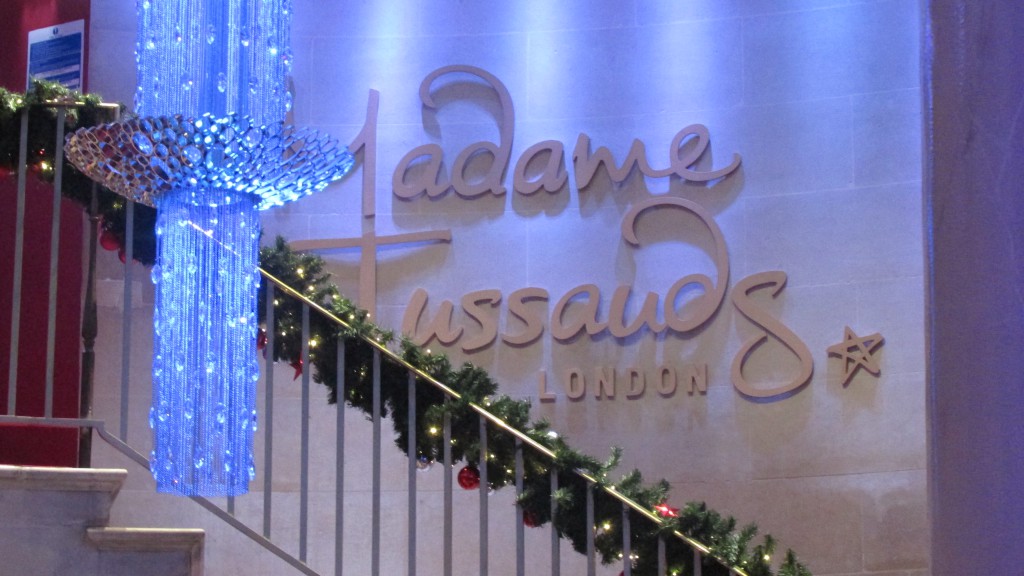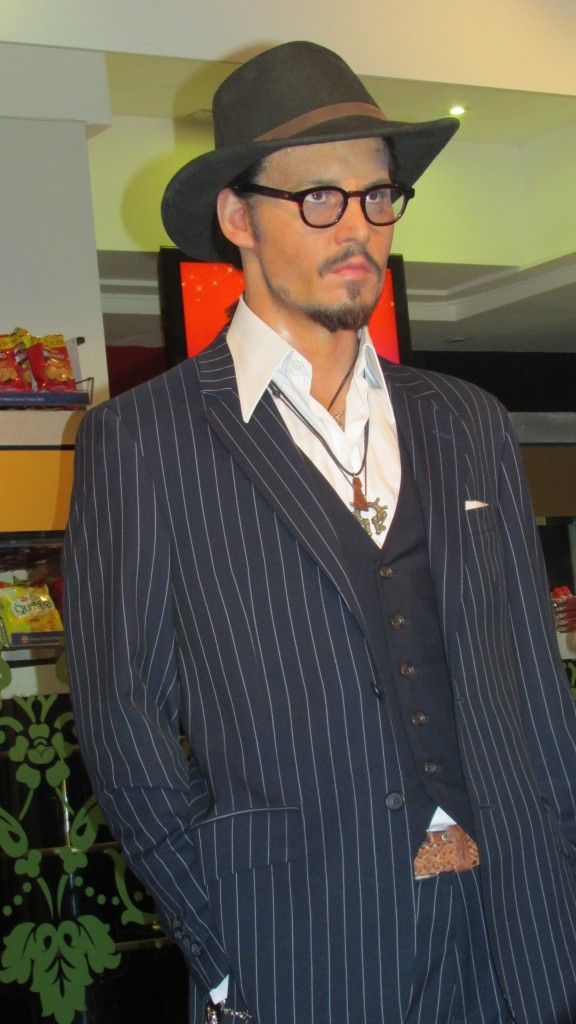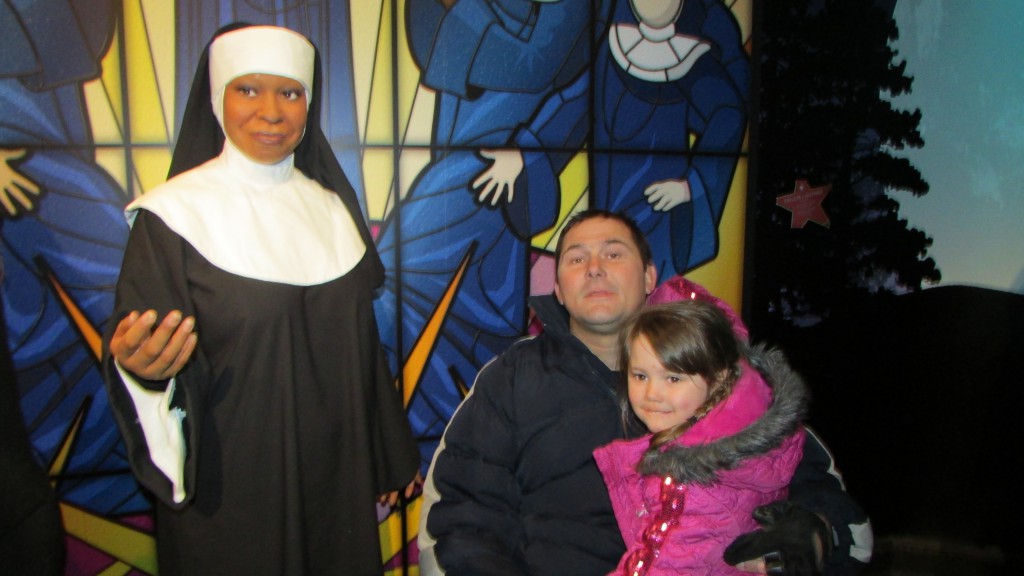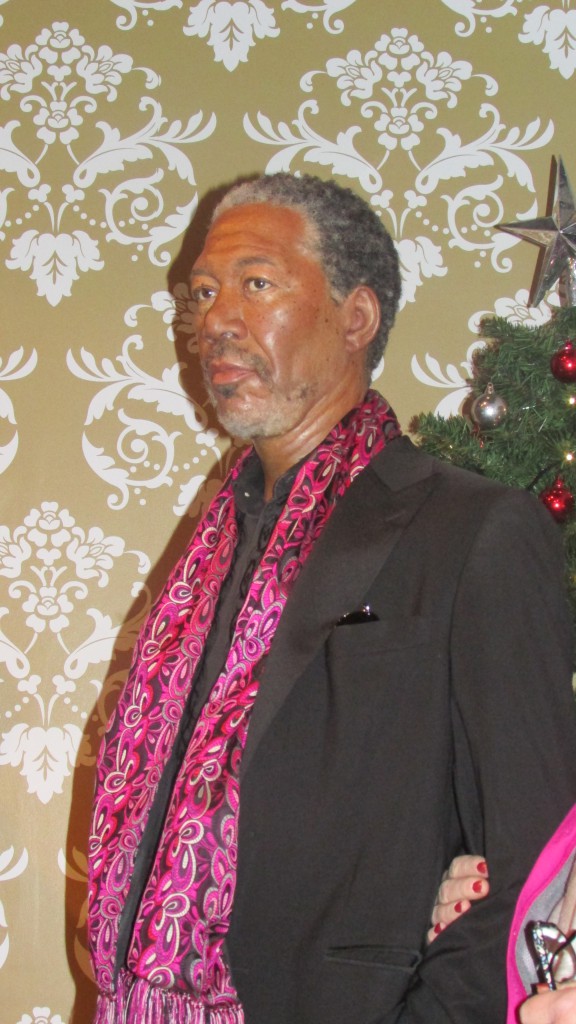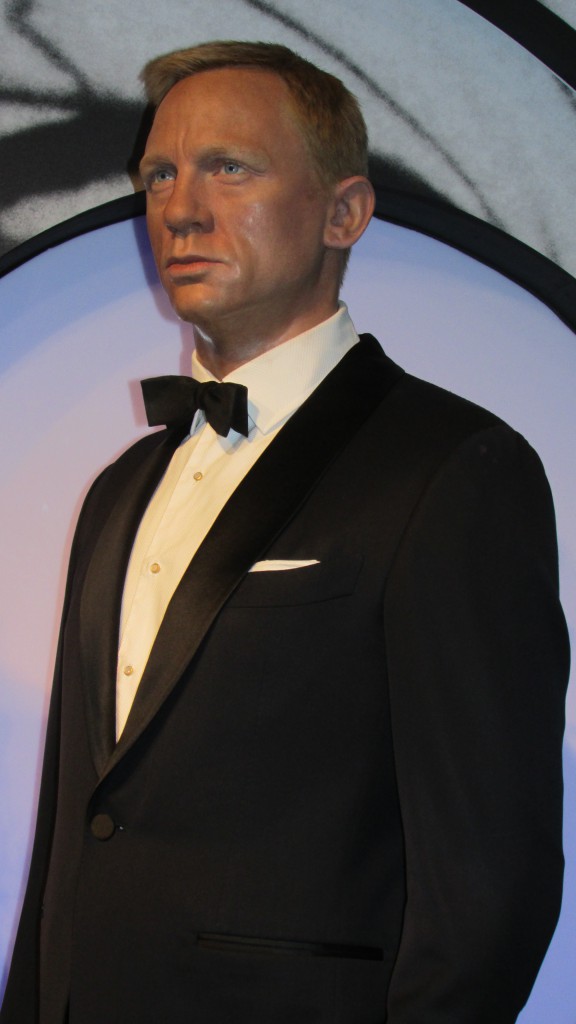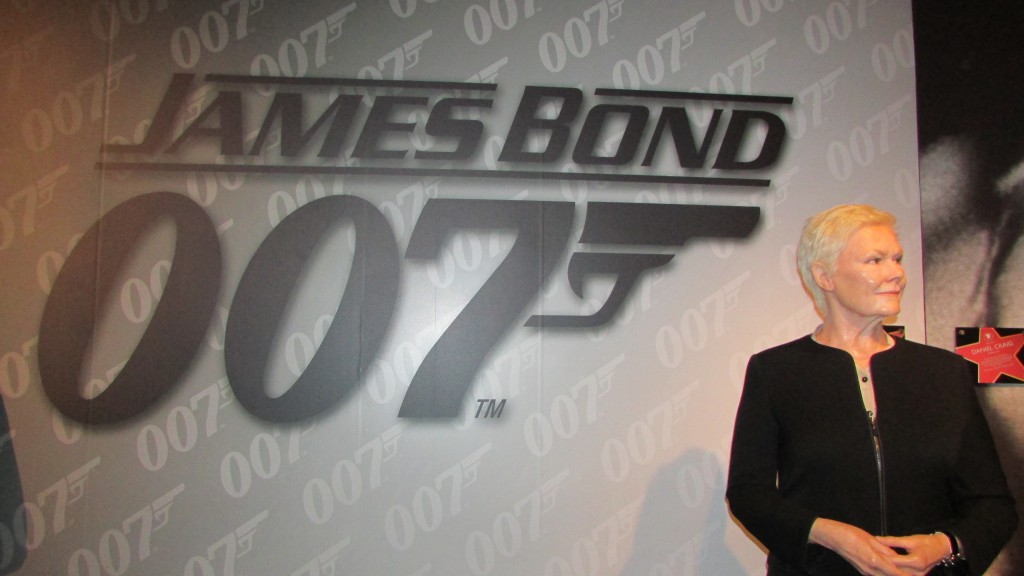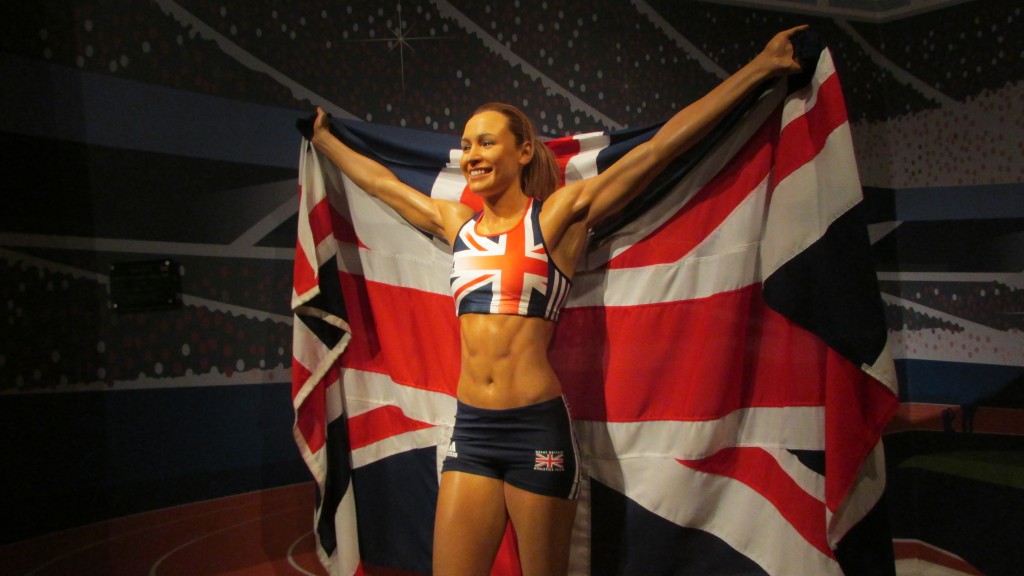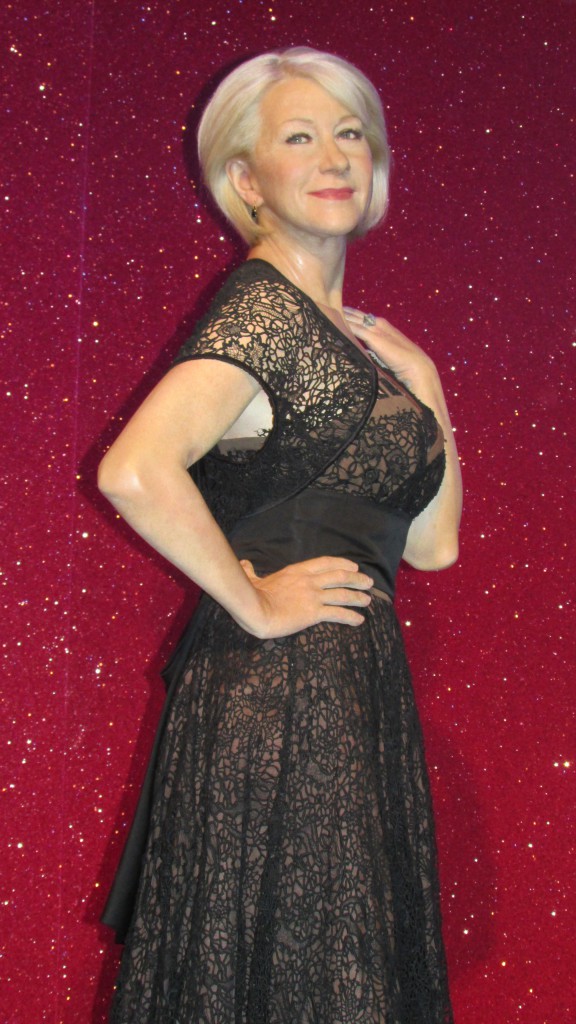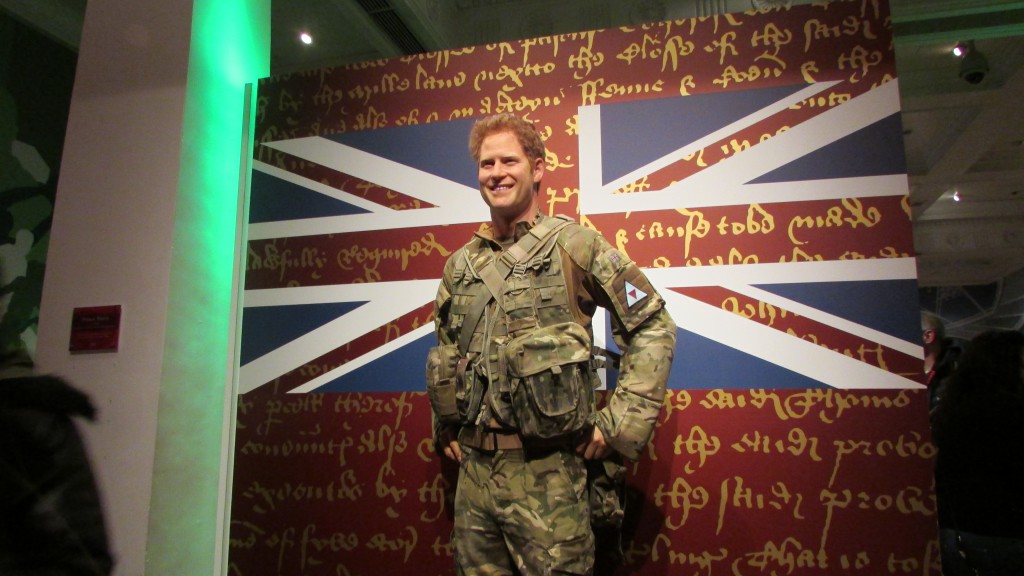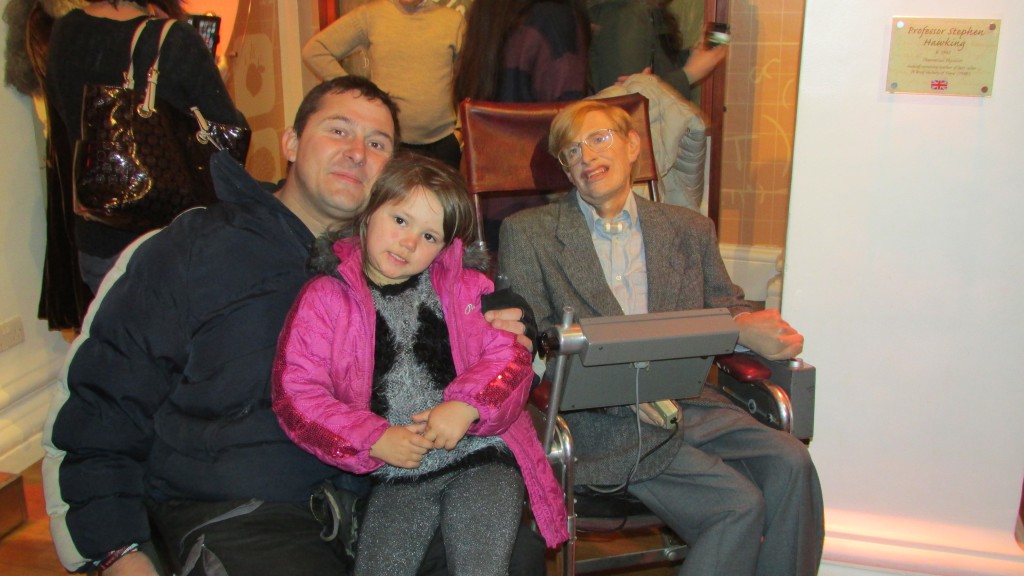 The next picture was quite an important one. This was where I had to try to explain to "Pickle" that this was the man we had been telling her about, and that this was the famous big black door that we had been talking about. She wanted to get a photograph of herself with the man we had been talking about which she now understood was the Prime Minister. So with the photo taken, we moved along.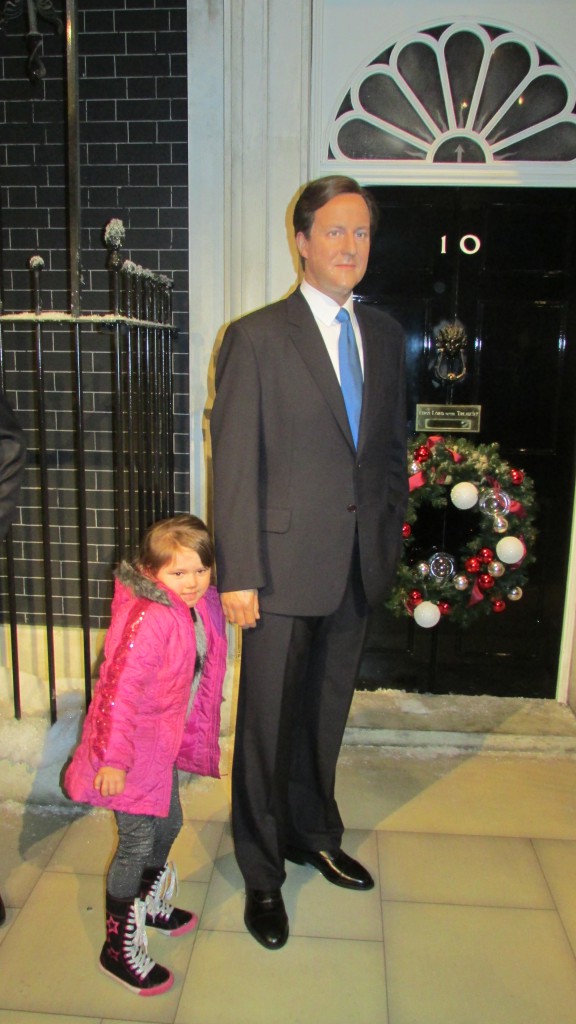 Time was now getting close to being against us and we had to walk back from Madame Tussauds all the way to the car at Trafalgar Square, but before we could go, I spent a short amount of time catching up with one of the guys who used to be in my unit. He was working not far from Madame Tussauds and had messaged me to see if I had time to catch up. It was grest to catch up with him as we had not seen each other since before my accident, with luck he and another of the guys who were in the unit will be down over Christmas and we shall go for a "cuppa" or several! Anyway, we had to get going so with a quick hotdog or burger for lunch we made our way back to the car. Here we all got changed in to some smart clothes and then with everyone loaded up in to the car, we made our way to our next destination, the reason for travelling to London was now here.
I had been fortunate enough to have been allowed to park where we were visiting and so I turned off of the main street and stopped in front of the expected substantial security barriers. It was a little surreal from here on to be honest. The Police officer came over to speak to me and check we were indeed "booked in" and in only a couple of minutes he returned and gave me my next instruction. The barriers were opened to allow us through and then we stopped for the next part. With this done we were then given our next instruction which we followed. We were instructed on where to park and slowly we de-bussed ensuring we had only what we actually required with us. As I was sitting in my chair having transferred from the car I looked around me briefly to look at the magnificent buildings but there was no time to be looking for too long now, and we made our way back to the huge black gates that had been opened to let us in to park the car. As we appraoched them a Police Officer returned to open them again to let us through and as we passed the many press to our left and right, the Police placed ramps over the pavement and on to the threshold of the door to allow me roll in. I stopped briefly to explain to "Pickle" that the big black famous door we had seen at Madame Tussauds was now in front of us, but it was the real one and she was just about to walk through it.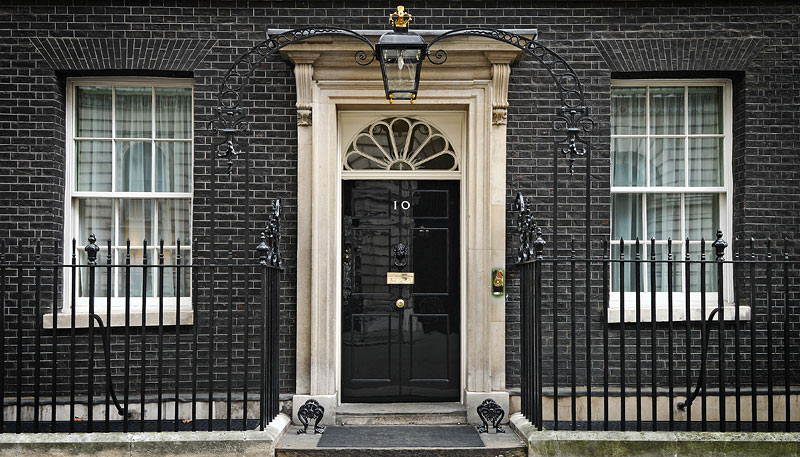 Once inside our jackets were taken and as my family was shown upstairs, I was escorted to the lift. Even rolling down the entrance corridor I was suddenly hit by a realisation that I was in the buliding that had been frequented by some of the most important people in the world. This was something that repeatedly went through my mind when we got upsatairs and in to a very grand room, this room would have been used by Winston Churchill and Margret Thatcher. After a short while I was approached by the guy who had asked if I would like to attend this function, Scott from Just Rifles who in turn introduced others who had also been invited. The invitation came, as I said, via Just Rifles which as you may or may not know were one of the charities who helped me to purchase the Overlander. It was really good to meet the others and chat with them but this all stopped when the Prime Minister came over to meet us.
He came over to me and shook my hand and asked where I was from and who I had been serving with, then he crouched down to "Pickle" and asked her name, I so wish I could have been allowed to take a photo of when she met the PM, there is no way I am able to describe to you the look on her face or how she was being when she shook his hand. Her jaw had dropped and a beaming smile was on her face but to give you an idea of her reaction, the people stood next to me were getting other peoples attention to look saying "Oh my God, look at her, look bless her!". Hopefully this will give an indication. He spent a while talking to us and about the work that is being done around our area as he genuinely does know where Chard and Ilminster are having stopped off in Ilminster for lunch a short while ago. He then went on to meet others and I asked "Pickle" who she had met to which she replied in a somewhat "starstruck" mannor…."The Prime Minister". We managed to get a group photograph with him which was taken by the official photographer and this again made me chuckle, when asked if he would be in the group photo he said; "Of course I will, I'll just slot in here with the Somerset Massive!" Not something I expected to hear but really glad I did.
It was time though for me to be escorted to the lift to go downstairs and outside for the switching on of the Christmas tree lights and as I was rolling toward the lift I heard my Wife trying to get my attention so I turned around and saw the PM holding "Pickle" who was giving him a cuddle. She will run up and cuddle your legs when she is comfortable around you which she had done ot the PM, he in turn had crouched down, picked her up and was holding her while talking to someone else. Any politics aside (which I don't really understand to be perfectly honest), what a genuinely nice bloke who is definitely a family man. Outside in the street the band of the Guards were playing Christmas carols…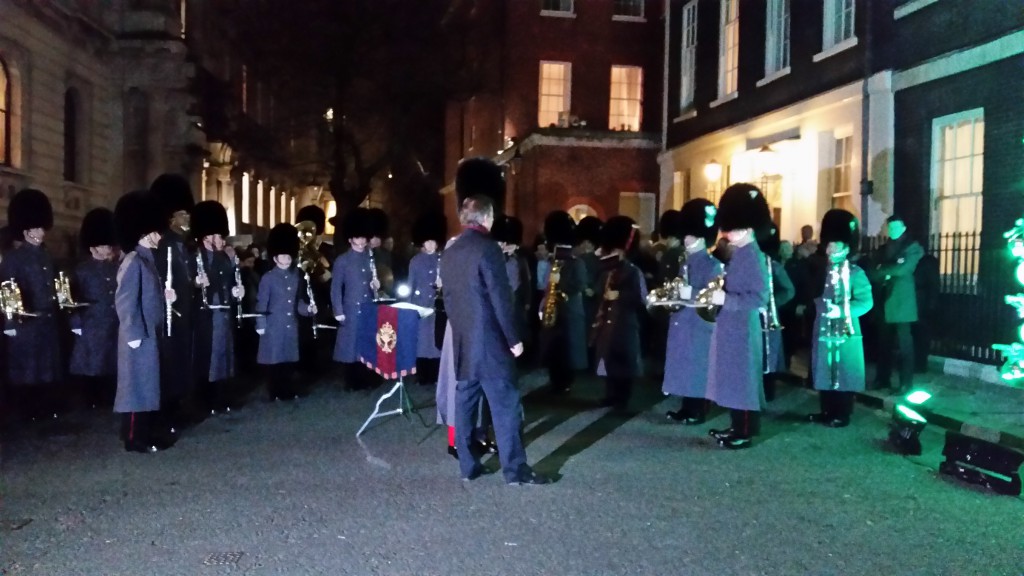 …which we watched and listened to until the countdown started for the lights switch on, and what a tree it was.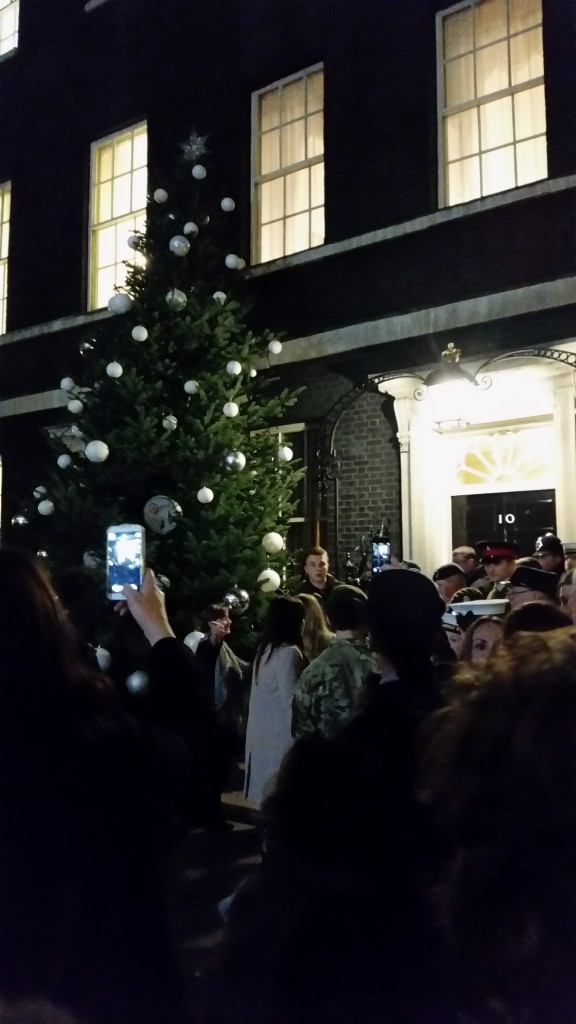 Eventually it was time for the countdown and then the lights were switched on…
Before we left there were a couple of must get pictures, after all, it's not everyday that you are invited to Downing Steet is it?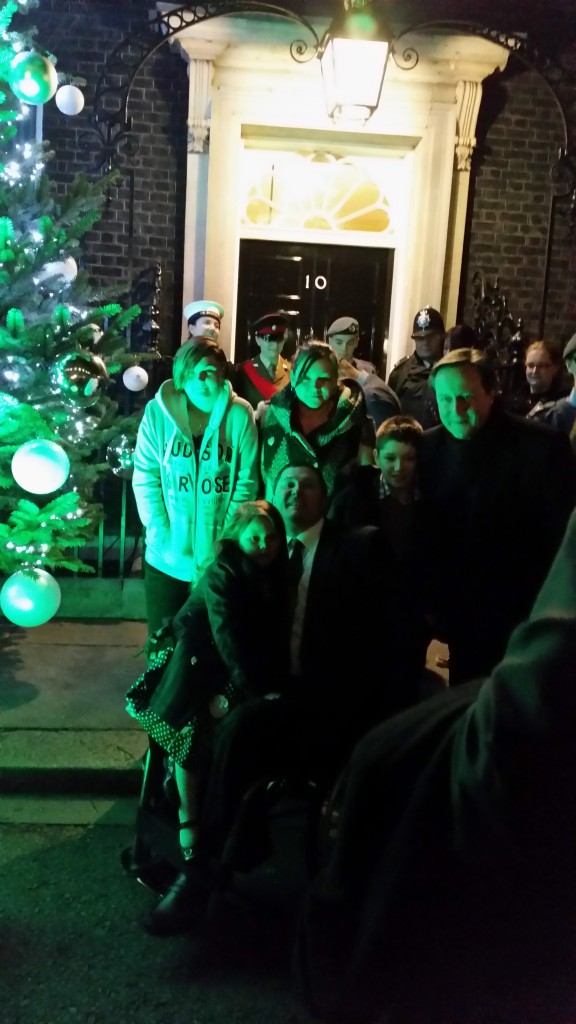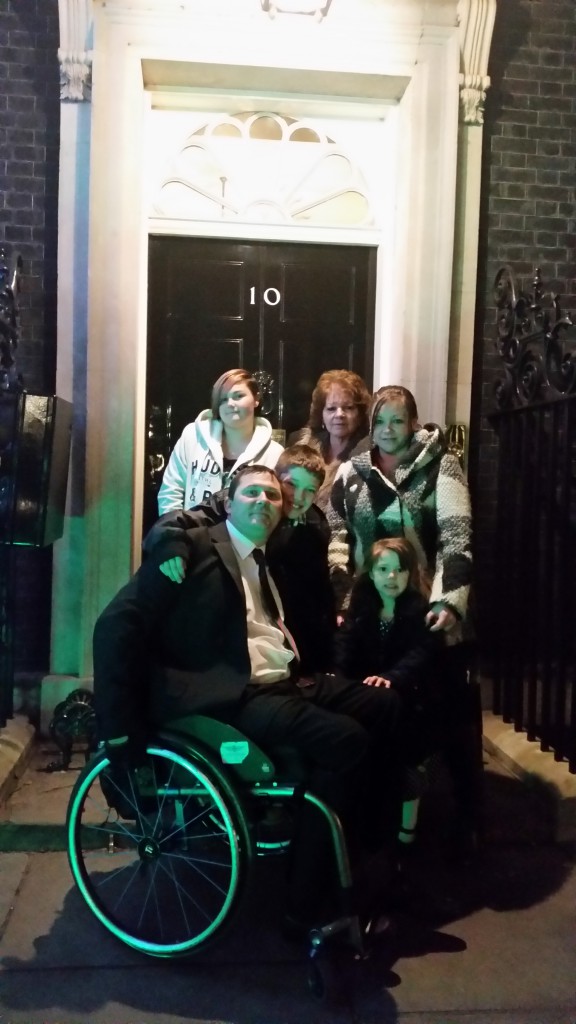 We had an amazing couple of days as you can see, all that was left was for us to walk back to the car and take in the incredible buildings, load back in to the car and make the journey home again.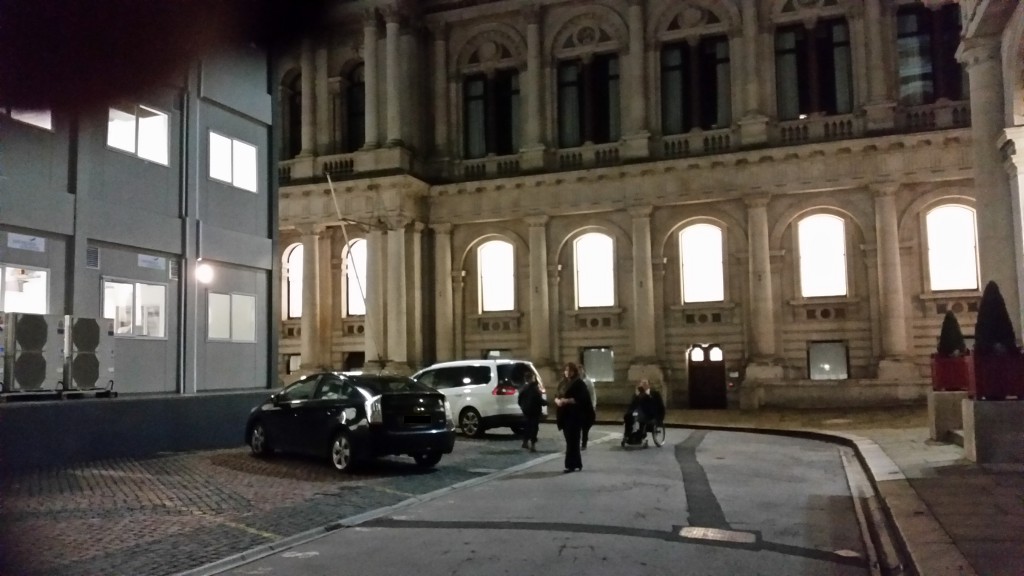 I don't think it likely I will be driving through these amazing pillars again…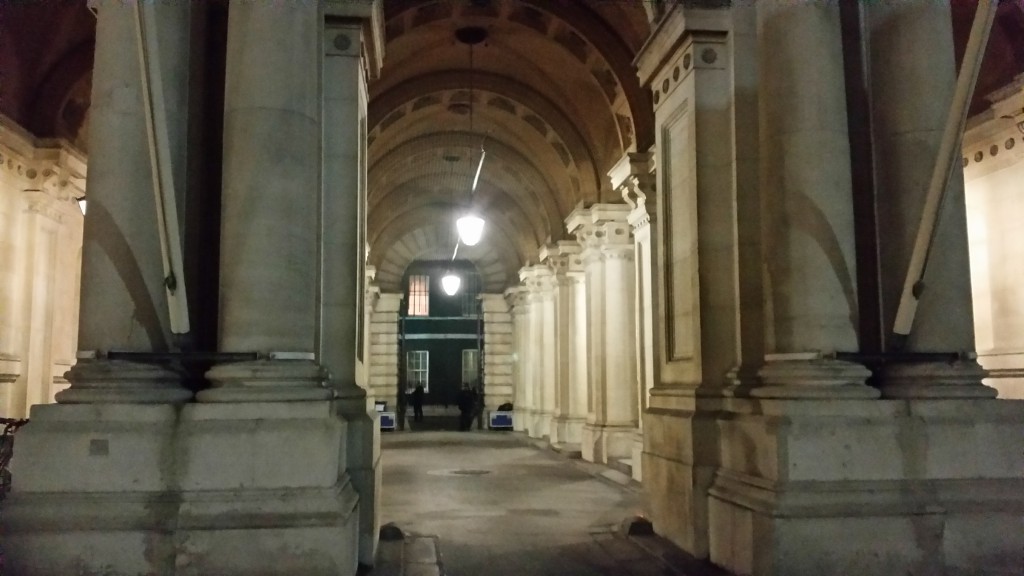 And so we headed home. A long entry this time, so if you have read to the end, thank you.
Good afternoon all.